10 Best Marketing Apps for Shopify in 2023—Supercharge Your Sales

By

Steven Grrat

Reviewed by

Kirsty Macdougall
Updated August 7, 2023.
Our team independently researches and recommends the best products and services. We publish reviews that are unbiased and not influenced by payments we may receive from advertising partners.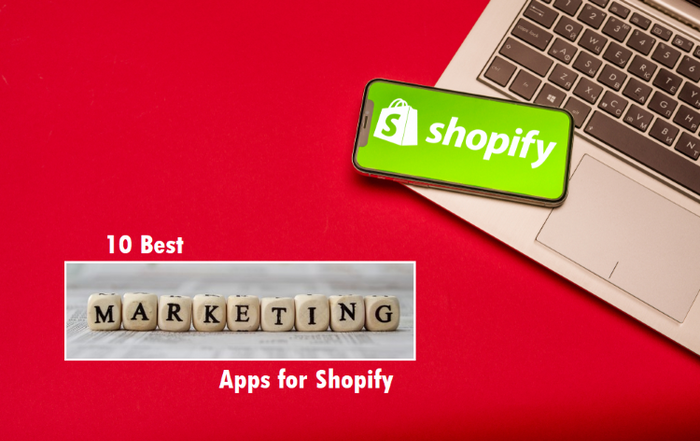 For Shopify stores to gain and maintain a competitive edge in the highly competitive e-commerce industry, their marketing efforts must be on point. However, this is often easier said than done, with marketing campaigns being labor-intensive, expensive, and time-consuming.
This is where marketing apps fit in. They can help Shopify stores increase their visibility, drive more traffic, promote customer engagement and loyalty, and ultimately boost their bottom line.
To help you find the right tools for the job, we've put together a list of the top 10 marketing apps for Shopify in 2023.
Our Top Picks for the Best Marketing Apps
KeepShoppers Score: 9.9
Key Features:
In-depth data analysis

SEO content creation at scale

Advanced page builder

Conversion rate optimization
Entail AI is the perfect solution for scaling your online business through SEO content creation. With its ability to facilitate high volumes of published content and its knack for increasing site traffic, you've just found yourself one of the best marketing tools.
Why We Liked It
Although Entail AI is an AI-driven content marketing platform rather than an app, it earned the top spot on our list because it offers a turnkey solution for any Shopify's organic marketing needs. The solution takes care of keyword research, content strategy and planning, content creation, publication on your site, and conversion rate optimization. It required very little input from us while ramping up our organic traffic considerably.
» Check out our review of Entail AI for more info
KeepShoppers Score: 9.2
Key Features:
Automated, personalized email marketing campaigns

Real-time analytics & insights dashboard

A/B testing for email performance optimization

Drag-and-drop email builder for easy customization
Klaviyo is a powerful email marketing tool that provides a user-friendly interface for creating and sending automated, targeted, and successful email campaigns based on customer behavior and preferences. Klaviyo is one of the best Shopify apps for keeping on top of abandonment emails, branded newsletters, and SMS marketing.
Why We Liked It
Klaviyo provided us with real-time analytics, testing, and insights into the performance of our campaigns. This allowed us to make data-driven decisions and refine our segmentation strategies over time for maximum effectiveness.
» Interested in learning more about the app? Read our in-depth Klaviyo review
KeepShoppers Score: 8.9
Key Features:
Easy-to-use customer review system

Advanced review moderation & filtering

Customizable review request emails

Integration with Google Shopping & Facebook
Okendo is one of the best product review apps because it enables businesses to collect, moderate, and display user-generated content on their e-commerce sites. With a range of customization and integration options, Okendo helps stores build trust and boost sales through social proof.
Why We Liked It
We rated Okendo as the best app for visual reviews because it provides a range of visual content options, including photos and videos, that help our customers make informed purchasing decisions. The app's advanced moderation tools ensure that all visual content is high quality and relevant, making it an indispensable social proof tool for building credibility and driving sales.
» For more insights, read our Okendo review
KeepShoppers Score: 9
Key Features:
Automated SMS marketing campaigns

Personalized SMS messages

Segment customers by behavior & demographics

Abandoned cart recovery SMS messages
SMSBump is a powerful SMS marketing tool that helps e-commerce stores improve customer engagement and drive sales. With automated campaigns, personalized messages, and advanced segmentation options, SMSBump makes it easy to connect with customers and keep them coming back. The app also offers comprehensive analytics, popups, customer-tracked data, customizable sign-up forms, and reporting capabilities to help businesses track the success of their SMS marketing efforts.
Why We Liked It
SMSBump is an excellent choice for SMS flows because of its robust automation capabilities. The app made it extremely easy to automate our SMS campaigns based on specific triggers or events, such as abandoned carts or order updates.
» Want to know more about the app? Read our comprehensive review of SMSBump
KeepShoppers Score: 9.1
Key Features:
User-friendly drag-and-drop builder

Customizable popups, banners, & bars

Automated email campaigns & autoresponders

Detailed analytics & reporting
Privy is another great all-around app that will help any Shopify store succeed. The app features scaled automated emails, integrated cart abandonment capabilities, and event-trigger campaigns. With its advanced features and integrations with other marketing tools, Privy is a valuable asset for businesses looking to improve their marketing efforts on Shopify.
Why We Liked It
There are many great apps with templates, but Privy tops the list. It offers a wide variety of pre-built templates that were very easy for us to customize and use and instantly gave us a professional look. The app's drag-and-drop builder and advanced targeting options make it simple for anyone to create effective campaigns that drive conversions.
» Head to our Privy review for further info
KeepShoppers Score: 9.3
Key Features:
Smart segmentation for targeted messages

Automated marketing workflows

Sign-up forms & popups

Product recommender

SMS campaigns
Omnisend is a powerful marketing tool that allows Shopify merchants to create complex automated workflows that integrate with Facebook Messenger, Google Ads, and WhatsApp. With advanced reporting, multichannel automation, and customizable landing page designs, Omnisend makes it easy for businesses to reach and engage customers across a variety of channels.
Why We Liked It
When it comes to landing pages, Ominsend is a fantastic Shopify landing page builder app because it offers a variety of customizable templates, as well as the ability to create custom designs from scratch. Whether you're looking to drive more sales from your landing pages, improve your email marketing campaigns, or build your email list, Omnisend has the tools and features you need to succeed.
» Looking for more information? Learn more in our Omnisend review
KeepShoppers Score: 8.5
Key Features:
Customizable review request emails

Multiple review display options

Advanced review filtering & sorting

Loyalty program integrations

Customizable review badges & widgets
Stamped.io is a highly-rated sales app that facilitates the use of high-impact content that customers can engage with while browsing a Shopify store. Anything from product reviews to Instagram galleries and community Q&As, Stamped.io does it all.
Why We Liked It
With Stamped.io, we could easily collect and display customer reviews and ratings on our marketing banners, helping to increase our brand's social proof and credibility. It integrated seamlessly with our Shopify store, making it easy to create and display eye-catching banners that drive sales and conversions.
» Find more insights in our Stamped.io review
KeepShoppers Score: 9.2
Key Features:
Customizable thank-you page templates

Post-purchase surveys & discounts

Abandoned cart saver with email reminders

Product recommendation engine for upselling
ReConvert aims to take one-time customers and turn them into repeat customers. With discount popups, a customer birthday collector, upsell buttons, and social sharing features, ReConvert is a seriously powerful Shopify marketing tool.
Why We Liked It
ReConvert boasts a range of features that help increase sales and customer loyalty, such as one-click upsell, post-purchase emails and surveys, and abandoned cart savers. We're also a big fan of the app's detailed analytics and performance tracking, which helped us discover what works and what doesn't when it comes to post-purchase upsells.
» Check out our review of ReConvert for full app details
KeepShoppers Score: 9
Key Features:
Smart Review Prompts for detailed feedback

Product Q&A for customers

Loyalty program & referrals

Automated review request emails
Yotpo is sure to boost your site's social proof. With the app's ability to fast-track and gather engaging user-generated reviews, gaining customer trust has never been easier. Its easy-to-use interface, customizable design options, and advanced features such as Smart Review Prompts and social media integration help stores build trust, grow their brand reputation, and boost sales.
Why We Liked It
Yotpo allowed us to efficiently collect and showcase high-quality reviews from our customers. The app's Smart Review Prompts feature is particularly helpful in this regard, as it prompts customers to leave detailed and relevant feedback about their purchase experience. This feature uses natural language processing and machine learning algorithms to analyze customer feedback and generate personalized review prompts.
» Interested in reading more? Head to our Yotpo review for an in-depth look at the app
KeepShoppers Score: 9
Key Features:
Automated review requests

Social sharing to expand brand reach

Advanced filtering & moderation tools

Loyalty & referral programs
Loox harnesses the power of user-generated content and takes it to the next level. With fully-featured video and photo product reviews that read just like an Instagram feed, collecting highly satisfied customer feedback just got that much simpler. The app has an easy-to-use interface, customizable design options, and advanced features such as automated review requests and social sharing to build trust, drive sales, and grow brand reputation.
Why We Liked It
Loox is our top choice for referral marketing because it includes a built-in loyalty program and referral system, incentivizing customers to refer their friends and family to your store. What's more, Loox is an advanced analytics app providing insights that make it easy to track the success of your referrals and loyalty program so that you can optimize your marketing efforts.
» Find more details about the app in our Loox review
Market Your Way to the Top With These Shopify Apps
From email, SMS, and social media marketing to SEO, loyalty programs, and customer referrals, these 10 marketing apps are sure to meet the unique needs of every Shopify store.
What's important is to clarify and factor in your individual priorities, needs, and budget when selecting the right app for your business.
Equipped with the right marketing tools, you'll be well on your way to building brand awareness and trust, encouraging engagement and loyalty, and boosting sales and profits.
KeepShoppers Methodology
At KeepShoppers, we make our recommendations based on a specific set of criteria, including:
Ease of Use:

This includes developer friendliness, how easy the setup was, and the quality and timeliness of customer support.

Features:

We factored in the range of marketing features available and the extent of their usefulness in driving brand awareness, engagement, and sales.

Pricing:

We considered whether there were free plans, features, and add-ons available. For paid plans, we assessed if the monthly fee was worth it.

Customer Reviews:

For a more holistic and well-rounded evaluation, we reviewed how store owners in different countries and different sectors rated the app.
We also considered the time and resources required to make the best use of the app—more feature-rich solutions are usually more complex and require a greater time investment to learn. All of these traits were aggregated into the KeepShoppers Score you can see in each app description.