Loox Review—Pricing, Integrations, and More!

By

Brody Hall

Reviewed by

Davor Štefanović
Updated April 28, 2023.
Our team tests eCommerce apps and publishes reviews that are unbiased and not influenced by payments we receive from some of the app developers.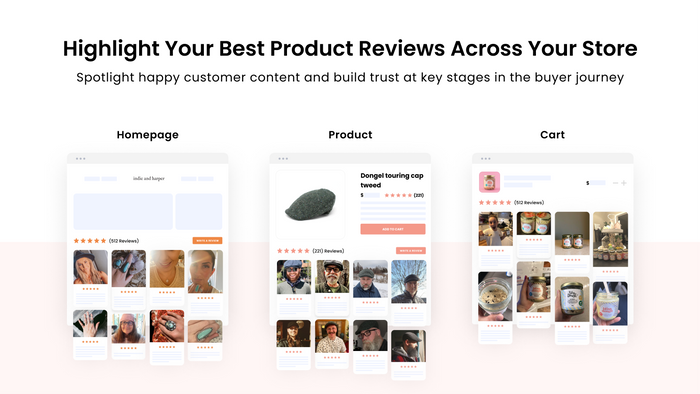 Loox is a reviews app that allows e-commerce brands to gather user-generated photos and reviews from customers. The app can be used for any type of online store that permits customers to give their reviews.
Customers can give plain star ratings via the app for a product they purchased, as well as take photos of themselves using it. Loox also makes it easy for Shopify brands to import their product reviews from other platforms on the web, like Amazon and AliExpress reviews.
Pros
Unique feature that gives discounts to customers that review nicely

Many integrations that optimize your store as well as provide a seamless experience

Provides ample automation

Boosts order value through the use of social proof
Cons
Loox doesn't offer a free plan

You need to purchase a professional plan to access all features
What Is Loox?




Loox Product Reviews & Photos is a popular product review app for e-commerce businesses. It allows online store owners to easily collect and display customer reviews, including photos and videos, to build social proof and trust with potential customers.
The app integrates with major e-commerce platforms such as Shopify, Magento, and BigCommerce, making it easy for businesses to manage their product reviews and boost their conversion rates. Loox also offers features such as review request emails, customizable review widgets, and analytics to help businesses gather valuable feedback and insights.
Best for
The Loox app is best for newbie and professional Shopify sellers alike who seek a seamless and automated way to gather user-generated reviews to build trust and credibility in their niche. Loox is best for e-commerce businesses that want to showcase user-generated content (UGC) in the form of photo reviews on their website, social media, and other marketing channels.
It helps to increase social proof and build trust with potential customers, ultimately leading to higher conversions and sales. Additionally, Loox offers features like product review requests, discounts for photo reviews, and integrations with popular e-commerce platforms to make the process of collecting and displaying reviews seamless.
Loox Pricing Plans
Loox provides users with dynamic pricing options. This means that you won't have to pay additional fees if you only send a limited amount of review requests every month, and they offer a 14-day free trial that allows you to test the app before choosing a paid plan.
Here's the app's pricing structure, billed monthly:
Basic Plan:

100 monthly review requests for $9.99.

Advanced Plan:

500 monthly review requests for $29.99.

Pro Plan:

1500 monthly review requests for $59.99.

Enterprise Plan:

10,000 monthly review requests for $99.99.
If you need more review request emails in a month beyond what all plans available offer, Loox accommodates this. You only have to contact them and inform them of your monthly numbers, and they'll create a custom pricing plan for you.
Integrations
Loox's Shopify app provides numerous integrations. It integrates with a variety of popular e-commerce platforms, including Shopify, BigCommerce, WooCommerce, Wix, and more. Here are the major ones:
Features
Beyond giving you a seamless way to generate customer reviews and receive feedback, Loox has more to offer. Loox's features are designed to help businesses build trust with their customers and increase sales by showcasing positive reviews and providing valuable feedback to improve their products and services.
Here are the major features of Loox:
One-click Installation:

Hit

Get

on Loox's app store page, and you're all set.

Review Importation:

With a single click, you can import reviews inclusive of photos from AliExpress, Amazon, or other platforms.

Highly Optimized for Shopify:

Loox is optimized for use on any Shopify theme, as well as mobile, and it is extremely responsive.

Automated Email Review Reminders:

Every review request is sent automatically. So it offers a hands-off approach while the reviews pile up.

Branded Emails:

All emails have your store's logo, custom text and subject, and your brand's name.

Fully Customizable:

You can set the email widget color, placement, size, and timings.

Moderation:

Loox gives you control over which reviews show up on your website.

Give Discounts to Reviewers:

You can give customers custom discounts for including a product visual in their reviews.

Inline SEO:

Loox allows you to display reviews and ratings on search engines with rich snippet integrations.

Social Media Sharing:

You can share customer reviews on your social media pages via Loox.

Happy Customers Page:

You can display all your satisfied customers' feedback on one page.

Rating-Widget:

Simple widget that shows star ratings and reviews on your product pages.

Cross-Sell/Upsell:

You can integrate product suggestions in your review request emails.

Supports Multiple Languages:

Available in English, Turkish, French, Spanish, Portuguese, Italian, German, and Dutch.
Usability
Loox is easy to use—most steps, like importing reviews from other platforms or installation, require one click. It has a well-designed interface that is intuitive and straightforward, making it easy for users to navigate and find the features they need. The app seamlessly integrates with your Shopify store, making it simple to install and set up. Once installed, Loox automatically sends review request emails to customers, and the reviews can be displayed on your website in just a few clicks.
Support
Loox offers customer support through email, live chat, and phone. Their support team is available 24/7 to assist with any questions or issues that users may encounter. They also provide a comprehensive knowledge base with articles, tutorials, and guides to help users navigate and make the most of the app's features.
Additionally, Loox offers onboarding support for new users to ensure a smooth and efficient setup process. Users can contact support via the Loox admin by clicking the Email us icon or by sending an email to [email protected]. Replies are usually within 24 hours.
Loox: the Most Powerful Form of Social Proof
Loox is a highly reputable and trustworthy app that has been widely adopted by e-commerce businesses of all sizes. Whether you're a seasoned pro or just starting out, Loox makes it easy to collect and showcase customer reviews that can help boost your credibility and build trust with your target audience.