All-In-One Image Master Review (2024): The Ultimate Shopify Photo Editor

By

Ashley Stander

Edited by

Michelle Meyer
Updated November 17, 2023.
Our team tests eCommerce apps and publishes reviews that are unbiased and not influenced by payments we receive from some of the app developers.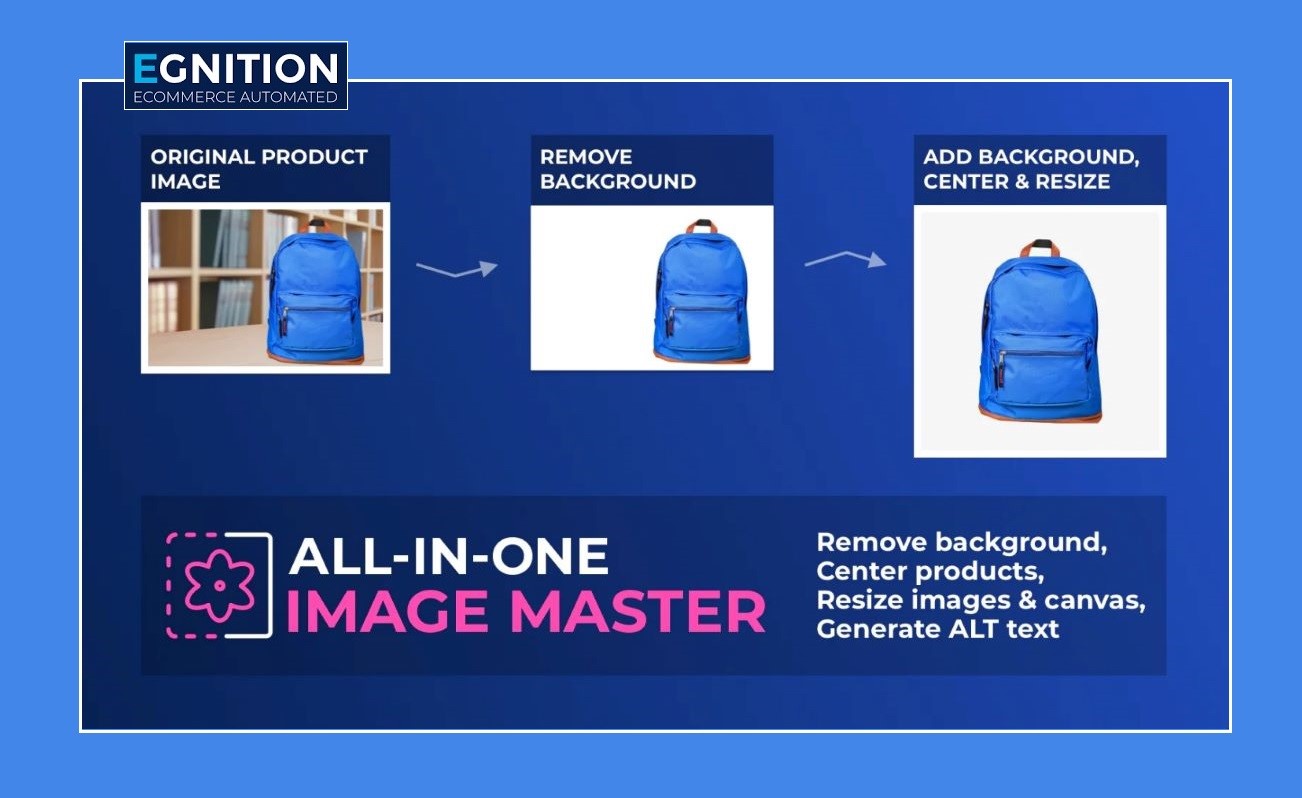 We all know how tedious it can be to prepare good-quality product images for your Shopify store. Using a variety of applications for different functions is not ideal and can be downright frustrating. If these frustrations resonate with you, then you may want to check out the latest app from Egnition.
Using Egnition's All-In-One Image Master eliminates the need to switch between different apps to edit your images in any way, shape, or form. The app's features include the ability to automatically generate alt text, set uniform styles for all your products, and optimize and compress images for Shopify stores to reduce loading times.
Pros
Flexible style settings for all images

Retain image quality with small image sizes

Bulk processing of images

Automatically generate alt text

Review, customize, and send automatically generated emails
Cons
Packages can be costly depending on your budget
Who Is All-In-One Image Master Best for?
It's simple: if you're selling a range of products in Shopify that need to be showcased using good-quality images, this app is perfect for you. It doesn't matter what your products are, from shoes to cars, to clothes and jewelry—you'll start editing images like a pro! Simply put, the app is best suited for e-commerce startups in need of an easy-to-use photo editor with a simple learning curve offering unified pre-set rules/templates and automatic ALT text generation for increased SEO traffic.
» Pro Tip: Combine your photo editor with a good store design app for increased web traffic
Overview of Features
The All-In-One Image Master app will help you edit your Shopify product images more efficiently with its variety of features, including automation—thereby saving you time and effort.
Image Compression & Optimization
Images that are too big can take time to load and disrupt your users' experience of your store. This feature will help you to compress and, at the same time, optimize image sizes so that your catalogs and collections look professional without download delays.
Automatic Alt Text Generation
This feature will help Google to understand what your image and your website are about. Why is this important? Because it increases the chances of users finding your store during a search, thereby boosting your SEO.
Batch Editing Capabilities
Imagine how much time you'd save if you could edit all your images in one go and in a consistent manner. This is what batch editing can do for you! This is particularly handy if you have a lot of images to process and you want them to have a similar look and feel.
Pricing
All-In-One Image Master has a fixed pricing structure that's easy to understand and cost-effective to use.
Each package provides a number of credits and images that can be edited. The credits don't expire, and all of the features are included in all the packages—even the free package if you just want to start with a trial.
Usability
Just as it says in its name: this is an all-in-one app. You can do all the editing you want within one app, taking all the frustration and laborious effort out of editing,
A logical layout and flow coupled with simple and straightforward functions make this app easy to use and can even be fun for some. You don't need to be a professional designer to churn out beautiful images, and you definitely don't need to be an IT guru to understand how the app works!
Support
Support is always an important aspect of technology for those moments when you just need a gentle nudge in the right direction. Customer support is available 24/7/365! All you need to do is reach out by using the dedicated support icon in the app or email your questions to [email protected] for fast and friendly assistance.
The customer support team works tirelessly to deliver more value to your business with a roadmap that's largely based on the questions asked by customers. It's fast, on point, and effective.
Is All-In-One Image Master Worth Investing in?
It's a full-bodied, undeniable yes! The All-In-One Image Master is convenient, cost-effective, easy to use, and allows your creativity to reach new levels of perfection. Photos can be edited in a variety of different ways to help bring about a consistent theme to your brand and store without breaking the bank.