Topdser Dropshipping Review (2023): Pricing, Features, Support, & More!

By

Elijah Adebayo

Reviewed by

Kirsty Macdougall
Updated July 6, 2023.
Our team tests eCommerce apps and publishes reviews that are unbiased and not influenced by payments we receive from some of the app developers.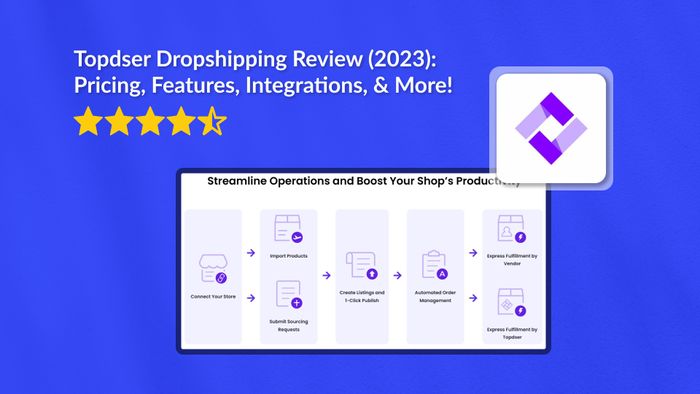 The dropshipping market is estimated to be worth $287.36 billion and is projected to reach $1,253.79 billion by 2030. To get a slice of the pie, you need a reliable and efficient dropshipping app to help you source and fulfill products. It's no wonder that platforms like Topdser have gained immense popularity among store owners looking to streamline their operations.
Topdser is an app tailore­d for e-commerce dropshipping businesses. The app aims to simplify the process of finding suppliers, importing products, and managing orders, making it one of the best Zendrop alternatives on the market.
This review offers a comprehensive­ evaluation of Topdser's feature­s, pricing model, support, and more to he­lp you determine its suitability for your dropshipping venture.
» Learn how to select the right dropshipping & fulfillment partner
Pros
Sleek & intuitive UI

Wide range of automation features

Excellent customer support & tutorials

Free plan available
Cons
Free plan is somewhat limited

Some product descriptions lack detail
Best For
Topdser is a great app for small to medium-sized e-commerce dropshipping businesses. In particular, it's an excellent choice for:
» If you're an international merchant, consider using one of these currency converter apps
Overview of Features


Topdser's broad selection of features puts it way ahead of the competition. They've got you covered every step of the way, from sourcing products to tracking orders, so your business can keep growing and thriving. Here are some of the standout features:
One-Click Product Imports
With Topdser, it's extremely easy to source products on AliExpress and 1688 and import them to your Shopify store. Choose from thousands of products across multiple categories, complete with the ability to edit all their titles, descriptions, prices, and variants for a personal touch. This way, you can make sure it aligns with whatever theme or audience you're targeting.
Auto-Place Orders
You can breeze through your order fulfillment process with Topdser. In seconds, you can auto-place up to 300 orders at once, saving you the tedious manual effort of placing orders individually. This not only saves you time and effort but also ensures that your orders are shipped as soon as possible.
Private Storage
To ensure your customers get the speedy delivery they deserve, Topdser offers their own private storage for your dropshipping products. This means you can ship products up to four days faster and avoid out-of-stock issues. It also means you can buy popular products in bulk, saving you money and increasing profits.
Integrated Branding
Topdser gives you­ the power to personalize­ your dropshipping products with your store's unique branding. You can create branded packing tape and boxes and even customized stickers with your logo and brand colors. Personalized branding helps you stand out from the competition, build brand identity and recognition, and gain the trust of your customers.
» Build brand awareness with one of our best marketing apps for Shopify
Pricing Plans
Topdser has four pricing plans for different budgets and needs. Each offers essential features like one-click bulk orders, price and inventory monitors, pricing rules, and niche spy. Below is an overview of some of the key features:
Let's take a closer look at each plan:
Jump
Topdser's free plan will help get your dropshipping store up and running smoothly. It includes an import list limit of 3,000 items, multi-store management for up to three stores, auto order fulfillment, and auto-messaging. It's the perfect choice for beginners and small-scale dropshipping businesses.
Pro
The Pro plan is priced at an affordable monthly fee of $19 and is designed for growing dropshipping businesses with a moderate sales volume. It offers an import list limit of 20,000 products, multi-store management for 10 stores, in-app order tracking, and a cashback affiliate program, among others.
» If expansion is a top priority, take a look at our list of top Shopify apps for growing stores
Accelerate
For ambitious entrepreneurs determined to accelerate their dropshipping success, the Accelerate plan is available at $99 per month. It boasts an import list limit of 150,000 products, priority processing, product inspection, and multi-store management for up to 50 stores.
Scale
The Scale plan, priced at $499 per month, is a tailored solution for large-scale dropshipping businesses with extensive product catalogs and unique operational demands. It includes an unlimited import list limit, personalized quality control, a dedicated account manager, and customized product images. This plan ensures seamless scalability and optimal performance for thriving dropshipping empires.
Integrations
Third-party app integrations are vital for boosting conversions and sales and engaging customers. By seamlessly integrating with popular e-commerce tools, Topdser offers a comprehensive solution to enhance your dropshipping business.
Some of the most popular integrations include:
Other integrations include:
Usability
The platform's user-friendly interface makes navigating and managing your dropshipping business effortless. Its intuitive design flows without a hitch, and its features are well-organized and easy to find, making it an excellent choice for beginners. In addition, Topdser is quick to set up and configure, and the tool easily integrates with other apps.
Topdser's search function could be more powerful, and product descriptions occasionally lack detail, but overall, Topdser's usability is one of its strengths.
» Discover how to write great product descriptions for your store
Support
Topdser provides comprehensive support to assist dropshippers in their journey. Key customer services and resources include:
Achieve Top-Tier Dropshipping With Topdser
Although the free plan has limited features and there are minor glitches with usability, Topdser is a game-changer for both newbies and experts in the dropshipping industry.
From its product research tools, order management capabilities, and efficient pricing and inventory management, Topdser really packs a punch when it comes to speeding up operations. Not only will it save you valuable time and effort, but it will help give you an edge in a highly competitive market.
» Check out more top-rated dropshipping apps to streamline operations