20 Best Shopify Apps to Grow Your Store in 2023

By

Jaques Cilliers

Reviewed by

Staff Editor
Updated July 10, 2023.
Our team independently researches and recommends the best products and services. We publish reviews that are unbiased and not influenced by payments we may receive from advertising partners.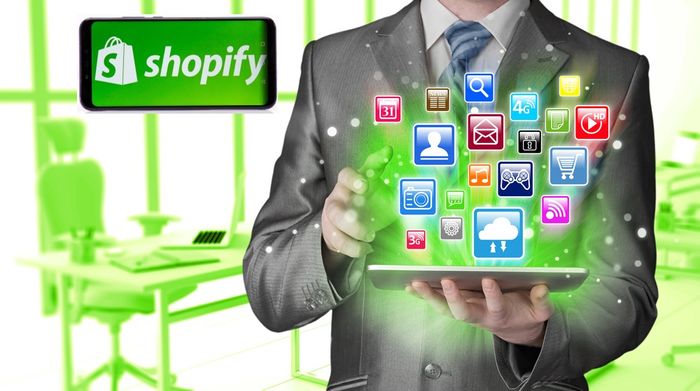 Shopify is one of the most widely used e-commerce platforms, and there are currently 8,000+ Shopify apps from which to choose. 
Shopify apps can streamline and optimize the running of a Shopify store. They help increase sales by adding features such as product reviews, upselling and cross-selling tools, and email marketing automation. Apps can enhance marketing efforts by enhancing social media integration, retargeting ads, and SEO optimization.
It is often very challenging to determine which apps are best for your store's needs. We would like to put your mind at ease as we've done the legwork and scoured the market for the best Shopify apps that will take your store to the next level. 
We'll delve into 20 of the best Shopify apps that can help you grow your store in 2023.
Our Top Picks of the Best Shopify Apps
1. Best Store Design App
KeepShoppers Score: 9.8
Key Features
PageFly lets Shopify users modify landing pages, product pages, and home pages

A drag-and-drop page builder, pre-designed templates, mobile-responsive design, SEO optimization tools, integration with third-party apps, and real-time editing

Countdown timers, product upsells, and social proof widgets help consumers convert
PageFly is a Shopify software that serves as a drag-and-drop page builder, allowing non-technical users to make their own unique landing pages, homepages, product pages, and other content without the need for any coding knowledge or experience. It offers a straightforward interface with a wide choice of customizable pre-made sections, features, and themes for use in constructing a website.
There are even more sophisticated capabilities available within the app, such as A/B testing, SEO optimization, and integrations with other programs like Google Analytics and MailChimp. PageFly's mission is to facilitate the enhancement of website design and functionality with the purpose of increasing conversions and enhancing the user experience.
Why We Liked It
What we love about PageFly is its ease of use, flexibility and customization options, helpful customer support, ability to create professional-looking pages, and the variety of pre-built templates and blocks available. Users also appreciate the app's fast loading times and the ability to create responsive designs for mobile devices.
» Interested in learning more? Read our in-depth PageFly review
2. Best Sales App
KeepShoppers Score: 9.6
Key Features
Sales Notifications: Real-time sales notifications increase urgency and social proof

Countdown Timer: Create urgency and encourage purchases with this function

Trust Badges: These badges boost customer trust in your store

Promotion Bar: Add a promotional bar to your store to promote discounts, free shipping, and other incentives
The Ultimate Sales Boost app lets Shopify merchants increase sales and improve their customers' shopping experiences. It includes a countdown timer, targeted advertising, and widgets that can be easily modified to appeal to specific audiences. It also offers trust badges, upsell and cross-sell offers, incentives, and more to entice customers and drive sales.
Why We Liked It
What we love about the Ultimate Sales Boost app is the fact it offers a variety of powerful tools to boost store sales and conversions. It tracks client behavior, analyzes data, and suggests personalized offers and promotions. It also gives real-time statistics to help merchants understand client behavior and plan their marketing approach. It also has an easy-to-use interface to assist retailers build up and manage campaigns.
» Explore the app in more detail by checking out our Ultimate Sales Boost review
3. Best Affiliate Marketing App
KeepShoppers Score: 9.8
Key Features
Easy-to-use interface

Makes affiliate program setup and management simple

Lets you pay affiliates by PayPal, store credit, or manually

Offers customizable landing pages to boost conversions
UpPromote is a leading Shopify software for affiliate and referral marketing. Businesses can develop unique affiliate programs with various commission schemes and use strong affiliate management tools to express their brand's narrative using ambassadors' voices. UpPromote also works with top Shopify Apps, Experts, Courses, and Ecommerce organizations to create outstanding merchant experiences
Why We Liked It
What we like most about UpPromote is that its at the forefront when it comes to affiliate and referral marketing. Businesses can relate their company's brand story via the eyes and ears of its ambassadors. They may do so through distinctive affiliate programs with flexible commission structures and effective affiliate management tools.
» Head to our UpPromote review for the full app lowdown
4. Best Email Marketing App
KeepShoppers Score: 9.2
Key Features
Create eye-catching pop-ups with easy-to-use targeting and triggers to persuade users to sign up for your newsletter or take other desired activities

Automate email creation, sending, and personalization

Reach clients with SMS campaigns prompted by customer actions or conditions

Track customer activity in your store to develop tailored marketing and offers

Use social media to enhance sales and engagement
Privy is an email marketing platform that assists businesses in creating and sending targeted and personalized email campaigns by means of a user-friendly drag-and-drop email editor, email automation, segmentation, pop-up forms, A/B testing, and in-depth analytics. Privy is an all-inclusive solution for efficient email marketing, featuring integrations with popular e-commerce platforms and other tools.
Why We Liked It
What we appreciate about Privy the Best Email Marketing App is the large range of features and the intuitive interface. Privy's capability to create tailored email, popup, and SMS campaigns is a big draw for us. It helped us to gain a deeper understanding of our clientele and direct one's marketing efforts more effectively with the help of its sophisticated analytics and segmentation features.
» Take a look at our review of Privy for more info on this app
5. Best SMS Marketing App
KeepShoppers Score: 9.6
Key Features
Automated SMS flows (such as abandoned carts)

Easy SMS subscriber collection

Automatically convert response data to JSON

Grow your SMS and Messenger lists 20x faster

Facebook Messenger marketing capabilities
Recart is the best SMS app for e-commerce firms, growing SMS and Messenger lists 20x faster. Online merchants can automate relationships with consumers with SMS and Messenger to boost sales. It offers a complete text-marketing solution, from list growth tools and opt-in forms to automated campaigns, pop-ups, and automations. Users may quickly personalize their campaigns to reach their desired demographic. Its strong analytics help analyze campaign effectiveness.
Why We Liked It
What we find particularly useful is that Recart allows us to speedily set up SMS campaigns to help us target specific audiences. Doing so allows us to increase customer engagement and retention. A huge bonus is the app's compatibility with other Shopify apps like Klaviyo, Yotpo, and Gorgias, making it simple to communicate with clients on a one-to-one basis. Also, we love the straightforward and uncomplicated design.
» Read our comprehensive Recart app review if you're looking for more info
6. Best Push Notifications App
KeepShoppers Score: 9.8
Key Features
Lets users automate abandoned cart recovery, welcome messages, and other triggers

Subscribers can be segmented by location, device, or behavior

Uses dynamic tags to customize messages

Can compare push notification versions

Analyzes campaign performance, subscriber behavior, and income
Shopify stores use PushOwl to deliver automatic notifications to customers and prospects. You can use this app to re-engage customers with tailored messaging and promotions, notify customers of price drops, and restock inventory. PushOwl can also be integrated with other Shopify products like Judge.me, PageFly, and Stamped.io to boost notifications and track web push marketing efforts. The abandoned cart recovery tool lets business owners send 3 automatic notifications to shoppers who abandon their carts.
Why We Liked It
We love the fact that PushOwl makes it easy for us store owners to send personalized push alerts to customers, which can boost sales, engagement, and brand loyalty. It is a great tool to help us reach our marketing goals. Do not underestimate this app's capabilities as it includes abandoned cart recovery, automated drip campaigns, and intelligent targeting. What's more, PushOwl is easy to use and offers great customer service.
» Has PushOwl caught your eye? Read our full PushOwl review for all the details
7. Best Conversions App
KeepShoppers Score: 9.4
Key Features
Heatmaps show clicks, taps, scroll depth

Session Replay shows how users interact

Conversion Funnels track users' conversion steps

Form Analytics monitor form user behavior
Lucky Orange Heatmaps & Replay improves website conversion rates. The app lets you create heatmaps and session replays to better understand how visitors use your website. This data can be utilized to refine your website's design and functioning, increasing conversion rates and profitability. Lucky Orange also offers form analytics and conversion funnels to help you understand why visitors don't convert, surveys to obtain user feedback, and customizable email reports to stay current.
Why We Liked It
What we love most about the Lucky Orange app is how user-friendly and easy it is to set up, even for non-technical users. Personally, I found it very useful to take a deeper look into user behaviors to see what improvements can be made. The conversion optimization features make it easy to optimize our website for conversions. The dedicated customer service support willingly answers any questions one may have.
» For more apps like this, check out our top picks of conversion rate optimization apps
8. Best Image Optimizer App
KeepShoppers Score: 9.8
Key Features
Compresses image size without affecting quality

Generates informative alt tags for each image

Lazy Loading: Images loaded only when needed

Optimize all images in bulk to save time
The Shopify app AVADA SEO Suite has several search engine optimization (SEO) tools that may be used to better position your store in search results. To help your website load faster and run more efficiently, the program includes an Image Optimizer that can compress the images you use.
Why We Liked It
We love the fact that the AVADA SEO Suite Image Optimizer allows you to enhance the performance of any image on your site, whether it's a product image, a banner, or anything else. In addition, the program can instantly optimize any fresh images you add to your shop, saving you the trouble of individually compressing each one.
» For similar tools, see our list of the best apps to optimize product images
9. Best Upselling & Cross-Selling App
KeepShoppers Score: 9.7
Key Features
Real-time order tracking improves customer satisfaction

Recommends products based on browsing history

Provides one-time offers to encourage repeat orders

Enables users to modify thank-you pages
ReConvert converts practically any file type to PDF. What's more, the app rapidly and effortlessly converts Microsoft files, Google documents, pictures, and more into professional, secure PDF documents. No complicated software or long upload times are needed to convert files. One-click upsells, post-purchase upsells, and discounted checkout options help ReConvert increase conversion and sales. PDFs can be protected with passwords, digital signatures, and more. The bottom line is that ReConvert makes secure PDFs easy.
Why We Liked It
We are thoroughly impressed with how easy and quickly you can convert almost any file type into a secure PDF document with ReConvert. Store owners can easily create professional PDFs that are secure and look great. ReConvert also offers additional features such as one-click upsells, post-purchase upsells, and discounted checkout options that can help owners boost conversion and capture more sales.
» Head to our ReConvert review for further app details
10. Best Loyalty & Rewards App
KeepShoppers Score: 9.6
Key Features
Lets businesses create customizable rewards programs

Variety of reward redemption offers available

Helps organizations track loyalty program performance

Lets businesses create segmented incentive programs
Businesses may use the Smile.io app for their customer loyalty program to offer incentives to customers for doing things like making purchases, referring friends, leaving product reviews, and more. Using Smile.io, companies can design a loyalty program from scratch that is tailored to their specific audience. Email campaigns, pop-ups, and social network integrations are just some of the promotional options available to businesses through this software.
Why We Liked It
What we truly admire about Smile.io is how easy it integrates with other apps. This includes email marketing ESPs and the extensive feature set that lets you tailor your loyalty program. The easy-to-use interface helps us to track customer points. We also like the option to reward customers for certain activities like submitting reviews or following the store on social media.
» Read our in-depth review of Smile.io if you want to learn more
11. Best Subscriptions App
KeepShoppers Score: 9.5
Key Features
Keep track of expenses to avoid unexpected charges

Users can set reminders for specific times

Users can track their subscription spending

Helps users discover new subscription services
Appstle is an eCommerce subscription app that streamlines subscription-based businesses. Weekly summary reports, inventory projections, 24/7 assistance, and more are available. Appstle makes it easy to set up better subscription models on your Shopify store and customize them for your business. Appstle simplifies subscription company management, letting you focus on client connections and business growth.
Why We Liked It
We enjoy Appstle Subscription Management App for its simplicity and features. It allows us to easily set up and manage subscription and recurring payments business models. What we love most is the app's ability to automate billing and payment processing on a recurring basis for our customers. Even better is the state-of-the-art analytics dashboard that provides us with timely information to do with our client acquisition, retention, and churn.
» For more great apps like this, see our top picks of subscriptions apps
12. Best Reviews App
KeepShoppers Score: 9.8
Key Features
Lets you customize review request emails to customers

Users can attach photos with reviews

Automatically send review requests after set time

Lets you approve or reject reviews before publishing

Integrates with Shopify, BigCommerce, and WooCommerce
Loox is the best app in its category for collecting and displaying customer reviews and ratings on an online store, making it ideal for any business that relies on online sales. By showcasing authentic customer reviews and user-generated content on product pages, online merchants can increase social proof and sales with Loox.
Why We Liked It
We are super excited to recommend any serious eCommerce store owner to try Loox. Not only is it super easy to install as it requires no coding skills, but it seamlessly integrates with Shopify and other leading e-commerce platforms. This alone makes it the go-to solution for e-commerce businesses of all sizes. In addition, it brims with features such as customizable review widgets, SEO-friendly review pages, and social sharing options, Loox is a must-have Shopify app for any business looking to improve their online reputation and drive sales.
» Our Loox review offers the full lowdown on the app's capabilities
13. Best Discount App
KeepShoppers Score: 9.3
Key Features
Generate bulk discounts with discount coupon box

Provide bulk break discounts to customers

Tailor discount codes

Increase AOV with quantity break and spend discounts across many products

In-cart upsells inform buyers about discounts
Volume & Discounted Price Best Discount App by Shopacado lets you create bulk purchase discounts with a discount coupon box. It lets you build up quantity break offers to show consumers discounted prices and modify discount codes and discounts to particular goods, ranges, or your entire product list. You can also build quantity break & spend discounts across several products, collections to improve AOV, and in-cart upsell messaging to inform customers of discounts
Why We Liked It
The Volume & Discounted Prices Best Discount App is one of our personal favorites since it simplifies the process of offering discounts to our clients and encouraging them to make larger purchases. We can easily create quantity break offers to present discounted pricing to our customers and customize discount codes and discounts to specific goods, price ranges, or the entire product list. What we are particularly impressed with as retailers ourselves is the ability to easily provide discounts and rewards to our customers, which boosts business and ensures customer retention.
» Looking for more ways to create discounts? Check out these excellent apps to generate discount codes
14. Best Accounting App
KeepShoppers Score: 9.1
Key Features
Multi-currency support that makes it ideal for global businesses

Automatically imports and categorizes your transactions

Create customized invoices with your logo and branding

Easily track expenses and categorize them

Provides a range of reports to analyze financial performance
QuickBooks Online Global is a simple accounting tool for businesses. Its strong analytics and reporting capabilities help businesses understand their finances. It also integrates with Salesforce to simplify customer data and transaction management. QuickBooks Online Global supports several currencies, making it perfect for multi-country organizations. Invoicing, spending monitoring, and cash flow management make it one of the finest accounting software for small businesses.
Why We Liked It
The QuickBooks Online Global: Account App is our personal favorite as it gives us access to our financial data from anywhere. Also, it allows us to quickly keep tabs on our money, send and receive invoices, and compile reports. To further facilitate management of operations and up-to-date data, we found it super easy to integrate QuickBooks Online with other business apps.
» Read up on more top apps for accounting & taxes
15. Best Currency Converter App
KeepShoppers Score: 9.6
Key Features
Users can instantly turn their currency on or off

Offers multiple currency display options

Easily set your exchange rate and currency symbol

Has a great design and easy setup process
The Shopify app BEST Currency Converter lets store owners change currencies and receive payments in these currencies. It streamlines international transactions for customers and merchants. The program lets business owners configure exchange rates and currency symbols for over 150 currencies. Store owners can define minimum and maximum pricing and display numerous currencies. It converts prices to customers' home currencies at checkout. The software is well-designed and simple to use
Why We Liked It
We love the BEST Currency Conversion app because it makes international transactions easier for our customers by allowing them to view product prices in their local currency.. Also, the app lets us set the relevant exchange rates and currency symbols for over 150 currencies. In checkout, it converts prices to consumers' home currencies. The currency converter app provides an improved shopping experience for customers, boosts sales, and provides flexibility. Very easy to install and set up, and require minimal technical knowledge.
» Want more options like this? Head to our list of the best currency converter apps
16. Best Translation App
KeepShoppers Score: 9.4
Key Features
Supports translation into more than 111 languages and 167 currencies

Easy to navigate user-friendly interface

Non-tech savvy individuals can use the app without difficulty

Uses advanced translation technology to automatically translate content

Can customize translations so content is accurately translated
Transcy helps Shopify owners easily translate their content into multiple languages. Prices can be displayed in various currencies as the powerful app supports over 167 currencies. It features a customizable language switcher to easily switch between languages. The app makes it easy to reach a global audience and boosts conversions as a result.
Why We Liked It
We love the simplicity associated with the Transcy Translation app. It helped us to reach a larger audience, increases traffic, and makes it so much easier for our international customer base to do business with us. It is easy to use, customizable, cost-effective, and provides an improved customer experience.
» For further info on this app, take a look at our Transcy review
17. Best Customer Support App
KeepShoppers Score: 9.7
Key Features
Real-time live chat feature

Automated customer support by chatbots

Communication across multiple channels

Customizable chat widget fully integrates with online store

Integrates with popular CRM platforms
Tidio is an all-in-one customer experience solution with live chat, chatbots, and multichannel communication, with paid plans starting at $19 per month. You can also build automated chatbots to reply on your behalf to FAQs on multiple channels like FB messenger, WhatsApp, etc. Take care of customer returns and refunds.
Why We Liked It
We've made use of Tidio ever since we can remember. It is a no-brainer, if you consider the convenience and efficiency that it provides. We like the fact that we can get help quickly and easily, made possible by real live chats with customer service reps in real-time. We fully appreciate the proactive features that Tidio provides, such as Live Typing and Canned Responses.
» Take an in-depth look at the app in our Tidio review
18. Best Shipment Tracking App
KeepShoppers Score: 9.2
Key Features
Track status of shipments from over 800 carriers globally

Send push notifications or email updates of delivery status

Detailed tracking history for each package

Customize tracking page with own branding, colors, and logo

Integration with Shopify, WooCommerce, and Magento
The Shopify AfterShip Tracking App can track DHL, UPS, and FedEx packages. The app shows the anticipated delivery date, status, and more. Users can also get cheaper domestic and international carrier rates and receive status notifications. Additionally, the software may automatically sync inventories and transmit product data and pricing to TikTok Shop. Finally, AfterShip's returns software aids brand loyalty and retention by turning returners into brand advocates.
Why We Liked It
What we appreciate most about AfterShip is that the app allows your customers to monitor the delivery of their packages. You may use it to see where your package is in the shipping process, when it's expected to arrive, and more for packages sent via DHL, UPS, FedEx, and other carriers. An extra bonus is the discounted rates made available from domestic and international airlines. You can view extensive tracking information, and get notified when a certain status is reached—all in one convenient app.
» For more powerful shipping tools, see our list of the best shipping apps
19. Best Dropshipping App
KeepShoppers Score: 9.7
Key Features
Automated order processing

Bulk order processing

Real-time inventory management

Customizable pricing rules

Multiple suppliers management
DSers is a dropshipping app that makes it easy to import AliExpress and other products into Shopify stores. It has automatic product synchronization, order tracking, product filtering, pricing optimization, and more. DSers lets customers quickly import AliExpress products, choose the most profitable ones, and change product descriptions, photos, and pricing for their own store. This simplifies dropshipping and store creation
Why We Liked It
What we love about DSers is that it's an all-inclusive dropshipping tool that can make it easier to run a dropshipping company. It's fantastic for dropshippers of all skill levels due to its automation of order processing, compatibility with numerous e-commerce platforms, and interaction with AliExpress.
» Explore more leading dropshipping apps for Shopify
20. Best Print-on-Demand App
KeepShoppers Score: 9.3
Key Features
Automatically process and fulfill orders

Integration with multiple e-commerce platforms

API allows integration with custom solutions

Offers a wide range of products

Easy design uploads

Detailed analytics on orders and sales
You can make and sell your own unique products online using Printful, a print-on-demand (POD) dropshipping app. Any POD dropshipper interested in a large selection of products, high-quality printing, and hands-free order fulfilment should seriously consider this software. Users may develop and sell high-quality products with little effort thanks to the platform's user-friendliness, minimal entry barriers (thanks to its compatibility with e-commerce platforms), and helpful customization tools and support staff.
Why We Liked It
We love the fact that Printful, a print-on-demand (POD) service, lets entrepreneurs and small businesses like ourselves sell unique clothes, accessories, and other things without inventory. Printful lets us design, upload, and distribute products to clients. They take care of prints, cuts, sews, packs, and dispatches. It is a real boon that you can focus on marketing and branding while Printful handles the rest. The service integrates with Shopify, making it easy to build up an online store and sell custom products.
» Streamline orders with these top-rated product-sourcing apps
Unlock Your Store's Full Potential With These Apps
To maximize your store's potential with Shopify, you must focus on choosing the applications that are the best fit for your store's specific needs and objectives. Apps for customer reviews, email marketing, analytics, product promotion, and more are among the most popular and effective Shopify apps. You'll soon realize that you won't need all of these apps we've reviewed over here.
A thorough investigation and evaluation of each app is required to identify which ones will contribute most to the success of your store. In turn, you need to consider your specific needs and goals as a shop owner before selecting the best apps to use.
The cost, customer support, and ease of integration with other systems should all factor into your decision. Once you've done your homework and found the best applications for your store, you can start adding them right away and reaping the benefits of their advanced functionality.
Keep in mind that when you choose the right apps, it will help to streamline and automate a lot of the processes involved in improving your customers' experience, which will ultimately ensure your store's success.
KeepShoppers Methodology
Shopify apps' performance in the ecosystem depends on several parameters. For example the app's stability, scalability, affordability, customer support, and integration. Special attention should be given to the app's features, user experience, user interface, security, and privacy settings. These are the parameters we consider when evaluating the apps below, so you can choose the best Shopify app for your business.
Ease of Use:

Shopify apps' ease of use and the user interface are essential factors we carefully evaluated. An intuitive, easy-to-use user interface with clear instructions and useful documentation is ideal. The setup process should be simple with little user settings. By taking into account the ease of use and user interface when evaluating Shopify apps, we ensure we selected the best app for your store's needs.

Features:

The more features an app has, the more it may help you out with in terms of running your online store. As an example, if you're trying to expand your customer base and boost your sales, an app that integrates with social networking and also has email marketing features could be exactly what you need.

Value for Money:

Most Shopify apps also offer free plans that can provide a good starting point for store owners. On the other hand, premium plans come with a range of additional features and benefits that can be incredibly useful for store owners. Additionally, the cost of these premium plans can often be offset by the increased sales and revenues that can come from the added features.

Customer Support:

The extent and timeliness of the help desk support will vary from app to app, but most apps offer support in some form. This can include 24/7 live chat support, email support, and detailed FAQs and user guides.

Customer Reviews:

In assessing these apps, we paid more than the usual attention to those who've used the apps over a longer period.