Tidio Review (2023): Pricing, Features, Support, & More!

By

Elijah Adebayo

Reviewed by

Kirsty Macdougall

Fact-check by

Romi Hector
Updated May 31, 2023.
Our team tests eCommerce apps and publishes reviews that are unbiased and not influenced by payments we receive from some of the app developers.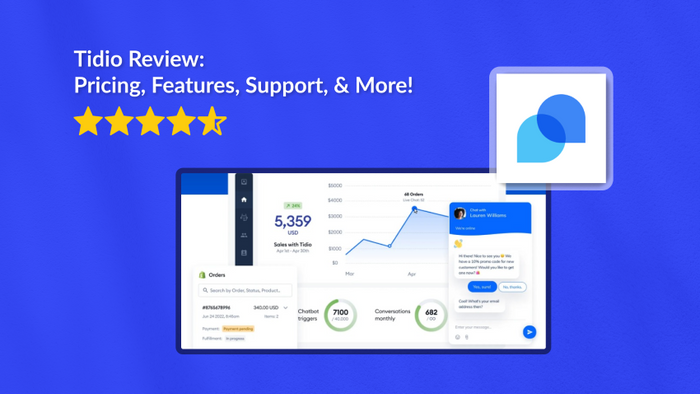 According to a recent study, the amount of money consumers spend on retail purchases through chatbots is expected to reach $142 billion by 2024. That's a staggering increase from just $2.8 billion in 2019. Chatbots are not only convenient and cost-effective, but they also provide a personalized and engaging customer experience.
Providing excellent customer service is not always easy. Merchants face many challenges, such as a lack of time or human resources to promptly handle customer queries, language barriers, time zone differences, etc. That's why we decided to review one of the most popular chatbot tools on the market: Tidio.
Tidio is a chatbot and live chat platform that helps you communicate with your customers in real time, automate tasks, and personalize your interactions. We'll take you through the ins and outs of the app in this detailed review.
Pros
Easy-to-use UI

No coding skills needed

Wide range of AI-driven features

Customizable chat widgets & chatbots

Quick multilingual support

More affordable than similar apps
Cons
Limited Shopify app integrations

Free plan has a limited number of chats
Best For
Tidio is the perfect app for any small to medium e-commerce store looking to improve customer service and increase sales. Whether you sell clothes, books, gadgets, or anything else, Tidio can help you connect with your customers and answer their questions in real time.
However, stores with high volumes of customer inquiries or those that sell complex products will benefit the most from the app. This is because Tidio allows you to automate your responses, create chatbots, and integrate with other tools like email marketing and CRM. This way, you can save time, reduce costs, improve customer satisfaction, and ultimately, increase sales.
» Check out our selection of the best sales-boosting apps to see your sales soar
Overview of Features


Live Chat
Live chat is one of Tidio's core features. It allows you to respond to customers almost immediately to increase your sales. You can use live chat to collect customer data before the chat starts, see what customers are typing before they send messages, create a library of common answers for lightning-quick responses, and customize your chat widget to match your brand. You can also split your operators into departments so customers can reach the right person for their queries.
Shopify Order Management
If you run a Shopify store, you'll love this feature. Tidio lets you manage your orders during chats, provide product recommendations, and offer refunds without leaving the app. You can preview customers' shopping carts and review their order history, as shown in the image below. Tidio also serves as a discount generator app, issuing custom coupon codes to customers. These tools can help you reduce abandoned cart rates and increase customer loyalty.
Chatbots
Tidio's chatbots allow you to have fully automated customer service without any coding skills. You can use the visual chatbot builder to create your own chatbots or choose from 35+ templates for different scenarios. You can also use chatbots to collect customer data, send pop-up messages when customers abandon their cart, and conduct post-conversation surveys.
Tidio AI
Tidio AI can help you provide faster and smarter customer service. This feature comprises a set of advanced features that use artificial intelligence to enhance your chatbots and live chat. You can use the Reply Assistant to get suggested responses based on previous chats, the FAQ Wizard to create chatbots that answer common questions, and Smart Views to segment your visitors based on their behavior and preferences.
Ticketing
Ticketing is a feature that helps you track and prioritize customer queries. It can help you organize your customer service and avoid missing any important issues. You can tag customer queries with different labels, such as "urgent," "new," or "resolved." You can also add notes and create custom tags for your own convenience. Tidio takes the ticketing system one step further, allowing you to transform chats or emails into tickets in just a few clicks.
Multichannel Tool
The multichannel tool is a feature that helps you create a communication center by linking all your messaging channels into one platform. You can integrate Messenger, Instagram, Live Chat, and email with Tidio and respond to all your messages in one place. This way, you can save time, avoid switching between apps, and reach more customers on their preferred channels.
Analytics
Analytics is a feature that helps you measure and improve your customer service and sales, and Tidio functions as an excellent analytics app. It lets you see how your chatbots and operators are performing, how many conversions you are getting, and your customer satisfaction rate with your service. It also offers helpful suggestions on what you can do to improve. You can compare different metrics using charts and see how they change over time, helping you optimize your chat strategy to increase ROI.
» Don't forget to track your income & expenses with our top picks for the best profit-tracking apps
Plans & Pricing
Tidio offers a forever-free plan and three paid plans, which you can try for free for seven days. They also offer a 17% discount if you choose an annual plan.
Free
The Free plan is an excellent choice to get your small website started, with no commitment required. With this plan, you can access live chat, chatbots, email support, the ticketing system, desktop and mobile apps, visitor info, and JavaScript API. You can have up to 50 unique conversations with live chat and up to 100 users with chatbots. The Free plan best suits small businesses or hobbyists who want to try out the app.
Communicator
The Communicator plan is best for mid-sized teams that base customer support on live conversations. With this plan, you get unlimited conversations with live chat and up to five operators. You also get features such as team departments, analytics, live typing, viewed pages, a live visitors list, and more. The Communicator plan costs $19 per month per operator.
Chatbots
The Chatbots plan is a handy add-on with automations made for self-service. With this plan, you can create as many chatbots as you want and use them to automate tasks, answer questions, and collect data. You also get features such as over 35 chatbot templates, the visual chatbot editor, Zapier integration, and more. This plan starts at a monthly fee of $19 and is best suited for businesses that want to automate their customer service and increase conversions.
Tidio+
The Tidio+ plan is a solution for growing businesses looking for advanced features and dedicated support. With this plan, you get unlimited conversations with live chat and a custom number of operators. You can also access all features, including Tidio AI, FAQ wizard, Reply Assistant, Smart Views, and more. The Tidio+ plan starts at $329 per month and is best suited for businesses that want to get the most out of Tidio and optimize their chat strategy.
Integrations
Tidio offers a range of integrations that can help you connect your chatbot with your favorite tools. They can be divided into platform and app integrations.
Platform Integrations
Tidio integrates with all leading e-commerce platforms, so you can easily install Tidio on your website without any coding skills. Some of the 18 platforms that Tidio integrates with are:
Shopify

BigCommeerce

WooCommerce

Wix

Magento

WordPress
App Integrations
Tidio also integrates with 17 apps to enhance your chatbot's functionality and performance. Some of the most useful apps that Tidio integrates with are:
Usability
Tidio is one of the most user-friendly chatbot platforms on the market. You can set up your account and start chatting with your visitors in less than five minutes. As you can see below, the user interface is clean, intuitive, and easy to navigate. You can access all the features from the dashboard, such as chatbot templates, scenarios, settings, and analytics.
The tool offers a wide range of chatbot templates to suit different purposes and industries. You can also create your own chatbot scenarios without coding using the drag-and-drop editor. Tidio is reliable and fast, with minimal downtime or technical issues.
Support
Tidio is more than just a chat tool. It's also a support tool that offers various ways to help you get the most out of the product. You can rely on the Tidio team for assistance, whether a quick answer, a detailed explanation, or a custom solution.
Here are some of the support options they provide:
Live chat support:

Support staff typically respond within minutes on weekdays and are always friendly and helpful.

Email support:

They reply to your emails promptly and professionally every weekday.

24/7 emergency phone support:

They have a round-the-clock hotline in case you need immediate assistance.

Customer success manager:

A dedicated member of the Tidio team will guide you through the best practices and help you grow your business.

Implementation specialist:

They offer custom setup and integration for bigger teams or complex projects.

Training sessions:

You and your team have access to training on how to get the best out of Tidio.

Chatbot building assistance:

They can help you set up the bots for your specific needs and goals.

Blog, case studies, and comparison articles:

You can read helpful tips on chat, marketing, and e-commerce, gain inspiration from other businesses, and explore how Tidio compares to the competition.

Help center:

Tido also has a comprehensive knowledge base with articles, videos, and tutorials on a wide range of topics you can see below.
From Conversations to Conversions: Turn Customer Service Into Sales
Tidio is not just a chatbot platform. It's also a great marketing tool to help you turn your website visitors into loyal customers. Although it has minor drawbacks, like the limited nature of the free plan, it offers a wide range of robust capabilities that set it apart from its peers.
With Tidio, you can create personalized chatbots that engage your visitors with relevant messages and offers. You can also use live chat to provide exceptional customer service and answer any questions or concerns they might have. Plus, you can track and analyze your visitors' behavior and preferences to optimize your website and campaigns.
All of these features can help you generate more leads and increase sales through targeted and exceptional customer service. Tidio not only helps you start the conversation, but it also ensures that you end it with a conversion.
» Gain further momentum with some of the best conversion rate optimization apps