9 Best Conversion Rate Optimization Apps for Shopify in 2024: Boost Conversion Rates

By

Adeel Qayum

Edited by

Kirsty Macdougall
Updated November 17, 2023.
Our team independently researches and recommends the best products and services. We publish reviews that are unbiased and not influenced by payments we may receive from advertising partners.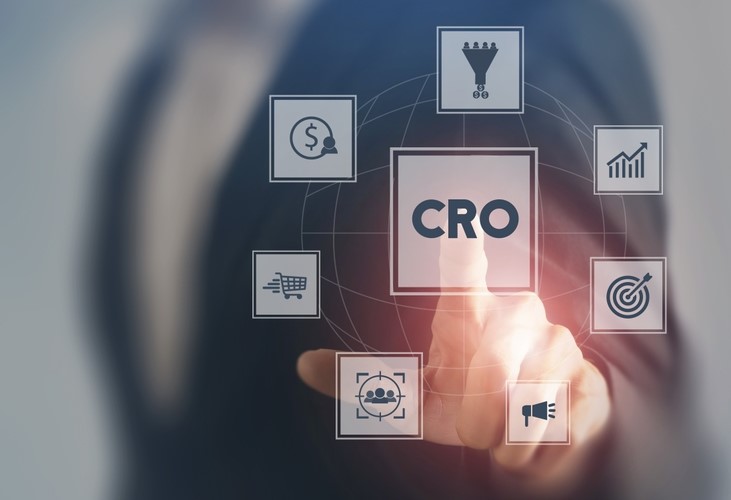 The hard part about eCommerce is not getting customers to your site—it's about getting them to convert. To limit bounce rates and encourage your customers to spend more with greater frequency, a focus on conversions is a must.
We've prepared a selection of the top 9 conversion rate optimization apps currently available for Shopify that will help you convert leads into sales in 2023.
Our List of Best CRO Optimization Solutions for Shopify
1.

Best Overall
KeepShoppers Score: 9.9
Key Features
Search engine optimization

Advanced page builder

A/B testing & user behavior tracking
Entail AI is an AI-based platform that helps businesses develop high-impact and SEO-aligned content proven to boost conversions. Although it's not a Shopify app, its ability to solve your entire SEO and content creation process is worthy of a top spot on our list of CRO tools. It uses a range of CRO techniques to ensure the content is performing, including A/B testing and tracking user behavior.
Why We Liked It
With its search-optimized content and smart CRO practices, we think Entail AI is a top choice for e-commerce store owners looking to create brand trust and scale. The platform also has an advanced page builder to help you add conversion touchpoints throughout your site, from your home page to the product guide page. With Entail AI, you can determine what headings, CTAs, banners, and other design elements are working and use more of them to maximize your sales.
» Want to learn more? Read our full review of Entail AI
2.

Best for Mobile Optimization
KeepShoppers Score: 9.6
Key Features
Unique mobile navigation

AI recommendation engine

User data & insights
Have you noticed how people get addicted to Tinder? Swipify is a conversion rate optimization app that adds the same appeal to your store. With a fun and interactive swiping experience, the app aims to improve customer experience and increase overall sales.
Why We Liked It
Swipify breaks the mold and helps Shopify stores stand out with a refreshing mobile experience. Plus, we were highly impressed by its ability to generate high retention and strong brand loyalty with AI, user data, and insights.
» Check out our comprehensive Swipify review for more information
3.

Best for User Engagement
KeepShoppers Score: 9.7
Key Features
Volume discounts

Pre-order features

Visitor replays
With product reviews offering so many benefits, a product review app is a must-have for most Shopify businesses. In addition to its customer review functionality, Vitals is truly a one-and-done conversion-boosting app with over 40+ integrated features. Without slowing down your site, the app lets you drive user engagement with volume discounts, push marketing, visitor replays, and more. Additionally, it lets you instantly run experiments to determine what works in minutes instead of hours.
Why We Liked It
Vitals is the best Shopify app for user engagement, thanks to its diverse and flexible features. It also integrates with third-party platforms like Instagram, Facebook Messenger, AliExpress, and Klaviyo, helping merchants boost conversions across all platforms.
4.

Best for Video Reviews
KeepShoppers Score: 9.6
Key Features
Photo & video product reviews

Auto-generation of referral links

Automated review request emails to customers
Loox is a social proof tool that takes standard customer reviews to a new level by adding engaging visual elements. Negative or positive, customer reviews have proven to be a super effective way of boosting conversion rates. Couple it with Loox's great-looking photo and video review capabilities, and you've got a winner.
Why We Liked It
Adding visuals to customer reviews can boost conversion rates by double digits. Loox has harnessed the well-known concept of social proof and taken it to the next level, complete with automation to help streamline the process. We think the visual social proof will be increasingly popular in the coming years, so jump in now and be one of the trendsetters.
» For a more in-depth look at the app, read our Loox review
5.

Best for Lead Generation
KeepShoppers Score: 9.6
Key Features
Automation of tedious email & SMS tasks

Integrations with several platforms & tools

Several pre-built, customizable templates
As the name suggests, Automizely boosts conversion rates with automated features like emails, pop-ups, and trust badges, to name a few. The tool offers several pre-built, customizable templates to get you on your way. It also offers in-app features like product recommendations and countdown timers—all without having to download third-party apps. What's more, powerful reporting helps you understand what's working and what isn't.
Why We Liked It
We love how Automizely takes sophisticated features and makes them easy for non-techies. For example, you can create customer segments to send more relevant communications to each person on your contacts list, which boosts conversions and ROI in the long run. Automizely is a one-stop shop for email and SMS marketing needs and then some.
6.

Best for Upselling
KeepShoppers Score: 9.2
Key Features
Upsell & cross-sell through multiple features

Several pre-made, customizable templates

Tools for gathering valuable customer data
Perhaps the most impressionable part of a website is the landing page. Among many other features, ReConvert helps you build successful landing pages according to the best CRO practices. You can leverage widgets that show product recommendations, show tracking information, collect customer data like birthdays and feedback, encourage social sharing, play videos, and more.
Why We Liked It
If you're not paying attention, missed opportunities for upselling and cross-selling can leave a lot of extra revenue on the table. ReConvert is a powerful tool to boost your upselling campaigns and bring happy customers back for more—a critical strategy for many e-commerce businesses.
» Interested in learning more? Head to our full review of ReConvert
7.

Best for Generating FOMO
KeepShoppers Score: 9.4
Key Features
Recent sales notifications

Manual pop-up alerts to cross-sell

Custom alerts with coupon code
Scarcity and urgency are powerful psychological triggers that can boost your online store's conversions. SalesPush is a Shopify app that lets you deploy these triggers via sales pop-ups and countdown timers. Use these notifications as social proof and to build a sense of urgency around your products.
Why We Liked It
SalesPush offers a diverse range of pop-ups, including recent sales alerts and custom notifications with free shipping details or coupon codes. Moreover, it includes the option to create and showcase manual sales notifications to cross-sell and increase AOV.
» Need to ramp up your sales? Take a look at these top Shopify sales apps
8.

Best Value for Money
KeepShoppers Score: 9.0
Key Features
300+ trust badge options

Robust style choices

Supports different sizing
Trust Badges Bear is an excellent app for addressing trust issue challenges that keep shoppers from converting. With a variety of trust seals and payment badges, the app helps assure consumers that your store is secure and reliable. As a result, you are likely to lower your cart abandonment rate and prevent lost sales.
Why We Liked It
With the ability to customize the message, color, size, and alignment, Trust Badges Bear lets merchants match any badge to their store's design. Plus, we were impressed by the fact that it's completely free to use, making it the best value-for-money option for stores looking to boost their conversion rate.
9.

Best for Ease of Use
KeepShoppers Score: 9.5
Key Features
Review and Q&A widgets

Customization & sharing

Engage & reward reviewers
Judge.me is another excellent app that makes social proofing and conversion rate optimization a breeze. The app lets merchants customize and schedule review requests, as well as offers user-friendly widgets to display customer reviews. Plus, you can share reviews on social platforms and boost SEO with Google Shopping and rich snippets.
Why We Liked It
Judge.me helps you foster customer relationships by rewarding reviewers with coupons and creating follow-up flows for future requests. Plus, it offers done-for-you widget installation, allowing novice store owners to start converting customers quickly.
» Read our Judge.me review for further insights
Turn Browsers Into Buyers With These Top Apps
Shopify store owners often struggle with conversions for various reasons, such as a lack of social proof, slow site speed, and suboptimal product recommendations. However, there are ways to overcome these challenges and optimize your store for maximum conversions.
With our list of the best Shopify apps for conversion rate optimization in 2023, you can make it easier for store visitors to take action and make purchases.
» Did you know your store's layout can impact conversion rate? Create money-making storefronts with the best Shopify apps for store design
KeepShoppers Methodology
We scored each Shopify CRO app based on various factors that would be relevant to our readers. These include ease of use, features, third-party integration potential, value for money, customer service, customer reviews, and more.
We also considered the time and resources required to make the best use of the app—more feature-rich solutions are usually more complex and require a greater time investment to learn. All of these traits were aggregated into the KeepShoppers Score you can see in each app description.