Entail AI Review (2023): Pros & Cons, Features, and More

By

Filip Dimkovski

Reviewed by

Davor Štefanović

Fact-check by

Romi Hector
Updated May 15, 2023.
Our team tests eCommerce apps and publishes reviews that are unbiased and not influenced by payments we receive from some of the app developers.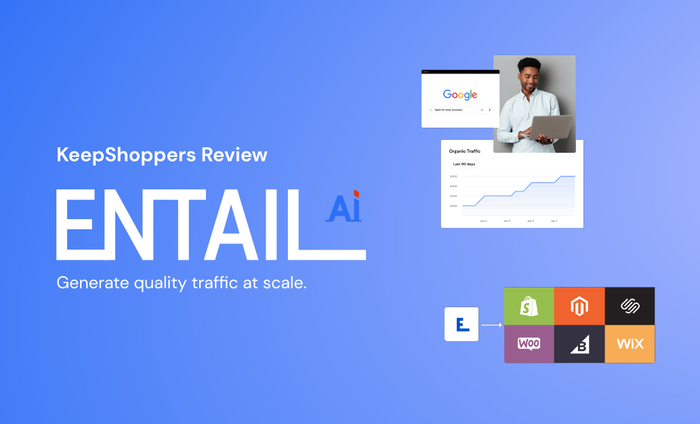 Content marketing is a great way to reach and engage your target audience, but doing it well can be challenging. The current online environment is highly saturated and competitive, with the latest statistics showing that over six million blog posts are being published every day. This makes creating high-quality content necessary for anyone who wants to stand out. Despite this, a large portion of online content isn't all that helpful, and content marketing—when done correctly—is still one of the best ways to help you promote your brand, generate more leads, and increase sales.
Since organic search is, by far, the largest source of online traffic, learning how to utilize it can be incredibly beneficial for your brand. This is where comprehensive content marketing solutions come in. Content marketing platforms like Entail AI can help you understand and maximize your online presence by fully taking care of your content marketing strategy. In this review, we will take an in-depth look at Entail AI and everything they offer. Let's dive in.
Pros
Highly scalable automated traffic generation

Customized pricing plans

Cost-effective

Generates consistent and sustainable results
Cons
Might take 1–3 months to start seeing results
What Is Entail AI?
Entail AI is an AI-based platform that manages the entire content marketing strategy of your business. It generates high-quality, optimized content that allows users to target consumers or businesses to promote products, subscriptions, and services. With it, you can make your brand rank high on search engines, increasing its visibility and bringing in organic traffic. This allows businesses to quickly scale up and target a variety of audiences with over 20 niches to choose from, like finance, fashion, or tech.
Working with a reputable platform like Entail AI won't just bring organic traffic. It will also help build brand trust and awareness, as well as establish authority. With Entail AI, you can even see accurate forecasts of your growth, allowing you to monitor your traffic growth in detail and predict future trends.


What Makes Entail AI Stand Out


Wide Reach

A content marketing platform like Entail AI gives you the ability to refine targeting and reach your specific audience.

Expert Oversight

Entail AI uses AI-powered solutions to automate processes prone to human error. Of course, all of these processes are overseen by a team of content experts and are thoroughly monitored.

People-First Content

Unlike the majority of online content, which is primarily focused on search engines and rarely helps readers, Entail AI has a people-first approach. This means that the search intent of your target audience will be precisely met.
Overview of Features
1. Content Strategy Development
Entail AI can assess your needs and develop a custom content strategy tailored to your goals. This includes keyword and competition research, as well as domain analysis and the creation of comprehensive pillar pages.
2. Full-Spectrum Content Management
In addition to developing your content strategy, Entail AI takes care of copywriting, editing, and optimization. Thanks to Entail AI's team of skilled editors, you'll always have highly optimized content with zero mistakes.
3. Expert Content Marketplace
What makes Entail AI stand out from the competition is its team of expert content writers. Every single member of the Entail AI team is an expert in their field, so they're aware of exactly what the reader is looking for.
4. Advanced Page Builder
Entail AI's content plan is not just limited to blog articles. You'll also get organic traffic from guides, community forums, Q&A pages, charticles, and more.
5. Search Engine Optimization
It's not enough to just generate high-quality content. You also need to make sure it's easily searchable by both the reader and the search engine. To do this, Entail AI uses a variety of SEO best practices, including keyword research, website structure optimization, internal linking, position tracking, and more.
6. Conversion Rate Optimization
Entail AI also makes sure that your content is converting. To do this, Entail AI uses a variety of CRO practices like A/B testing, tracking user behavior, and more. This allows business to maximize their conversions and increase their sales.
Entail AI Pricing
Entail AI doesn't have pre-defined pricing plans. Instead, it tailors the offer specifically to your content marketing needs. With that in mind, the Entail AI team will probably offer you the most cost-effective solution for your budget and help you get on track toward achieving your content marketing goals. So consider getting in touch with them for accurate pricing information.
Usability
Regarding usability, Entail AI makes it incredibly easy for you to start, as they handle all of the hard work for you. All you have to do is select your target audience and topics and then connect your site. From here, Entail AI starts automating your content management process by doing the following:
Identifying customer interests by doing research and visualizing data

Formulating an appropriate content strategy

Assigning a team of writers that are experts in your niche

Ensuring quality content via editorial review

Optimizing content for search engines

Monetizing your traffic by optimizing conversion rates
Of course, you can oversee the entire process, as Entail AI offers a dedicated customer interface, allowing you to see the results yourself.
Support
Entail AI is always available for its customers when there are any questions or uncertainties. As a content marketing platform, they aim for the swift resolution of any challenge your business encounters down the road, so you can be sure that they'll be here every step of the way.
Integrations
One of the best features Entail AI offers is its seamless integration with your business's website. The platform can be easily integrated with a variety of website builders and platforms, including:
WordPress

Wix

WooCommerce

Webflow

BigCommerce

Squarespace

Weebly

React
Why We Recommend Entail AI
We highly recommend Entail AI for businesses that want to take their content marketing to the next level. This is because Entail AI offers an all-in-one solution for content, from content generation by expert writers and editors to advanced strategy generation following SEO best practices. Moreover, a content marketing platform like this is widely applicable in various niches across diverse audiences.
Who Is It Best for?
Businesses that need an all-in-one content marketing solution

Entrepreneurs who want to maximize their website traffic and conversions

Online marketers and content creators who are looking for a cost-effective solution
The Bottom Line: Is Entail AI Worth It?
All in all, we believe that Entail AI is worth it. It provides a comprehensive content marketing solution that can make managing your business a lot easier and take your sales to the next level. The platform is affordable, has scalable pricing, and comes with extensive customer support. With its advanced features and integrations, Entail AI is a great choice for businesses of any size.
It's also worth mentioning that, as a content marketing platform, Entail AI has one goal—to help your business succeed. You won't have to worry about any aspect of your content marketing. Entail AI guarantees that you'll always stay one step ahead of the competition.