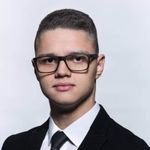 Filip Dimkovski
Expertise
Computer Science, Information Technology, E-Commerce, Finance, Linguistics
Education
B.Sc. in Computer Science from the University of Maribor, Slovenia
Experience
Filip has a passion for IT and the tech industry and also has a keen interest in business and finance. Filip widened his content writing skill set at an award-winning digital marketing company, where he focused on SEO content production.
About KeepShoppers' Editorial Process
At KeepShoppers, our teams of expert writers and editors are committed to providing practical information to accelerate your e-commerce business. We fact-check our content to ensure relevance and accuracy. We only source content from reputable sites and research institutions. Our content is rigorously reviewed before publication and upon considerable updates.
Latest from Filip Dimkovski