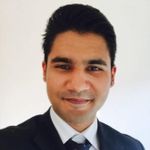 Adeel Qayum
Expertise
E-Commerce, SaaS, D2C, Business Marketing
Education
Master's Degree in Digital Marketing from Geneva Business School, Bachelor's Degree in Economics from Forman Christian College
Experience
Adeel holds a Master's Degree in Digital Marketing and is a passionate e-commerce marketer. He specializes in long-form content creation and has a conversion mindset, which helps him focus on elements that generate sales for businesses. Adeel can write both ToFu and BoFU content, as well as blog posts, email copy, ebooks, and whitepapers. In his free time, you can find Adeel salsa dancing.
About KeepShoppers' Editorial Process
At KeepShoppers, our teams of expert writers and editors are committed to providing practical information to accelerate your e-commerce business. We fact-check our content to ensure relevance and accuracy. We only source content from reputable sites and research institutions. Our content is rigorously reviewed before publication and upon considerable updates.