7 Best Shopify Apps to Boost Sales & Conversions in 2023: Free & Paid

By

Jaques Cilliers

Reviewed by

Davor Štefanović

Fact-check by

Romi Hector
Updated August 7, 2023.
Our team independently researches and recommends the best products and services. We publish reviews that are unbiased and not influenced by payments we may receive from advertising partners.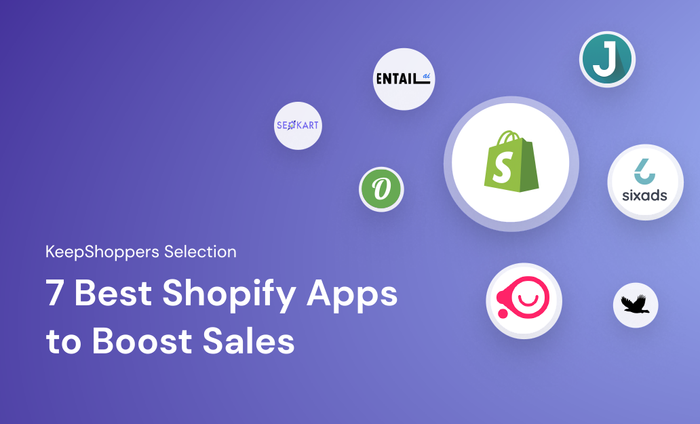 Due to the fierce competition in the current e-commerce market, it is essential for online store owners to identify ways to increase sales and profits. Making use of Shopify's powerful apps is one efficient method.
As of late 2022, Shopify had almost 4.5 million active businesses and processed $136.3 billion in sales during the third quarter of the year. E-commerce conversion rates averaged 2.5–3% in 2022, depending on the sector, product, and website quality. Shopify's App Store features hundreds of options to help improve your bottom line, but not all of them are useful.
We learned that increasing your average order value and reaching your target audience using organic marketing proves to be very effective. Luckily, there are apps for that to help you out.
The apps we're going to talk about are useful whether you're just getting started or want to take your business to the next level. We've selected 7 of the best Shopify apps to help increase your sales and improve your bottom line in 2023.
Our Top Picks for the Best Shopify Boost Sales Apps
1.

Entail AI

: Best for Organic Marketing
KeepShoppers Score: 9.9
Key Features
Revolutionizes the way businesses engage with consumers

Makes it easy for marketers to create, manage, and optimize campaigns

Improves ROI on your organic marketing efforts
Entail AI is an organic marketing software solution that can help any business, Shopify stores included. While it's technically not an app, it's versatile enough to cover a variety of functions. Simple, intuitive, and cost-effective, it puts all of your online tools in one place—from social media and email marketing to SEO and website optimization. With Entail AI, you can easily monitor performance, measure customer engagement, and improve your marketing strategy, all from the comfort of your own store.
Why We Liked It
What we love about Entail AI is its versatility. Natural language processing and machine learning algorithms enhance store listings and boost search engine rankings, making it easier for our customers to find and buy products. Entail AI's organic marketing strategy is cost-effective and scalable, allowing store owners to see a return on investment fairly quickly.
Pros
Automated content marketing & SEO

A/B testing is automated

Improved campaign performance

Helps identify and target specific audience segments
Cons
Steep learning curve for new marketers

Automation can lead to a loss of creativity
» For an in-depth understanding, read our full Entail AI review
2.

UpPromote

: Best for Affiliate Marketing
KeepShoppers Score: 9.8
Key Features
Chat directly with your Ambassador/Influencer

Powerful reporting keeps track of sales

Affiliate portal is fully customizable
UpPromote automates affiliate and influencer marketing. You can create a professional affiliate program and effortlessly approach affiliates. They offer live chat 24/5, and the support team will help you navigate the app effortlessly. It allows for the development of growth loops and improvement of the sales funnel around affiliate partners, influencers, brand ambassadors, and current customers.
Why We Liked It
UpPromote is the only all-in-one marketing platform you'll ever need. We found it to be the ultimate marketing tool to help you create, launch, and manage campaigns with ease. We love how easily the unique AI-driven algorithm lets you create, target, and optimize your ad campaigns for maximum ROI.
Pros
Easy to set up

Unlimited affiliate programs with varied commissions

In-app chat and bulk email your ambassadors

14-day trial available
Cons
Affiliate orders determine pricing tiers

Referrals only apply to the most expensive plans
3.

Automizely

: Best Free Marketing App
KeepShoppers Score: 9.8
Key Features
Wide range of pre-built templates

Automate repetitive email/SMS tasks easily

Integrates with various e-commerce platforms
Automizely is an all-in-one email marketing app that simplifies the process of creating effective email campaigns—from customizable templates to powerful analytics—so you can build and nurture relationships with customers quickly and easily. Merchants can use advanced tools like AI-powered product recommendations, promotional bars, and countdown timers. With these tools, you can create interactive experiences that are proven to increase sales.
Why We Liked It
The number one reason we listed Automizely as our all-in-one email and SMS marketing app is that it helps to grow your business and reach more customers with its powerful features. What's more, it's ready to use with minimal effort, and the segmentation options let you target the right customers at the right time.
Pros
Ease of use

Wide range of features

Excellent customer support

Facebook Live Chat Support
Cons
Challenging to use for non-techies

SMS marketing feature is mainly for startups
4.

ReConvert

: Best for Increasing AOV
KeepShoppers Score: 9.6
Key Features
Abandoned cart recovery

Customizable email templates

Full integration with other apps
Shopify's ReConvert tool sends abandoned cart emails to potential consumers to recover lost sales. It connects easily with Shopify and is straightforward to set up and customize. Professional, well-designed emails with a clear call to action attract clients to buy. In our honest opinion, any e-commerce business aiming to raise sales and client retention should use ReConvert. Furthermore, it greatly improves your AOV (average order value).
Why We Liked It
We love ReConvert as it helps with one of the biggest pain points faced by e-commerce retailers, recovering abandoned carts. Additionally, it offers in-depth analytics and reporting that informs store owners about what their clients prefer and gives them insight into user behavior. Moreover, we are very happy with how seamlessly this app integrates with Shopify stores.
Pros
Allows users to create targeted campaigns

Designed to increase sales through personalized offers

Integrates seamlessly with Shopify
Cons
Monthly subscription fees

Only six widgets for post-purchase upsells
» Check out our ReConvert review for further insights
5.

Vitals

: Best Value for Money
KeepShoppers Score: 9.5
Key Features
Website speed monitoring and optimization

Performance tracking and alerts

Mobile and browser SEO
Vitals smoothly integrates 40+ conversion-boosting features without slowing down your store. Pop-ups, upsells, and product reviews can boost margins and email lists. Vitals includes Instagram shoppable feeds, urgency & scarcity notifications, email & push marketing, live chat, currency converter, and more. With some know-how, you can create an entertaining, sales-driven website.
Why We Liked It
What we appreciate most about the Vitals Shopify App is the numerous features on offer. Real-time analytics, cart recovery, and conversion rate optimization are just a few, and they're all useful. In addition to managing stock and taking orders, we were impressed by the fact that it's possible to quickly adjust the look and feel of a store with this app.
Pros
Regular updates to help improve website speed

All-in-One marketing app

One low monthly fee

30-day free trial
Cons
Limited to Shopify

App may not integrate with other tools
6.

Referral Candy

: Best for Referral Programs
KeepShoppers Score: 9.6
Key Features
Integrates seamlessly with Shopify

Allows merchants to create customized referral program rules and rewards

Includes built-in tools for email and social media sharing
Referral Candy helps online retailers boost sales through the power of word-of-mouth advertising. The app is user-friendly and comes with a number of useful features. Personalizable referral links, automated email notifications, and comprehensive analytics on referral performance are just a few of the features.
Why We Liked It
What we love most about RerralCandy is how easy it is to set up and maintain. Moreover, you can incentivize consumers to suggest the store to friends and family, which boosts revenue and customer acquisition. Store owners may optimize and improve their referral program with Referral Candy's thorough statistics and analytics. Referral Candy is a strong and easy-to-use platform that helps store owners grow and engage their audience.
Pros
Increases customer loyalty and boosts sales

Quick to set up a referral program

Leverage the power of word-of-mouth referrals

30-day free trial
Cons
Limited customization options

Customer privacy issues
7.

PushOwl

: Best for Push Notifications
KeepShoppers Score: 9.8
Key Features
Send push notifications to specific groups of customers

Send consumers push alerts on order status

Integrate with other apps and services
The PushOwl app automates notifications across channels, including Facebook Messenger, WhatsApp, and email. This allows store owners to increase customer engagement and loyalty, resulting in higher conversion rates and sales. What's more, the app requires minimal setup time and is completely free to use! Thousands of store owners have already adopted the app and are experiencing the benefits firsthand.
Why We Liked It
What we appreciate most about PushOwl is that it allows us to easily set up and manage push notifications for our store. On average, users experience an 8–10% increase in sales conversions by reminding customers of abandoned carts, promoting sales and new products, and sending personalized messages. The app can help Shopify merchants target specific groups of customers, which was made possible by automated abandoned cart recovery, detailed analytics, and segmentation options.
Pros
Great for retargeting customers

Automated notifications

Detailed onboarding makes setup easy
Cons
Limited reach

Potential for misuse can annoy customers
Hit Your Sales Targets With the Right Apps
It's much easier to hit sales targets with the right apps. With a wide range of apps at your disposal and a multichannel approach, you can harness modern technology to boost your sales performance.
These apps provide something for practically any e-commerce store. We've done all the legwork and made sure the apps we reviewed cover a wide array of use cases since every business has unique needs. Use our review and take advantage of free trials to learn as much as you can about the apps, check which ones have features you require, and choose accordingly.
» Create breathtaking storefronts, landing pages, and more with the best Shopify apps for store design
KeepShoppers Methodology
We scored each app based on a variety of factors that would be relevant to our readers. This includes ease of use, features, third-party integration potential, value for money, customer service, customer reviews, and more. We also took into account the time and resources required to make the best use of the app—more feature-rich solutions are usually more complex and require a greater time investment to learn. All of these traits were aggregated into the KeepShoppers Score you can see in each app description.
Frequently Asked Questions
Why do I have high traffic but no sales?
There's no single answer to this question. One approach is to use analytics and heat mapping tools to understand how users are interacting with your website or app. These tools can provide insights into where users are dropping off, which pages are causing confusion or frustration, and where improvements can be made.
How do I increase my Shopify sales?
Consider investing in the right tools for the job. Shopify offers a wide range of powerful apps that can help automate tasks and make it easier to manage your store. With the right apps, like those we listed, you can boost conversions, increase customer loyalty and maximize your profits.
Is there an app to track my Shopify sales?
In short, yes. The slightly longer answer is that any app that supports analytics will help you track Shopify sales. Any tool from our list can help you track sales.
Why do I have a lot of "add to carts" but no sales?
There could be a variety of reasons why you have a lot of "add to carts" but no sales. This includes high prices, limited payment options, lack of trust, complex checkout process, and high shipping costs. You can do a full audit of your store using some of the tools we've covered in this article or survey your visitors about their experience (you can incentivize them by offering discounts) in order to determine why they're abandoning their carts. Once you know the root cause, you can start addressing the issue.