6 Best Shopify Analytics Apps for E-Commerce Stores in 2024
Get a better grip on your Shopify store's analytics to make data-driven decisions.

By

Brody Hall

Edited by

Joel Taylor
Updated November 16, 2023.
Our team independently researches and recommends the best products and services. We publish reviews that are unbiased and not influenced by payments we may receive from advertising partners.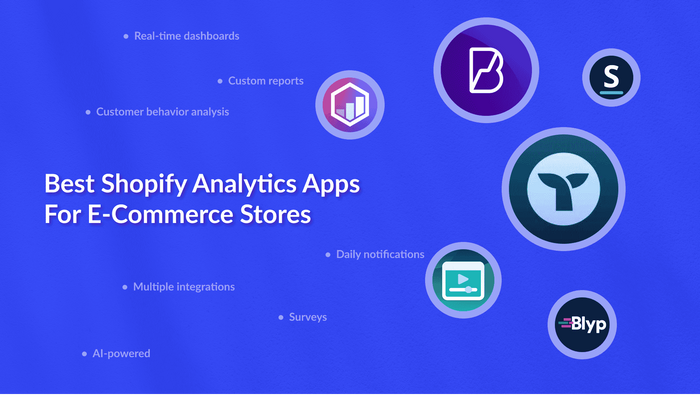 If you're looking to grow your business and maximize profits, then an analytics tool should be high on the priority list. By collecting, storing, and analyzing your business's data, an analytics app can provide valuable insights to help you decide where to allocate resources and improve your site's overall performance, including faster loading times, mobile optimization, and higher conversion rates.
We've compiled a list of the top e-commerce apps to help you choose the best analytics app for your Shopify store.
Our Top Picks for the Best Shopify Analytics Apps
KeepShoppers Score: 9.8
Key Features
Real-time dashboard and insights

Attribution and pixel tracking

Lighthouse AI automation identifies anomalies
Triple Whale is an e-commerce analytics and automation platform that excels in robust data analysis. It offers businesses real-time insights through a dashboard, advanced attribution and pixel tracking, AI-powered anomaly detection, and Total Impact alerts, empowering data-driven growth strategies with comprehensive analytics.
Why We Like It
Triple Whale is a powerhouse for data-driven growth. Its dynamic dashboard can pull in data from seemingly endless sources, including if you have multiple stores. The unique attribution and pixel tracking feature can help you drill down into your data and help you find the source of your revenue. Plus, its Lighthouse feature detects and alerts you to any anomalies in your sales and expenses, helping you respond to any unexpected trends or issues.
We recommend this advanced solution for businesses looking to scale and that will know how to interpret and implement their data. Smaller businesses with limited resources might end up paying too much for a product that they don't utilize fully.
Pros
Comprehensive data insights

Sophisticated tracking capabilities

AI-powered

Customizable reporting
Cons
Learning curve

Can be expensive for small businesses
KeepShoppers Score: 9.6
Key Features
Real-time data on your profits and expenses

All shop data auto-synced in one dashboard

Powerful analytics on key aspects of your business
BeProfit is specifically designed for online sellers looking to gain more insight into their store's profit. Featuring a comprehensive dashboard that tracks business metrics, the app also produces charts, graphs, and custom reports to help with decision-making. Metrics include product-level profitability, best-selling products, customer lifetime value (LTV), and cost of goods sold (COGS).
Why We Like It
Online store owners will love BeProfit for its multi-platform support, customization options, and comprehensive insights. The dashboard is intuitive and very easy to use while still offering a vast amount of data analytics options. It's well suited for stores of all sizes and integrates with all of the most popular e-commerce platforms such as Shopify, Amazon, and Woocommerce, making it the perfect allrounder for profit analytics,
Pros
Real-time data tracking

Schedule custom reports

Analyze and optimize every profit aspect with granular insights

Four pricing plans suited to any business size

14-day free trial
Cons
Some minor customization limitations
» Explore more of BeProfit's features and capabilities in our full BeProfit review
KeepShoppers Score: 9.3
Key Features
Centralized survey responses

Full session recordings

Customer behavior analysis
Peek! ‑ Better Replay & Survey is a great app for Shopify store owners who want more insight into customer behaviors and buyer journeys. Easily record user sessions to better understand your customers' shopping experience, then follow up with post-purchase surveys for more detailed customer feedback.
Why We Like It
What we like most about Peek! is that it adds a unique visual element to analyzing data. By recording your site visitors' sessions, you can see exactly how users navigate your store—which functions they use without problems and which are a challenge. For more context, you can follow up with a survey. Finally, the app won't let you down on the numbers side. A straightforward dashboard gives you the most important, up-to-date metrics. By using all of these elements together, you'll increase conversions and customer retention in no time.
Pros
Customer session recordings

Post-purchase surveys

Intuitive dashboard

Mobile responsive
Cons
Unclear that free trial automatically switches to paid plan

May include additional costs for paid plan
KeepShoppers Score: 9.2
Key Features
Blyp uses AI to monitor and analyze your store data and activities 24/7 so you don't have to. If the app detects an anomaly, you'll receive a notification, otherwise, you can analyze data at your own pace via weekly and monthly reports.
Why We Like It
Blyp takes the hassle out of gathering and analyzing data. Its AI program does the heavy lifting for you and lets you know when it picks up a "blyp". This way, you can immediately take steps to fix any issues or capitalize on any underused opportunities to ultimately optimize your conversion rate.
Pros
Automates and streamlines data analysis

Integration with Google Analytics

User-friendly interface
Cons
Can be expensive for smaller stores

Monthly fees aren't fixed
» Is CRO your top priority? Explore more of the best CRO Shopify apps
KeepShoppers Score: 9.0
Key Features
Easy-to-understand dashboard

Detailed analytics

Actionable insights and recommendations
Conversific is a Shopify profit tracking and analytics app that helps merchants track, analyze, and optimize their online store's profitability. Users can gain insights into product performance, customer segmentation, and customer behavior. This data can then be customized via an intuitive dashboard to help merchants analyze all aspects of their business and make data-driven decisions.
Why We Like It
We like Conversific because it integrates with a range of popular data sources, including Google Analytics, Facebook Ads, and Shopify, and provides detailed insights into profit margins. You can identify which products or collections are the most profitable, and which ones are dragging down overall profitability. A forecasting and goal-setting feature lets you set revenue and profit targets and track progress, making revenue and margin analysis easier than ever.
Pros
Easy to set up and integrate

Comprehensive tiered payment system

Free version

14-day free trial
Cons
Custom report options are limited
» Need more help with profit analysis? Find the best profit calculator app for your business
KeepShoppers Score: 8.7
Key Features
Conversion funnel graph

Daily reports

View customers' cart activity
StoreView is a powerful and easy-to-use analytics app that tracks customer activity, particularly their shopping carts. View your customers' entire shopping journey, including which pages they visited until finally adding products to their cart plus any changes they make to their cart. Daily reports keep you updated on important information while you can view real-time data at any point on your dashboard.
Why We Like It
Conversific gives you easy-to-read data visualizations, making it easier to identify trends and patterns and make decisions based on actual data and customer behavior. Once you fully understand your customers' habits, you can predict their actions and offer them an optimized shopping experience, ultimately increasing conversions and reducing cart abandonment.
Pros
Daily reports straight to your inbox

View real-time steps in the customer journey

Buying funnel analysis and graph

Affordable
Cons
Limited customization for reports
» Give your sales an extra boost with the right sales tracking app
Stay Ahead of the Competition
If you're hunting for a comprehensive analytical tool that will grant you access to real-time insights, advanced tracking capabilities, and AI-powered automation, then Triple Whale is the best option for you. It's easy to use and offers a wide range of features, providing a great overview of your store's performance and making it a breeze to track your progress.
However, keep in mind that not all stores are the same. Ultimately, choosing the best app will come down to your specific business needs. Each of the above apps specialize in certain aspects of business analysis so we hope this list will help you reach your business goals.
KeepShoppers Methodology
Analytics apps for e-commerce stores are a dime a dozen, but not all of them are as good as they claim. Here's what we considered when choosing the analytic applications we recommend here:
Customer support

Pricing

User experience (UX)

Analytical capabilities

Third-party integration

Customization options