9 Best E-Commerce Profit Calculator Apps for 2023

By

Brody Hall

Reviewed by

Joel Taylor
Updated August 11, 2023.
Our team independently researches and recommends the best products and services. We publish reviews that are unbiased and not influenced by payments we may receive from advertising partners.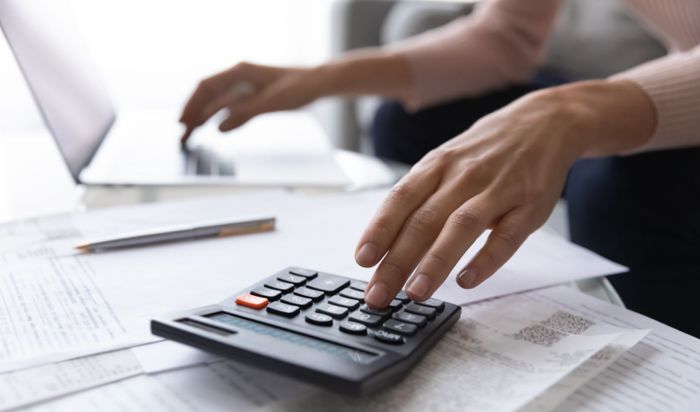 Running an e-commerce business involves a lot of number-crunching, and online merchants often spend several hours each week simply managing their finances. If you want to free yourself from time-consuming financial tasks, then a profit calculator app is just the thing for you.
Profit calculator apps automate tasks like tracking sales, costs, and gross and net profits. They also help with analyzing the success of a particular campaign or promotion and indicate areas that need improvement to store owners.
There are a number of apps offering this service, but not all of them do it well. We've put together a list of the top 8 profit calculator apps for 2023 to help you find the right app for your e-commerce store.
Our Top Picks for the Best Profit Calculator Apps on Shopify
1. Best Overall
KeepShoppers Score: 9.9
Key Features
Real-time data sync

CLV reporting

Ad campaign optimization
BeProfit's profit tracker app provides data-driven insights to help business owners take actionable steps to increase revenue. It allows for a complete 360° view of business performance, including marketing, fulfillment, products, returns, discounts, and more. You can also identify which products, channels, and campaigns drive the most revenue and which are eating into your profits.
Why We Liked It
BeProfit supports multiple platforms and lets you see aggregated data across all your stores. We found its real-time dashboard very easy to use and highlighted areas for improvement in just a few clicks—taking the stress out of profit data analysis.
» Read our full BeProfit review for a more in-depth look
2. Best Advanced Profit Tracking Solution
KeepShoppers Score: 9.8
Key Features
Attribution and pixel tracking to identify revenue sources

Lighthouse AI automation to detect anomalies that impact profit

Total impact model to evaluate the profitability of marketing efforts
Triple Whale is an e-commerce analytics and automation platform that consolidates data from various sources to provide businesses with real-time insights, attribution tracking, and AI-driven recommendations for optimizing sales, marketing campaigns, and profitability. It aims to help businesses make informed decisions and streamline operations through its integrated dashboard, attribution tools, and AI automation features.
Why We Liked It
We were particularly impressed with Triple Whale's powerful profit-tracking capabilities. Its precise attribution and pixel tracking features allowed us to accurately trace revenue back to specific marketing efforts, enabling a clear understanding of ROI. The Total Impact alerts and AI-driven insights further empowered us to make data-driven decisions, optimizing our strategies for enhanced profitability.
However, the sheer volume of data can be overwhelming if you don't have some experience with the necessary profit metrics. So, we do recommend that seasoned users will get the most out of this advanced solution.
3. Best for Reporting
KeepShoppers Score: 9.8
Key Features
Marketing & shipping integrations

Cohort analysis filters

Purchase tracking
Lifetimely LTV & Profit tracks real user data without waiting weeks or months for Google Analytics reports. Its intuitive interface provides the data you need to tighten up your business's finances and make data-driven decisions—all in one place.
Why We Liked It
The app's customizable dashboard options made things like cohort analysis and CAC payback calculation a breeze for us. What's great is that you can input your own KPI metrics, and the app generates automatic reports based on the filters selected. Another fantastic feature is that the app gathers data and generates reports on customer buying habits, allowing users to reach target audiences for maximum returns.
4. Best for Performance Analytics
KeepShoppers Score: 9.5
Key Features
Industry benchmark data

Customer profile creation

Personalized performance recommendations
Conversific Store Analytics offers a detailed analysis of the revenue and popularity trends of your store along with key drivers, such as your average order value (AOV), cost of goods sold (COGS), and return on ad spend (ROAS).
Why We Liked It
This analytics app has a customizable dashboard and automated reporting features that made it easy for us to track key metrics and stay up-to-date with our sales data. Additionally, its customer segmentation and revenue forecasting capabilities helped us develop more targeted marketing campaigns.
5. Best for Data Visualization
KeepShoppers Score: 9.3
Key Features
Real-time exchange rates

Social media platform synchronization

One-click profit analysis
Profit Calc allows users to create a customized profit-and-loss summary based on their business's sales data and custom data inputs. This e-commerce calculator also evaluates costs, revenue, margin percentages, and other important business metrics without the need for spreadsheets. The app allows users to input multiple variables, such as revenue and expenses and instantly calculates their profit margins.
Why We Liked It
This is an excellent app for business owners looking for a visual representation of their data. Its user-friendly interface and simple design make it easy for anyone, regardless of their level of expertise. We were also impressed that we could choose to view all our stores' analytics together or separately.
6. Best for Ease of Use
KeepShoppers Score: 9.2
Key Features
Automatic metric tracking

Real-time P&L reporting

Product data analytics
TrueProfit: Profit Analytics is a profit calculator app specifically designed to help e-commerce businesses level up their marketing strategies and expand their reach. The app integrates with the top e-commerce platforms, such as Shopify and Amazon, and also offers customizable reports to keep track of your finances in real time.
Why We Liked It
TrueProfit is a great app for providing valuable insights into business profitability. The setup was very quick for us, and the user interface and analytics dashboard were streamlined and intuitive. Users can get deep-level insights in just a few clicks, making complicated tasks like cohort analysis a breeze.
7. Best for COGS
KeepShoppers Score: 9.1
Key Features
Transaction fee customization

Business metric filters & views

Connect & pull advertising spend from ad platforms
SimplyCost combines innovation with simplicity, resulting in a dashboard that is so much more efficient than logging numbers in a ledger or spreadsheet. It's perfect for individuals or small business owners who want to track their COGS (cost of goods sold) simply and efficiently and get financial data analysis at the click of a button.
Why We Liked It
We included this app on our list because it offers a user-friendly interface that easily tracks income, expenses, and COGS. The app's ability to sync with multiple bank accounts and credit cards made managing finances easier. SimplyCost's customizable reporting feature offered us detailed financial reports, which really helped our decision-making.
8. Best for Profit Analytics
KeepShoppers Score: 9.0
Key Features
Fees tracking

Intuitive user interface

One-click product margin calculation
Delirious Profit is a cloud-based sales profit calculator solution that instantly provides the most accurate and up-to-date sales data, all from an ergonomically designed profit dashboard. This makes it perfect for businesses that want to optimize their pricing strategies and streamline their data analysis.
Why We Liked It
Delirious Profit can help users save time by automating pricing strategies, generating sales reports, and calculating profits. The app was easy for us to use and navigate, providing a clear and concise interface to access the data we needed quickly. Being integrated with Shopify, it can access a vast amount of data already stored on the platform, streamlining the data analysis process even further.
9. Best for AliExpress Users
KeepShoppers Score: 8.9
Key Features
Chrome extension functionality

Automatic data importing

Match AliExpress orders to Shopify
Profitario is an e-commerce profit calculator that helps online sellers take their profit tracking to the next level. This innovative app lets users track their daily sales and expenses while generating customizable reports tailored to their specific needs.
Why We Liked It
Profitario is particularly good for its AliExpress integration, as it allows users to seamlessly import their AliExpress transactions, saving them time and effort. We used the app to automatically calculate the cost of goods sold based on AliExpress product prices, giving us a more accurate picture of our profits. Additionally, Profitario's AliExpress integration allowed us to track our AliExpress orders and manage inventory levels, helping with our supply chain management.
Take Control of Your Finances With the Right Profit Calculator App
Profit calculator apps automate time-consuming financial analysis tasks while providing detailed insights that you can use to make informed and profitable business decisions.
But with so many profit calculators available, e-commerce merchants may be left wondering which one to use for their store. It's essential that you factor in your business's specific needs, budget, and goals. Take the time to research your options, and let our list of the top 8 profit calculator apps be your starting point.
» Analyzing sales is also important. Check out these great sales tracking apps
KeepShoppers Methodology
At KeepShoppers, we make our recommendations based on a specific set of criteria, namely:
Ease of Use:

This includes developer friendliness, how easy the setup was, and the quality of the customer support available.

Features

: We factored in the range of features available and the extent of the features' usefulness.

Pricing:

We considered whether there were free plans, features, and add-ons available. For paid plans, we assessed if the monthly fee was worth it.

Customer Reviews:

For a more holistic and well-rounded evaluation, we reviewed how store owners in different countries and different sectors rated the app.
We also considered the time and resources required to make the best use of the app—more feature-rich solutions are usually more complex and require a greater time investment to learn. All of these traits were aggregated into the KeepShoppers Score you can see in each app description.