10 Best Shopify Apps for Accounting and Taxes in 2023: E-Commerce Essentials

By

Steven Grrat

Reviewed by

Kirsty Macdougall
Updated May 25, 2023.
Our team independently researches and recommends the best products and services. We publish reviews that are unbiased and not influenced by payments we may receive from advertising partners.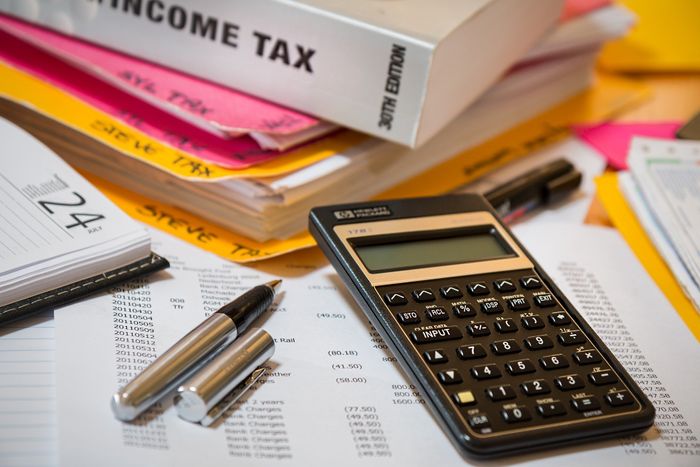 A study found that 72% of self-employed contractors do their own accounting and financial administration without any professional help. It also found that 35% were worried about making errors, and more than a third reported experiencing personal problems due to doing their own accounts.
With the rise in e-commerce businesses, the complexity of managing finances has increased, making it crucial to have the right tools to streamline accounting and taxes. We've compiled a list of the top 10 financial management apps that will help merchants save time and reduce errors, allowing them to focus on growing their stores.
Our Top Picks for the Best Accounting and Taxes Apps for E-Commerce
1. Best Overall
KeepShoppers Score: 9.8
Key Features
Profit dashboard

Sales analytics

COGS tracking

Automated & customizable reports
Track, schedule, and analyze store reports and gain access to advanced marketing analytics with BeProft Profit Calc & Reports. The app stands out as Shopify stores' most reliable accounting and taxes app. Its intuitive platform offers automated financial reporting, inventory tracking, and tax management.
Why We Liked It
We put BeProfit at the top of our list because of its user-friendly interface, affordability, and robust features. Its integration with Shopify and other e-commerce platforms, including Amazon and WooCommerce, make it a comprehensive accounting solution that saves time and provides real-time insights into business finances.
» Want to learn more about the app? Head to our full BeProfit review
2. Best for Automated Reporting
KeepShoppers Score: 9.4
Key Features
Quick Shopify data exports from multiple channels

100s of pre-made customizable reports

Automatic email scheduling

Real-time data updates
Take control of your Shopify store's reporting process with Data Export IO. Say goodbye to tedious manual work and hello to automated, customizable reports on sales, taxes, inventory, POS, payouts, orders, customers, refunds, and more.
Why We Liked It
Data Export IO is the perfect solution for merchants who want to automate their reporting process without sacrificing accuracy or reliability. With customizable reports and real-time updates, this app is the best option for Shopify merchants who want to save time and effort while getting the insights needed to make informed business decisions that will increase their bottom line.
3. Best QuickBooks Integration
KeepShoppers Score: 9.7
Key Features
Syncs Shopify orders, inventory, & customer data

Customizable reporting features

Integrates seamlessly with other Shopify apps
Effortlessly sync your customer, product, payment, and refund data with QuickBooks Online. Get real-time updates and customizable reporting features to track your business performance and make informed decisions.
Why We Liked It
Its smooth integration with QuickBooks Online allows for easy and accurate financial management, making it the best choice for businesses that use Shopify and QuickBooks Online. It's ideal for those who sell to countries outside the US, allowing merchants to optimize their tax deductions through expense, income, and sales tracking.
4. Best for Custom Reports
KeepShoppers Score: 9.5
Key Features
Create customized reports for specific needs

Send automated reports to your email or Shopify dashboard

Filter & sort data by any metric

View data in a visual format with charts & graphs
Report Pundit's customizable dashboard allows you to export tailored reports on orders, sales, inventory, marketing, refunds, and more into CSV, FTP, URL, or Google Sheets files. With its intuitive interface and advanced filtering capabilities, Report Pundit helps businesses make data-driven decisions and optimize their operations.
Why We Liked It
We highly recommend Report Pundit for its powerful capabilities in generating customizable reports to meet your unique business needs. Merchants can create their own reports from scratch or customize over 100 pre-made reports across all major categories, like inventory, sales, tax, and order reports. Within each report type, there are hundreds of fields to choose from, ensuring that financial statements are tailored to your exact requirements.
» If you're looking for in-depth business insights, check out these great analytics apps
5. Best for Real-Time Inventory Tracking
KeepShoppers Score: 9.2
Key Features
Track inventory value changes over time

Automated low-stock alerts

Inventory data export for analysis & reporting
Merchbees Inventory Value is an essential tool for businesses looking to manage their inventory efficiently and accurately. The app's real-time tracking and reporting capabilities help companies to make informed decisions and avoid stockouts and overstocks.
Why We Liked It
Merchbees is a valuable tool for managing real-time inventory and ensuring accurate stock tracking. The app's intuitive interface, customizable settings, and exceptional customer support make it the top choice for businesses looking to streamline their inventory management and maximize profitability.
» Take a look at some of our other top choices of inventory management apps
6. Best for Shopify Invoicing
KeepShoppers Score: 9.3
Key Features
Professional & customizable invoice templates

Automatically display VAT numbers on invoices

Process individual invoices manually or in bulk
Whether it be PDF invoices, packing slips, receipts, return forms, or quotes, Order Printer makes printing or emailing these documents a breeze. You can choose to manually process individual invoices or download and print them automatically in bulk.
Why We Liked It
With the ability to print or download unlimited invoices, packing slips, and refund PDF files, you can easily create the perfect invoices for your Shopify store. The app also offers simple toggle options for customization, making it incredibly easy to set up and personalize to your liking.
7. Best for Multi-Store Reporting
KeepShoppers Score: 9.1
Key Features
Fully customizable, in-depth reporting

Automatic report scheduling

One-click report export

Visual report builder
Better Reports is a comprehensive reporting solution that provides businesses with a bird's eye view of their sales, payments, inventory, customers, payouts, and more across multiple stores. It also facilitates access to tracked store metrics and the ability to export and share summaries by CSV, email, and Google Sheets.
Why We Liked It
Better Reports stood out to us because it offers a powerful solution for reporting. The app boasts over 100 pre-built report templates to save you time, plus they're fully customizable to suit your business's needs. More specifically, it's excellent for multi-store reporting because you can collect, consolidate, and analyze data across all your stores using a single dashboard. You'll receive separate reports for each store as well.
» If you're running several stores, check out these best apps for multi-store inventory management
8. Best for Xero Reporting
KeepShoppers Score: 9.6
Key Features
Accurate sales, fees, & taxes calculations

Automated & detailed transaction summaries

Real-time financial data updates

Simplified reconciliation process

Customizable reporting
A2X for QuickBooks or Xero links Shopify store finances with Xero, Sage, or QuickBooks, making managing finances and accounting super easy. Its user-friendly interface and ability to accurately calculate sales, fees, and taxes, generate detailed transaction summaries, and provide real-time financial data make it a must-have app for Shopify merchants.
Why We Liked It
A2X efficiently syncs all your Shopify data with Xero through its seamless integration. The app conveniently categorizes all transactions into sales, expenses, taxes, refunds, and more for a comprehensive overview of your store's performance. What we really liked about the app is its detailed financial reporting, with statements for profit margins, COGS, channel performance, and more.
9. Best for B2B Invoicing
KeepShoppers Score: 9.5
Key Features
Easily create & send professional invoices

Automatically sync invoices

Customizable templates to match your brand

Accept payments directly from your invoices
Automatically generate and send customer invoices when orders are made, paid, or fulfilled within your Shopify store with Sufio. Customers can download, print, or pay their invoices online. With its user-friendly interface, customizable templates, and payment integration, Sufio is the best app for any business looking to automate their invoicing process.
Why We Liked It
The app offers professionally-designed invoice templates that you can tailor by changing the colors, logo, and font. What's also great is that Sufio supports multiple languages and currencies so that you can automatically use your customer's preferred language and currency. The app even helps merchants charge the correct taxes, validating EU tax numbers and setting B2B customers as tax-exempt.
10. Best for Tax Rules
KeepShoppers Score: 9.2
Key Features
Display dual prices

Automatically detect customer location for tax calculation

Configurable design to match storefront

Create unlimited tax rules
Dual Price Display Pro allows your store to display both VAT-included and VAT-excluded prices side-by-side on your product pages. With its customizable tax rules and transparent pricing options, Dual Price Display PRO provides a comprehensive and user-friendly experience for both store owners and customers.
Why We Liked It
We were impressed with the app's ability to automatically calculate taxes according to customer location based on customizable tax rules. In fact, you can set tax rules based on product types, products from certain collections or vendors, products with selected tags, and more. Best of all—there's no limit to the number of rules you can set.
Managing Your Accounts Doesn't Have to Be Taxing
The success of any online business depends on a robust accounting and tax strategy. These top 10 e-commerce apps for accounting and taxes offer a fantastic way to simplify this process, reducing costs and saving time, so you can concentrate on building your business and creating memorable customer experiences.
But you won't need all these apps to streamline your accounting processes. When choosing the right app, consider your business size and accounting and tax complexity. It's also important to weigh in your budget, priorities, and technical know-how. Equipped with the right tool for the task, you no longer have to lose sleep over managing your finances.
» Find the right tools to grow your store with these top-rated sales apps
KeepShoppers Methodology
Here at KeepShoppers, we make our recommendations based on a specific set of criteria, including:
Ease of Use:

This includes the user interface, how easy setup and configuration are, and the quality and responsiveness of customer support.

Features

: We factor in the range of features and the extent of the features' usefulness in completing accounting tasks. We also consider the degree to which these elements can be customized.

Integrations:

We look at how many third-party integrations are available and the extent of their benefits to the user.

Pricing:

We're looking for apps that are great value for money, and we consider whether there are free plans, features, and add-ons available and if the monthly fee is worth it.

Customer Reviews:

For a more holistic and well-rounded evaluation, we weigh in dozens of customer reviews to see how stores in different countries and different sectors rate the app.
We also consider the time and resources required to make the best use of the app—more feature-rich solutions are usually more complex and require a greater time investment to learn. All of these traits are aggregated into the KeepShoppers Score you can see in each app description.