8 Best Sales & Profit Tracking Apps for Shopify in 2023

By

Brody Hall

Reviewed by

Joel Taylor
Updated August 23, 2023.
Our team independently researches and recommends the best products and services. We publish reviews that are unbiased and not influenced by payments we may receive from advertising partners.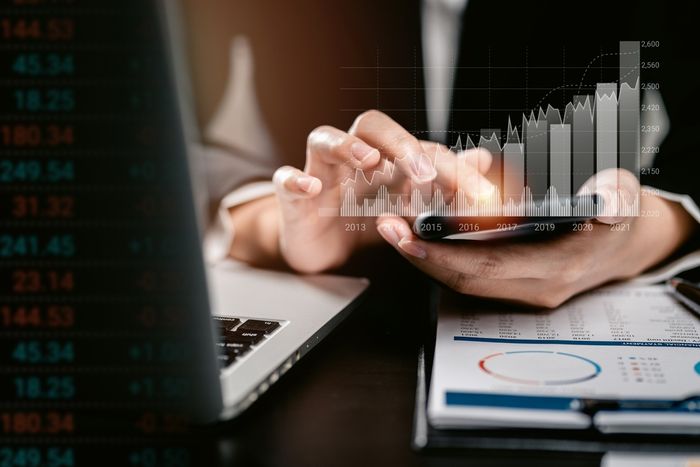 Despite it now being 2023, a lot of businesses still don't have a solid grip on their finances. If you feel your business's finances could improve, then it's time you moved up to the big leagues. This article will look at the best e-commerce sales and profit tracker apps available to help you make sense of your business's finances.
Our Top Picks for the Best Sales Tracking Apps for Shopify
How Sales Tracking Apps Benefit Your Shopify Store
Tracking your business's performance is one of the most important tasks you need to do, particularly in the business's earlier stages. You'll want to track your sales performance day by day, week by week, and month by month. That way, you can see patterns or trends that show when your sales are trending up and down. This will help you know your business's performance and allow you to change your marketing plan based on what you learn.
This is where sales tracking apps come in. These apps aren't just perfect for automating profit tracking, but they also feature a range of other critical functionalities that will help you run your business.
KeepShoppers Score: 9.9
Key Features
Real-time data on your profits and expenses.

All shop data auto-synced in one dashboard.

Powerful analytics on key aspects of your business.
BeProfit's profit tracker app allows e-commerce businesses to optimize their profits and retention through the use of powerful analytics, data-driven insights, and actionable steps.
You can get a complete 360° view of your business performance, including marketing, fulfillment, products, returns, discounts, and more. You can also drill down into specific areas of your business to identify which products, channels, and campaigns are driving the most revenue and which ones are eating into profits.
BeProfit supports multiple platforms and allows you to see your aggregated data across all your shops. It's easy to use, real-time, and highlights areas for improvement with a single click of a button.
BeProfit Pros & Cons
KeepShoppers Score: 9.8
Key Features
Easy-to-use dashboard

Pixel attribution to track the source of sales

Lighthouse to detect anomalies and changes in sales data
Triple Whale is an analytics and automation platform designed for e-commerce businesses. The platform offers features related to data management, attribution, AI automation, creative analysis, and more. Its main aim is to help businesses make informed decisions and optimize their operations by providing real-time insights and automation tools.
Why We Liked It
Triple Whale is focused on automation. Firstly, this means that they seamlessly integrate with different platforms and apps so you don't manually have to feed them information. Secondly, Triple Whale automatically tracks the source of your sales, alerts you to anomalies, and helps you understand how different channels are affecting your sales.
Triple Whale is extremely diverse and the metrics it supplies are truly staggering. So, if you're savvy enough to understand and interpret all of the numbers, it's an extremely useful tool—most likely you won't need to use another tracking solution. However, if you're a small business that doesn't need to rely on such advanced insights yet, you might end up paying for a product you don't fully utilize.
Triple Whale Pros & Cons
KeepShoppers Score: 9.6
Key Features
Real-time profit, loss, revenue, and LVT tracking.

Excellent integration with ad platforms.

Monitor profits from anywhere using a mobile app.
True Profit is a powerful profit-tracking app for Shopify that can help e-commerce store owners track their profits and sales. This app offers an entire suite of tools and features that help you automate your periodic reports, compare profits, keep you on top of your expenses, and ensure that you stay profitable.
True Profit Pros & Cons
KeepShoppers Score: 9.6
Key Features
Fast and efficient automated reports.

Inventory stock costs and profits per product, month, vendor, category, and channel.

Bulk COGS import.
Delirious Profit is a cloud-based sales and inventory management application that instantly provides the most accurate and up-to-date information about your business. It enables automatic calculations, produces sales reports, tracks purchases of goods, analyzes business data, and provides the ability to manage input costs, output prices, sales volume, and profits.
Delirious Profit Pros & Cons
KeepShoppers Score: 9.4
Key Features
Lifetime value analytics and benchmarks.

Easy to set up comprehensive and automated P&L.

Live cohort analysis.
The Lifetimely profit-and-loss app is a robust lifetime value and client behavioral analytics toolkit for Shopify. It helps you easily tune your purchaser's lifetime cost and how your satisfactory clients behave, allowing you to optimize your business, increase client satisfaction, and generate more revenue from existing customers.
Lifetimely Pros & Cons
KeepShoppers Score: 9.3
Key Features
Total value of inventory and sales reports for any period.

Enhanced Shopify reports.

COGS calculation.
Plan, monitor, and produce insightful sales reports and analyze profits with the Profiteer app. This powerful Shopify app will not only help you grow your business faster but also save time and effort in managing your sales reports and metrics. You can easily import all your cost prices (COGS) into the system and get the total value of any unsold inventory reports on profit and margins for any period.
Profiteer Pros & Cons
KeepShoppers Score: 9.1
Key Features
Track costs, profit, expenses, and more.

Shopify product cost per item field support.

Ad costs calculation.
The SimplyCost app is a precise tool that tracks the cost price of goods and services (COGS). With its simple and easy-to-use profit dashboard, you can get the most accurate numbers that directly reflect your business's recurring expenses and incoming revenue. The SimplyCost application comes with an exclusive algorithm that calculates your profit and revenue, adjusting for shipping costs and taxes.
SimplyCost Pros & Cons
KeepShoppers Score: 9.1
Key Features
Free real-time profit tracking.

Insight into competitor inventory management.

High-quality dashboard.
Accountify is a tool that allows you to manage your business on the go. With this app, you can analyze your net profit and gross profit in real time while getting detailed financial reports to help you determine what's working, what isn't, and why. You can also run Facebook ads, Google ads, and Snapchat ads and print out coupons and labels for your customers with the Printful and Shipstation integrations.
Accountify Pros & Cons
Final Verdict: Which Sales Tracking App Is the Best?
One of the best ways to make more money is to keep track of where your money is going. Many business owners are uncomfortable with doing this, as it appears impossible to keep up with. Although with the help of a sales tracking app, keeping on top of your business's finances has never been easier.
After considering all the apps we chose, our top profit tracker app, as well as an e-commerce profit calculator app, is BeProfit, with all of its amazing features available for businesses of all sizes and offering pricing plans that range from free to enterprise-level.
KeepShoppers Methodology
Here's how we compared the Shopify profit trackers on our list.
We scored each of them based on the breadth of options, integration potential, customization options, integration support, user-friendliness, and customer service. We also took into account the time and resources required to make the best use of the app—more feature-rich solutions are usually more complex and require a greater time investment to learn.
Our team aimed to examine the range of options that work for different users, as each company will have different needs and use cases.