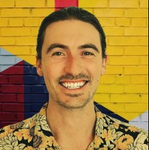 Brody Hall
Expertise
SAAS, e-commerce, SEO and Content Marketing, Environmental Sciences
Education
Bachelor of Science from the University of the Sunshine Coast, Australia
Highlights
Spent 3 years at an international SEO company
Experience
Brody Hall uses his skills and knowledge of marketing, SEO practices, and science to give readers valuable insight into e-commerce. He has worked alongside many agencies, startups, and brands, researching a wide range of topics and creating new and exciting angles relevant to his audience. Brody also enjoys leveraging his background in the sciences to provide actionable insights for his readers. When not online, you'll often find him checking his local surf breaks and working on his green tea addiction.
Quote From Brody Hall
"The evolution of technology continues to broaden the reach of communication. To me, this is why it's important to keep up with today's fast-paced world by seeking not just new ideas, but also methods that help us make the most of the technological resources we have at our disposal."
About KeepShoppers' Editorial Process
At KeepShoppers, our teams of expert writers and editors are committed to providing practical information to accelerate your e-commerce business. We fact-check our content to ensure relevance and accuracy. We only source content from reputable sites and research institutions. Our content is rigorously reviewed before publication and upon considerable updates.