7 Best E-Commerce Platforms for 2023—Build a Successful Online Store

By

Adeel Qayum

Reviewed by

Michelle Meyer
Updated May 26, 2023.
Our team independently researches and recommends the best products and services. We publish reviews that are unbiased and not influenced by payments we may receive from advertising partners.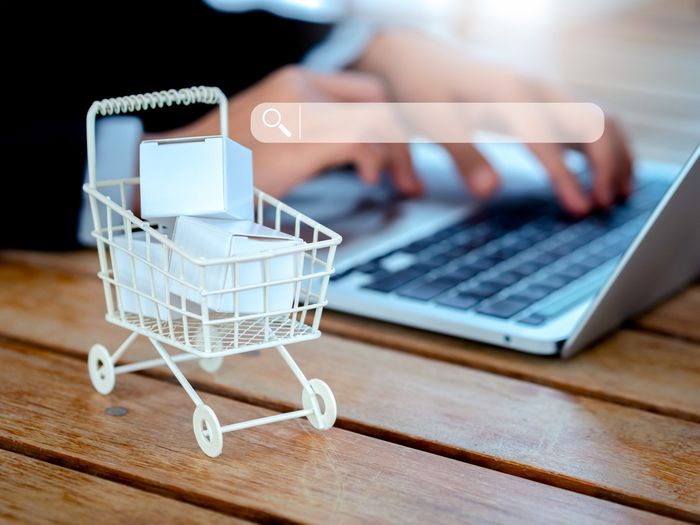 The success of your online store depends heavily on the e-commerce platform you use because this is, after all, where your store was created and where you manage it from. The problem is there are many tools and features to choose from, so it's easy to become overwhelmed.
But don't worry—we've done the legwork and gathered only the best e-commerce platforms to help build and run your online store successfully.
Our Top Picks for the Best E-Commerce Platforms
KeepShoppers Score: 9.8
Key Features
Omnichannel features and POS functionality

The most integrations for dropshipping

Shopify Payments payment processor
Shopify strikes a great balance between offering comprehensive features and capabilities while still being easy to learn for beginners. From purchasing a domain name through Shopify to building your landing pages and automating your marketing, it's a one-stop shop for creating and managing a successful e-commerce store.
Why We Liked It
With its user-friendly interface, comprehensive support, and a robust ecosystem of apps and integrations, we think Shopify is a top choice for a new e-commerce store owner looking to build and scale. You'll find tools and resources to help you with all stages of your business, from your initial store build to long-term optimization.
Pros
Comprehensive resources and support

More than 8,000 apps for store customization

Free 3-day trial
Cons
Built-in blogging features lag

Limited free theme selection

No free plans available
KeepShoppers Score: 9.6
Key Features
Dozens of modern, beautifully-designed templates

Intuitive image manager

Built-in SEO and blog functionality
According to research, design can influence up to 94% of a user's first impression of a website. Squarespace, with its award-winning designs and templates, shines in that aspect. Using its drag-and-drop editor, anyone can create a visually-stunning website that impresses and delights visitors.
Why We Liked It
Squarespace's high-quality designs make it a solid choice for aspiring merchants. With a wide range of customizable templates and intuitive image management, the platform makes it easy to create a stunning website without needing any coding knowledge.
Pros
Stunning and easily customizable templates

Mobile site optimization

Built-in SEO and blog functionality
Cons
Unintuitive website editor

Limited payment gateways

Limited extensions
KeepShoppers Score: 9.2
Key Features
Unlimited products and staff accounts

Offers multiple sales channels

Supports various payments
BigCommerce is a top e-commerce platform that caters to stores with large inventories. With advanced product management tools, it allows merchants to easily organize, manage, and showcase their extensive product catalogs. This, combined with its robust marketing, SEO, and design features, makes it an ideal platform for businesses looking to grow their online sales.
Why We Liked It
With an intuitive interface and customizable templates, BigCommerce makes setting up and running an online store with thousands of products simple. Also, we found its built-in SEO tools and advanced analytics capabilities helpful for optimizing an online store and making informed business decisions.
Pros
Flexible and scalable

Excellent cross-border sales support

No transaction fees
Cons
Not the easiest of UIs

Annual sales limits

Expensive abandoned cart functionality
KeepShoppers Score: 9.7
Key Features
Seamless integration with WordPress

Extensive customization options

Large community and developer support
With a whopping 36% of the global market share, WooCommerce is a powerful, open-source e-commerce platform for WordPress users. It offers a complete SEO solution to help online stores and content-driven brands gain visibility in search engines. These features include customizable meta descriptions, product category optimization, and integrations with plugins like Yoast.
Why We Liked It
With excellent SEO capabilities and seamless WordPress integration, we found WooCommerce to be an excellent choice for businesses that have a content-driven approach. Plus, its large, active community is a great resource for learning how to make the most of the platform.
Pros
Various SEO features

Integrated payment gateways

Free to use
Cons
Has a learning curve

No direct support

Expensive integrations
» Need a platform that allows dropshipping? Compare Shopify vs. WooCommerce
KeepShoppers Score: 9.3
Key Features
Open-source and customizable

Advanced inventory and order management

Comprehensive reporting and analytics
Adobe Commerce, formerly known as Magento, is a feature-rich e-commerce platform that offers high flexibility and customizability for businesses of all sizes. It is renowned for its extensive suite of advanced tools, including marketing and SEO functionalities, robust security features, and exceptional scalability.
Why We Liked It
Adobe Commerce stands out as the best platform for custom development thanks to its extensive customization options and flexibility. Its open-source architecture allows developers to tailor the platform to their clients' unique requirements, ensuring that each online store is truly one of a kind.
Pros
Built-in SEO tools and features

Multi-store and multi-language support

Large extensions marketplace
Cons
Steep learning curve for beginners

Expensive hosting and maintenance

Complex integration with other software
KeepShoppers Score: 9.5
Key Features
User-friendly website builder and interface

Hundreds of templates for every business

Vast app market with several integrations
Wix stands out as the best drag-and-drop website builder due to its user-friendliness. Its intuitive editor lets you add and reposition elements with a few clicks. Additionally, Wix offers an ADI (Artificial Design Intelligence) tool that designs your website for you based on your answers to a few questions.
Why We Liked It
Wix offers an effortless way to create a website, making it an ideal platform for any business. Plus, its customizable templates and app integrations make it easy to enhance the look and functionality of your storefront.
Pros
Built-in SEO and marketing tools

Mobile-optimized templates

Offers a free website option
Cons
Doesn't allow template switching

Limited e-commerce features on lower plans

Storage is capped at various levels
» Explore this complete website cost comparison of Wix vs. Shopify for more insights
KeepShoppers Score: 9.2
Key Features
Library of responsive, mobile-friendly themes

Mobile apps for tracking and management

Built-in security and infrastructure
Data shows that it takes many new businesses up to three years before they generate a profit. This can make it tough to justify spending a lot of capital on your e-commerce platform. The good news is that Weebly offers all the basics you need without breaking the bank, like customizable themes, smart marketing tools like email and SEO, and helpful extras like product search and customer reviews.
Why We Liked It
With a free version and the lowest plan starting at $10 per month, Weebly offers a ton of value for cash-strapped businesses. Even with this pricing advantage, Weebly still manages to offer the key features that store owners need to make sure their businesses can thrive.
Pros
Drag-and-drop for easy design

Continuous updates and upgrades

Intuitive organization and interface
Cons
Lacks advanced tools for marketing

Limited options for customization

Blogging can be time-consuming
Build an E-Commerce Empire With the Right Platform
Finding the right e-commerce platform requires some careful consideration. You'll need to look at details like your business's size, needs, and budget. As you do your research, make sure you're also factoring in your long-term growth goals so that the platform you choose can grow with you, helping to continually scale up as you go.
KeepShoppers Methodology
At KeepShoppers, there are core parameters and criteria we consider when we're evaluating e-commerce platforms. The user-friendliness of any app is a top priority. This includes its everyday use, initial setup, and level of support available to users. Usability further goes hand-in-hand with a platform's design functionalities, including the number and customizability of themes and templates available and its features, including the range and usability. A platform must also be able to offer its users integration options like multichannel selling, dropshipping, and scalability. Finally, a platform's pricing must offer a certain value that justifies its fees.
Frequently Asked Questions
What is the best e-commerce platform?
There is no one "best" e-commerce platform, as the best option depends on the specific needs and goals of the merchant. When choosing a platform, consider factors such as ease of use, customization options, integrations, customer support, and pricing.
What is the most affordable e-commerce platform?
Weebly and WooCommerce are generally considered to be the most affordable e-commerce platforms as they offer free versions and/or low-cost plans. However, the specific pricing and features can vary depending on your needs, so it's important to compare options to determine which platform is the best fit.
How much does it cost to start an e-commerce website?
The cost of starting an e-commerce website can vary widely based on factors like the platform used, website design, hosting, domain name, and marketing expenses. On average, your expenses will include the following: Platform: Free (e.g., WooCommerce) or $39/month (e.g., Shopify) Domain Name: $10 to $50/year Hosting: $39 to $299/month, depending on the hosting type and provider. Website Design: $0 to $3,000+, depending on whether you use a pre-made template or hire a designer. Marketing Expenses: Varies widely, but you should budget for costs such as advertising, SEO, and social media marketing. Payment Processing: 2.9% + $0.30 per transaction, on average, though fees can vary based on the payment processor and platform used. Depending on your specific needs and goals, you can expect to spend anywhere from a few hundred dollars to tens of thousands of dollars to start an e-commerce website.
What is the best open-source e-commerce platform?
Of the e-commerce platforms listed, WooCommerce is considered the best open-source option. It is built on WordPress and offers a wide range of customization options, payment and shipping integrations, and community support, making it a popular choice for many merchants. Additionally, WooCommerce allows you to modify the code and tailor the platform to meet your specific needs.