Magento vs. Shopify: Which Is Better for Online Retail?

By

Elijah Adebayo

Reviewed by

Kirsty Macdougall
Updated June 7, 2023.
Our team tests eCommerce apps and publishes app comparisons that are unbiased and not influenced by payments we receive from some of the app developers.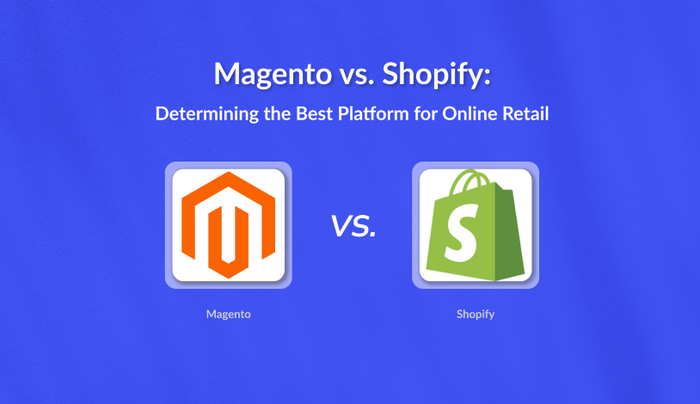 E-commerce is booming like never before. E-commerce retail sales totaled a massive $5.2 trillion in 2021 and are set to reach over $8 trillion by 2026. With so much revenue up for grabs, the e-commerce market is highly competitive. This is why picking the perfect e-commerce platform is essential. It could make or break your online presence, customer experience, and sales performance.
When looking at e-commerce platforms, two big names stand out: Magento (now Adobe Commerce) and Shopify. Together, they are powering millions of stores and generating billions in revenue every year. But what separates them, and how do you know which option is better for your online retail store? Hang tight: in this post, we examine the two platforms in detail, comparing their features, pricing, ease of use, scalability, and more so you can choose the one best suited to your budget and expectations.
» For info on these & other platforms, check out our full list of the best e-commerce platforms
Feature Comparison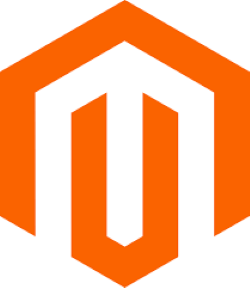 Magento (Adobe Commerce)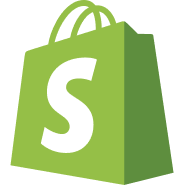 Shopify
Platform
Open-source & commercial versions
Inventory
Unlimited products & variants
Unlimited products & variants
Apps & Extensions
Choosing an e-commerce platform with a wide range of apps and extensions can spruce up your marketing, bump up sales, streamline inventory tracking, and even simplify shipping. Magento and Shopify both offer a broad selection of these nifty tools, so you don't have to develop them yourself.
Magento
Magento's Extensions Marketplace offers an incredible array of extensions, with more than 3700 to choose from—both free and paid. The average price of a paid extension is around $60-600, depending on the level of features and the developer's credibility.
Offering a wide range of categories like order management, customer support, marketing, SEO, and more, there's something for everyone. Take the Out of Stock Notifications extension as an example. With this nifty addition, you can automatically send email alerts to customers when a product is back in stock.
Shopify
The Shopify App Store has over 8000 apps to choose from, both free and paid. The average price of a Shopify app is around $50, but many are free or have a pay-as-you-go model. Shopify apps cover a wide range of categories, such as orders and shipping, marketing, sales and conversion, and store design. Plus, you can find an excellent variety of must-have tools like Out-of-Stock Police that will turbocharge your store's performance by automatically pushing out-of-stock products to the end of your collections or hiding them until they're back in stock.
Shopify apps are an easy and cost-effective way to add functionality to your online store. They are super user-friendly and, on the whole, much cheaper than Magento's extensions. The best part is that they'll also save you tons of time! Take Egnition, for example. They offer a range of helpful apps that automate and streamline various aspects of inventory and store management to provide customers with a better experience while boosting your SEO.
» Head to our in-depth Out-of-Stock Police review to learn more about its powerful features
Ease of Use
When selecting an e-commerce platform, it's critical to take into account how user-friendly it is. After all, you don't want the hassle of struggling to establish your virtual store or spending cash on pricey developers to do the job for you!
Magento
Magento is not ideal for beginners. You need coding and technical know-how to install, configure, and customize this powerful platform. Plus, the software uses web-developer jargon that can be confusing for non-experts. While the user interface boasts many handy features, it can be tricky to navigate through at times due to its complexity.
Shopify
Shopify is an ideal choice for anyone, from beginner to expert. No coding skills or tech knowledge is required to get started. The interface is clean and intuitive, and the easy-to-use drag-and-drop website builder makes it simple to create and customize your online store.
» Looking to build a professional Shopify store? Take a look at our top picks of store design apps
Quality of Customer Support
When running an online store, you want reliable and accessible customer support to quickly tackle any bumps in the road—and neither Magento nor Shopify is lacking in this department. Their outstanding customer support options are just what you need for a smooth-sailing experience.
Magento
Magento cares about keeping customers up-to-date with the latest information. Whatever your plan, you can enjoy round-the-clock live chat and email support. Keep in mind, though, that some professional services come at a fee.
However, if you're willing to find your own solutions, explore Magento's extensive Knowledge Base brimming with best practices, troubleshooting tips, and how-to guides on a plethora of topics. FAQs, user guides, and support tools are all part of its arsenal. For an extra edge—join the community forum to interact with other Magento users and experts. There's also a blog for the latest news and updates surrounding Magento and Adobe Commerce.
Shopify
Shopify also offers 24/7 live chat, email, and phone support (the latter is something that Magento doesn't offer). Their team is prompt and helpful when tackling any queries you've got. Plus, their resources are on hand for you to tap into whenever you need them—with video tutorials galore, webinars, and even free business courses available. Additionally, the Shopify Help Center is bursting with documentation on setting up and running a store, with topics ranging from picking store themes to managing orders.
Like Magento, there's also a lively community forum where you can join forces with other users for help or gain handy tips from the experts. Alternatively, you can check out their blog for more tricks of the trade and an abundance of inspirational ideas for your online store.
Pricing Comparison
Pricing, Fees, & Additional Costs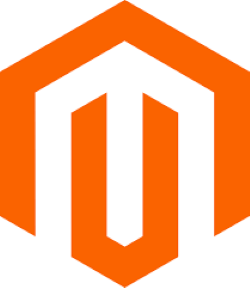 Magento (Adobe Commerce)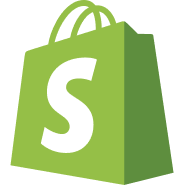 Shopify
Transaction fees
Contact Adobe Commerce for details
Premium themes
$17-399 for store themes, $5000+ for custom themes
Regarding pricing, the two e-commerce platforms take totally different routes. Magento charges a percentage of your annual revenue, which can fluctuate depending on your chosen plan and sales amount. On the other hand, Shopify requires a fixed price for each month—this also depends on what plan you go for and what features you need. You can see a breakdown of Shopify's pricing plans below.
Unfortunately, it's not just the monthly fee you have to think about. With Magento, you'll likely need to pay the additional costs of a developer and hosting fees. In many cases, you won't need to pay a Shopify expert to get you up and running unless you're looking for more advanced customizations.
For both platforms, you may also need to pay for a domain name, transaction fees, and premium themes.
Final Verdict: Is Magento or Shopify Better for Online Retail?
Choosing the right platform for your online retail business requires careful consideration. It's all about weighing up your individual needs in terms of budget, size, time investment, technical expertise, and business goals.
For those with small to mid-sized businesses who need to get set up quickly and simply, Shopify is the best. Generally speaking, Shopify is also better for stores that prioritize ease of use, dependable customer service support, and cost-effectiveness. Magento is likely to be a better solution for businesses that need more customizations and scalability since it offers maximum flexibility in design and functionality. Magento's an ideal fit for larger companies with more complex requirements and the resources to match.
However, there is no one-size-fits-all answer, so you should weigh the pros and cons of each platform carefully before making a decision.
» Read our Shopify vs. Wix and Shopify vs. Webflow posts for more in-depth platform comparisons