10 Best SEO Apps for Shopify in 2023—Discover How to Outrank Your Competition

By

Kate Pauline Galagnara

Reviewed by

Davor Štefanović

Fact-check by

Romi Hector
Updated May 25, 2023.
Our team independently researches and recommends the best products and services. We publish reviews that are unbiased and not influenced by payments we may receive from advertising partners.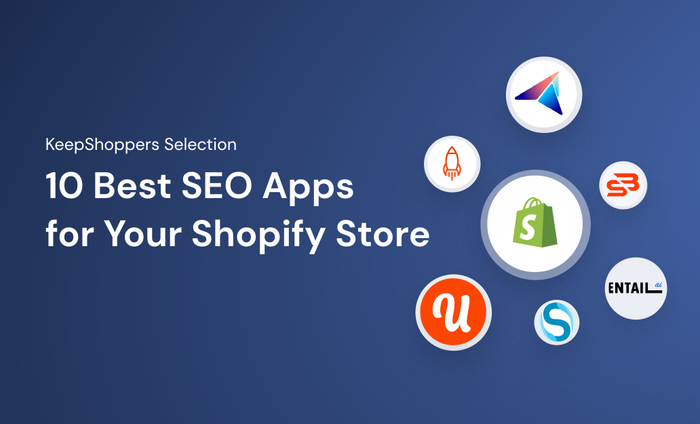 Running a successful Shopify store is not easy. It requires the right combination of marketing tactics, SEO strategies, and conversion tools to help you stay ahead of the competition. The best way to ensure your store stands out online is by optimizing it for search engine rankings with the help of powerful SEO apps. Of course, picking the right SEO app for your Shopify store can be fairly challenging. There's no single solution that's right for every business, and with so many options available, it can be hard to know which ones are worth investing in.
That's why we prepared a list of our top 10 picks to help you make the best choice.
Our Top Picks for Shopify SEO Apps at a Glance
1.

Entail AI

: Best Turnkey Solution
KeepShoppers Score: 9.8
Key Features
A complete SEO solution process

Software solution rather than an app

Full-spectrum content management
Entail AI is an AI-powered marketing platform, proving to be the best SEO app for Shopify in our opinion, that helps companies generate targeted organic traffic at scale by solving content and SEO processes. It's good for automating SEO content production to maximize your website's visibility on the web. Best of all, it's completely turnkey and doesn't need you to do any coding or set up any complex integrations.
Moreover, if you feel like SEO is too daunting for your business, Entail AI can offer an advanced SEO solution that only requires your approval.
Why We Liked It
Entail AI made it on our list as a great all-in-one solution for Shopify stores looking to make the most of their SEO efforts. It's easy to set up and provides automated content production that can help boost your website's visibility on the web.
2.

AVADA SEO Suite

: Best for Page Speed Optimization
KeepShoppers Score: 9.5
Key Features
Easy-to-use interface with step-by-step instructions

Highly effective SEO optimization features

Google Search Console integration
AVADA SEO is a Shopify app that will help you improve your website speed, and since site speed is one of the Core Web Vitals, it will also boost your SEPR ranking. The app provides image compression, store page optimization, and sitemap generation. The free plan is limited to 50 products for image optimization and includes an HTML sitemap and SEO checklist.
Why We Liked It
We like Avada SEO because of its easy-to-use interface and powerful speed optimization features. It's highly effective in helping you optimize your store's pages for search engine rankings by providing a comprehensive SEO checklist, image optimization features, and an HTML sitemap generator.
3.

Smart SEO

: Best for Multi-Language Support
KeepShoppers Score: 9.5
Key Features
Automatic keyword generation

SEO automation

Multi-language support
Smart SEO is a software solution that specifically caters to the needs of your Shopify store. The app uses algorithms to generate relevant keywords and automatically adds them to your web pages, making it easier for search engine crawlers to index and rank your website.
Why We Liked It
One of the things we like about Smart SEO is that it is a comprehensive solution for Shopify store owners who are looking to increase their search engine rankings. With this app, every Shopify user gets a handy tool that allows them to create templates for metadata generation.
KeepShoppers Score: 9.5
Key Features
Qualify for Rich Results & earn more quality traffic in Google, Bing, & Pinterest

Connect all the Schema fields needed for Google Merchant Center

Now includes TRUST product reviews
JSON-LD is an SEO-friendly embed code that helps with search engine indexing. This app integrates it into your Shopify store automatically. It works with all types of media content and is fully compatible with most Shopify stores. The app also offers support for rich snippets, which helps you get better visibility on SERPs.
Why We Liked It
JSON-LD for SEO is an easy-to-use app that offers comprehensive SEO optimization and improves a store's rich snippets. This is why it got its place on our list. It's also fully compatible with most Shopify stores, allowing owners to improve their Rich Snippet rankings.
5.

Plug In SEO

: Best for SEO Auditing
KeepShoppers Score: 9.6
Key Features
Supports JSON-LD structured data, broken link fixing, and keyword targeting

Integrates with Google, Bing, Langify, Locksmith, Search Console, and Judge.me

Step-by-step instructions for fixing SEO problems
Plug In SEO is an SEO app that helps Shopify store owners optimize their websites for maximum visibility and increase traffic and sales. It offers a range of functions, including keyword monitoring, link building, content optimization, and more. The app also provides real-time analytics so you can track your website's performance and make adjustments as needed.
Why We Liked It
Plug In SEO takes the guesswork out of search engine optimization, giving you the tools to understand where your Shopify SEO is at and how to improve it.
6.

FavSEO

: Best for Keyword Optimization
KeepShoppers Score: 9.7
Key Features
Comes with an SEO scorecard

Ability to track keyword positioning on Google

Bulk editing
FavSEO is an all-in-one SEO app for Shopify stores that connects to Google Webmaster tools, allowing users to track keyword rankings, discover new keyword opportunities, and submit the sitemap. This app enables store owners to edit, analyze, and optimize the titles and meta descriptions of all their products, categories, and pages quickly and easily.
Why We Liked It
FavSEO is named 'Fave' for a reason. This app is an excellent tool for maximizing your visibility on the internet and helping you generate a high volume of organic traffic. With so many features on offer, this app is a one-stop shop!
7.

SearchPie

: Best for Beginners
KeepShoppers Score: 9.4
Key Features
Speeds up loading times

Broken Links AutoPilot

Bulk updates of meta titles, meta descriptions, and alt tags
SearchPie is a beginner-friendly SEO booster and speed booster app designed to help Shopify store owners improve their search engine ranking by focusing on things that Google values the most, website speed and performance and strong local online visibility. It offers a range of features such as keyword tracking and analysis, mobile-friendly design, and page speed optimization.
Why We Liked It
We love SearchPie simply because it's very user-friendly and has a lot of power under the hood. It's best for first-time Shopify users who want to explore SEO because it's easy to navigate, and the helpful support team is available at any time to render assistance.
KeepShoppers Score: 9.3
Key Features
Optimized social link previews

Suggests niche keywords with search volume and cost per click

Image optimizer feature
SEO Products Optimize helps you optimize your social share images on social media (Facebook Open Graph, Twitter Cards, Instagram DM, etc.), as well as optimize product detail pages for search engine crawlers. Users praise it for its easy-to-use design that's accessible even to people who aren't tech-savvy.
Why We Liked It
We personally liked SEO Products Optimizer for its powerful product optimization capabilities. It enables you to set up rich snippets, optimize your social share images, and discover niche keywords that can help you drive more traffic to your Shopify store.
KeepShoppers Score: 9.3
Key Features
Dedicated AMP validation and manager

Up to 100% page speed increase

Mobile optimization functionality
AMP by Shop Sheriff is officially recommended by Google for the creation of AMP (Accelerated Mobile Pages) on Shopify. This SEO app helps you create lightning-fast, mobile-friendly versions of your web pages that load instantly on any device. Best of all, it integrates seamlessly with Shopify's checkout process.
Why We Liked It
We love AMP for its ease of use and ability to quickly optimize the mobile experience for your customers. In addition, it's officially recommended by Google, so you can be sure that using this app will give you a competitive edge in terms of SEO rankings.
10.

SEOKart

: Best for Performance Reporting
KeepShoppers Score: 9.1
Key Features
Alexa rank tracking

Bulk optimize up to 200 images (name, alt text, and size)

Fixes 404 errors
The SEOKart software analyzes your SEO performance by tracking the keyword positions on Google and then emails a weekly or monthly report. Installation is free, quick, and easy and allows for measuring the effectiveness of both on-page and off-page efforts.
Why We Liked It
The setup only takes a few minutes, and it's an excellent solution for enterprise-level stores that provides users with advanced SEO auditing functionalities. Best of all, it's free to use, which makes it an appealing choice for businesses on a budget.
Simplify Your SEO Efforts With the Best Shopify Apps
Running a successful Shopify store takes more than just luck and hard work. It takes knowledge and the proper tools. The right software can give your store the edge it needs to beat the competition. By leveraging powerful SEO apps like Entail AI, SEOKart, and others mentioned above, you can take control of your store's visibility on search engines and maximize its potential for conversions.
Remember, there's no one-size-fits-all solution. You should definitely try out free versions, trial periods, and discounts if you want to determine what works best for your business.
» Increase your sales with the best Shopify apps
KeepShoppers Methodology
We scored each app based on a variety of factors that would be relevant to our readers. This includes ease of use, features, third-party integration potential, value for money, customer service, customer reviews, and more. We also took into account the time and resources required to make the best use of the app—more feature-rich solutions are usually more complex and require a greater time investment to learn. All of these traits were aggregated into the KeepShoppers Score you can see in each app description.