10 Best Shopify Translation Apps: Connect Your Store Worldwide

By

Adeel Qayum

Edited by

Kirsty Macdougall

Fact-check by

Romi Hector
Updated April 18, 2023.
Our team independently researches and recommends the best products and services. We publish reviews that are unbiased and not influenced by payments we may receive from advertising partners.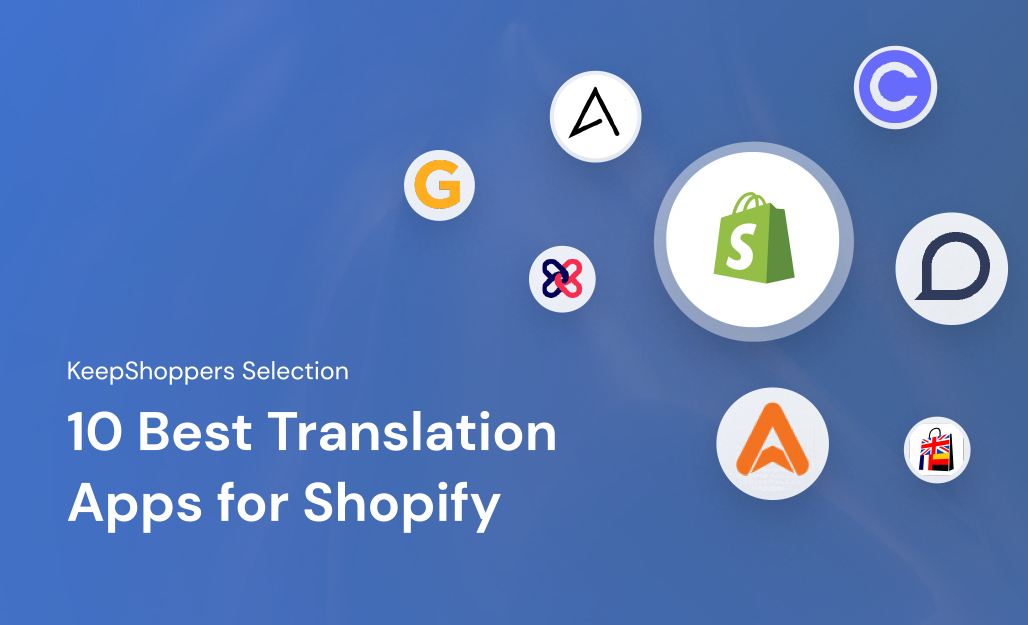 In a global shopper survey, 55% said they only shop on websites that show product descriptions in their own language, and 87% said they wouldn't buy from an English-only website. By eliminating language barriers, you can gain access to millions more customers.
Translation apps can be a massive help for Shopify stores, especially when you don't have a native-speaking copywriter on your team. But the problem is, with so many apps available, it can be tough to know which one is the best choice for your unique needs. Fret not: we've done the legwork and compiled a list of the best translation apps for Shopify to help you decide.
A Quick Look at the 10 Best Shopify Translation Apps
1.

Transcy

- Best for Customization
KeepShoppers score: 9.9
Key Features
Auto text & image translation

Customizable language switcher

Match language to customer's location
Transcy is a versatile Shopify translation app that auto-converts store content into customers' local language with AI. It has a simple user interface and allows you to run your site multilingually with one click. Transcy also offers image translation for a better customer experience, plus the option to translate meta tags for improved SEO performance.
Why We Liked It
We found the language switcher to be the standout feature of this app. It's a simple drop-down menu that customers use to select the language they would like the text to be translated into. WithTranscy, you can add as many of these switchers as you need and customize them to fit your store themes and website design. As such, we consider it to be one of the best store design apps for Shopify, in addition to being an excellent translation tool.
2.

T Lab

- Best for Multilingual SEO
KeepShoppers Score: 9.8
Key Features
Automatic translations using Google NMT

Bulk translation for product variants

Multi-currency support
Looking to expand your Shopify store's reach with multilingual capabilities? Enter T Lab, an app that seamlessly integrates with Shopify's multi-language feature for maximum ease of use. T Lab uses AI to translate your store's content and offers output in 100+ languages. You can also bulk translate product options and variants to present a consistent image to international audiences.
Why We Liked It
With unique URLs, translated meta tags, and page indexing, T Lab is the ultimate app for multilingual SEO. Plus, T Lab's seamless integration with Shopify Markets is definitely worth a mention—the app can help you present a localized version of your store in different markets and increase global sales.
» Looking to improve other aspects of your SEO? Check out these top SEO apps
KeepShoppers score: 9.7
Key Features
Translate your entire website

Manual & AI translation

Language switcher
If you use a lot of third-party apps to power your storefront, Translate My Store is the perfect fit for you. This language translation tool can translate text from over 200 applications and even create backups for future use. Plus, it has all the necessities required to deliver a truly localized shopping experience.
Why We Liked It
We were thoroughly impressed with the app's ability to auto-translate our entire storefront, including checkout pages, images, and content of various third-party apps. Not to mention, it's super easy to configure and use.
4.

ETranslate

- Best for Customer Support
KeepShoppers Score: 9.5
Key Features
Unlimited pageviews

Multilingual SEO optimization

Language switcher
Although using a Shopify language translation app may seem straightforward, there are times when you might need some support. ETranslate is a translation app offering 24/7 live chat support and all the essentials. Whether you need assistance optimizing your store for multilingual SEO or encounter technical issues during installation or use, expert support is just a click away.
Why We Liked It
We love how simple it is to localize a page with ETranslate. With its Auto AI translator, which uses Google Neural Machine Translate API for automatic translation, you need just a few clicks to get the job done. The best part? The app doesn't slow down your page speed, ensuring customers get the best experience.
5.

Weglot

- Best for Ease of Use
KeepShoppers score: 9.6
Key Features
Instant translation

Post-editing functionality

Multilingual SEO
Weglot is a full-featured Shopify translation app best known for its simplicity. Once installed, the app will instantly translate your store without any coding. You can easily create and maintain a multilingual e-commerce site, as well as collaborate with your team, all within one dashboard.
Why We Liked It
Weglot offers a lot of flexibility in managing the translated text. You can start with a layer of AI translation for automation and speed, then use the app's post-editing features to control the quality of the localized text.
KeepShoppers score: 9.4
Key Features
Unlimited automatic translations

Customizable language selectors

Analytics for translated text
G | translate is a popular Shopify translation app boasting handy features like URL translation and country-specific top-level domains. With G | translate, you can get instant results with automatic, high-quality translations of your store's content. The app also offers search engine indexing—key to making your site more discoverable.
Why We Liked It
G | translate is a valuable app to have on board because of its comprehensive analytics and metrics. This feature lets store owners gain insight into how their translated content is performing. This, in turn, can inform decisions around improving translations and enhancing the user experience for global audiences.
» Don't miss out on key business insights. Take a look at these great analytics apps
7.

langify

- Best for Translation Imports & Exports
KeepShoppers score: 9.3
Key Features
Automatic & manual translations

SEO optimization

Import & export function
Here's a high-performance translation app that allows for the easy import and export of content translations. Businesses can export existing translations for backup purposes or untranslated content for professional translation. Additionally, langify offers automatic site-wide translations and SEO features to improve overall site visibility.
Why We Liked It
langify makes it simple to present store content in right-to-left languages. Plus, it offers a language switcher that you can customize to match your brand's style.
8.

Langwill

- Best Free App
KeepShoppers score: 9.5
Key Features
Auto-update translations

Manual editing

Browser language redirection
Langwill is a robust multilingual translation tool that is efficient and free to use for Shopify stores of all sizes. It can automatically translate pages within minutes to help you adapt to different markets. The app can also switch languages based on a visitor's browser language, creating a better shopping experience.
Why We Liked It
Langwill enables store owners to translate texts with incredible ease and precision—all without incurring any cost whatsoever. Plus, it auto-updates translations for any store changes, saving you valuable time and effort that you can direct toward other business areas.
KeepShoppers Score: 9.3
Key Features
Converts both languages & currencies

Supports 164+ world currencies

Supports 111+ languages
Of course, you want to make sure that your website is available in local languages where other customers are shopping. But what about currency conversion? In addition to language translation, Currency Converter ‑ Multicoin also offers geographical pricing. It's another way to eliminate barriers when customers are ready to make a purchase.
Why We Liked It
We love how robust this language and currency converter tool is, with the ability to translate more than 111 languages and convert over 164 world currencies. Plus, the currency rates update every three hours, meaning that your currency conversion is always on top of new developments in the market. The app also offers speedy, responsive customer service to ensure you're never stuck.
10.

LangShop AI

- Best for Range of Languages
KeepShoppers Score: 9.3
Key Features
Supports 247 languages & dialects

Machine AI translation (DeepL, Google)

Translates images, apps, & checkout
LangShop is a great option if you're looking to use AI to take your translation to the next level. With currency conversion in addition to language translation, you can rest assured that your customers are always in the loop on their purchase options. It supports an impressive 247 languages, including right-to-left languages like Arabic and Hebrew, as well as a built-in glossary to help with agency and manual translation (if you choose these routes over automatic).
Why We Liked It
We're impressed that, in addition to translating your web content, LangShop also translates other elements of the website and web experience, including images, dynamic content, third-party apps, and even Shopify Checkout. Plus, with the translation of your meta fields, you'll also get a boost in your SEO performance.


Take on the World With a Shopify Translation App


If you want to tap into the millions of customers you're leaving on the table but don't have an in-house copywriter who speaks other languages, there's still hope. A Shopify translation app can help take you to the next level in your e-commerce journey, increasing your customer engagement, conversions, and sales.
To ensure you're making the right choice, consider the key details: your business needs and goals, what you require vs. what you can compromise on, your skills and resources, and your budget. When you're taking the right details into consideration, you're closer to finding the ideal solution.
» Translation is just the beginning. Here are more top apps to boost sales
KeepShoppers Methodology
Here at KeepShoppers, we make our recommendations based on a specific set of parameters, namely:
Ease of Use:

This includes developer friendliness, how easy the setup was, and the quality of the customer support available.

Languages Supported:

We considered the number of languages supported and if dialects of the same language were accounted for.

Features

: We factored in the range of features available and the extent of the features' usefulness.

Pricing:

We considered whether there were free plans, features, and add-ons available. For paid plans, we assessed if the monthly fee was worth it.

Customer Reviews:

For a more holistic and well-rounded evaluation, we reviewed how store owners in different countries and different sectors rated the app.
We also considered the time and resources required to make the best use of the app—more feature-rich solutions are usually more complex and require a greater time investment to learn. All of these traits were aggregated into the KeepShoppers Score you can see in each app description.