HelloBrand Review—Shoppable Video Links for Shopify Merchants

By

Joel Taylor

Reviewed by

Davor Štefanović
Published June 2, 2023.
Our team tests eCommerce apps and publishes reviews that are unbiased and not influenced by payments we receive from some of the app developers.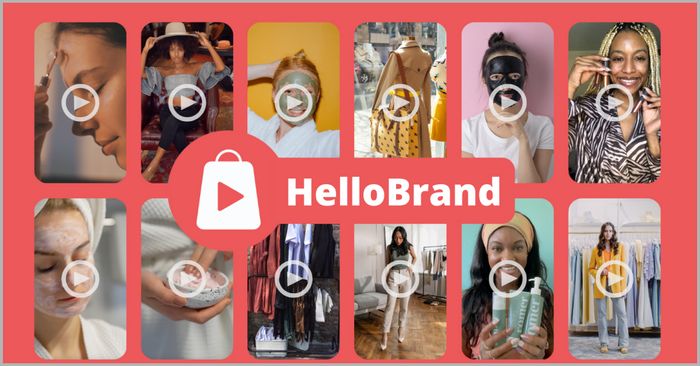 If you're looking for a new way to market your products, then you should consider the simple concept of shoppable videos. Users are far more likely to retain the information they see in a video than in a mess of text scrawled across your website—so why not throw in a purchasing link and let them buy directly from the video?
Keep reading to learn all the different ways that HelloBrand's shoppable video service can help your store.
What Does HelloBrand Offer Shopify Merchants?
More Effective Social Media Marketing
Have an Instagram business account but aren't seeing the conversion rate you'd like? Reuse your product videos from any social media platform and embed them on your store as shoppable video carousels or floating videos on your homepage or product pages.
Each video comes with a link that you can share on all your socials, emails, and SMSes to redirect users straight to the shoppable video, increasing your conversions.
UGC With More Impact
Every e-commerce merchant is familiar with the benefit of user-generated content in the form of product reviews and ratings. Now, with HelloBrand, you can turn your UGC product review videos into shoppable ones to improve the effectiveness of your social proofing apps.
Live Video Shopping
If you haven't started hosting live videos to promote your brand and engage with your community, then now is the time to start. And with HelloBrand's technology, you can add purchasing links to your live videos when discussing products, allowing you to remove any doubt and answer customer questions in real-time before they purchase.
On top of that, you can save and reuse live videos as conversion-boosting shoppable videos on your store.
HelloBrand Pricing
The cost of running HelloBrand on your e-commerce store works a little differently from most other Shopify apps. Instead of a few strict plans to choose from, the app is free to install and remains so up to 200 monthly views of your shoppable videos. After that, it's only $0.02/view for the rest of the month.
Additionally, if you're worried about your company growth costing you more in the long run, you don't need to worry. HelloBrand offers you the control to set a flat rate that you're willing to spend each month, whereupon the service will simply pause for the rest of the month once that limit has been reached. This ensures that you have the chance to test the app and only have to pay for what you get.
Our Verdict: Should You Use HelloBrand?
E-commerce store owners are always looking for new ways to improve their marketing and increase conversions, and shoppable videos are a simple and effective way to do so. And with the free-to-use capabilities that only require a small, custom payment after a certain number of views and the excellent customer support available 24/7, there's really no good reason not to try it out for yourself!
It's clear that, from the 5-star reviews on the Shopify app store, other e-commerce merchants feel the same. Head to their website to learn more or jump directly to their Shopify app store page to get started.