EasyRoutes for Shopify: E-commerce Tracking & Delivery Management

By

Brody Hall

Reviewed by

Joel Taylor
Published May 31, 2023.
Our team tests eCommerce apps and publishes reviews that are unbiased and not influenced by payments we receive from some of the app developers.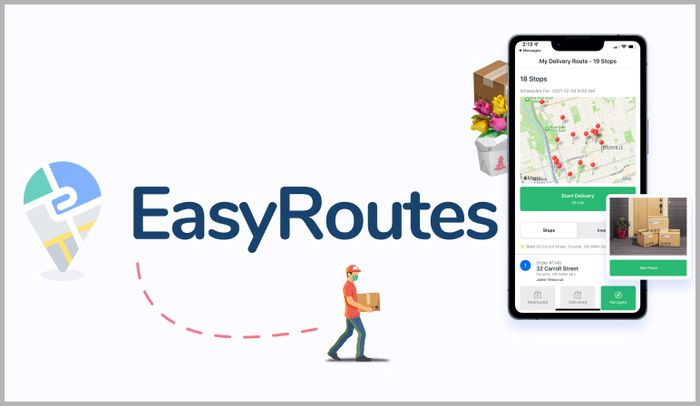 Managing safe, reliable, and efficient delivery of your products without stress seems like an impossible task. Fortunately, an efficient delivery management app makes the processes involved simple for any Shopify seller. EasyRoutes is a dispatch and delivery tracking app that takes your Shopify orders and converts them into optimized local delivery routes with itemized inventories that are easy to share with your drivers or hassle-free when you have to deliver products yourself.
Why You Should Use EasyRoutes
EasyRoutes shows signs of being an all-in-one fulfillment solution that could potentially save you hours of time planning and optimizing the quickest delivery routes.
The app integrates seamlessly with Shopify and your store's orders, removing the need to import and export spreadsheets. Users select the orders for delivery, and the app intuitively determines the most efficient route to deliver your products, complete with packing lists.
EasyRoutes Features
Let's dive into the highlight features of EasyRoutes:
Route Optimization
One of EasyRoutes' advantages is the ability to optimize your routes. Apply handy filters, use tags, and search to find the exact orders you want to deliver. Afterward, you only have to click a button to add your selection to your route staging area. Once all your orders have been selected, EasyRoutes will optimize your addresses and output a map, stop list, and route inventory you can use as a packing list.
Making adjustments to your route, should you receive a last-minute order, is painless - simply add it to a route you've already created. It's also a breeze to make changes with EasyRoutes' full suite of editing tools.
Once all routes have been made, EasyRoutes instantaneously optimizes it to be the shortest and fastest one available.
Driver Apps
Delivery Driver is EasyRoutes' IOS and Android app for your driver (or yourself, if you do your own deliveries). It equips your driver with the tools they need to focus on one delivery at a time. Drivers can mark orders as Out for Delivery, Delivered, and Missed Delivery. With EasyRoutes' easy integration with Shopify, all order updates your driver makes sync automatically with your store's backend.
Additional handy features include integration with any navigation app (Google Maps, Apple Maps, or Waze), attaching notes, taking photos, and capturing a signature as proof of delivery.
EasyRoutes' Delivery Driver also gives your drivers the ability to see any critical order and delivery notes and the contents of the order they are delivering. On top of this, they can also call or text a customer with the tap of a button.
Other Noteworthy Features
Proof of delivery

Attach proof of delivery photos, e-signatures, and notes to your orders for peace of mind.

Customer tracking links

Customers can use a customizable tracking link to monitor their deliveries and receive notifications for all delivery events.

ETAs and drive times

Manage expectations by keeping an eye on estimated drive and arrival times.

Route scheduling

Schedule routes for dispatch at a specific day/time in the future, complete with accurate ETAs.

Route inventories

Before embarking on a delivery, EasyRoutes features a packing list to ensure you have everything you need.
EasyRoutes Customer Reviews
The reception from the public has been rather positive, claiming that the app provides users with superb usability, an intuitive interface, and effortless customizability. It has maintained a solid 4.8-star rating on the Shopify app store with numerous customer reviews.
​​To see if EasyRoutes is right for your shop, visit their website to learn more or to start your free trial.