Sync2Fashion by B2B GRIFFATI Review—Features, Pricing, Support, and More!

By

Jaques Cilliers

Edited by

Michelle Meyer
Updated May 11, 2023.
Our team tests eCommerce apps and publishes reviews that are unbiased and not influenced by payments we receive from some of the app developers.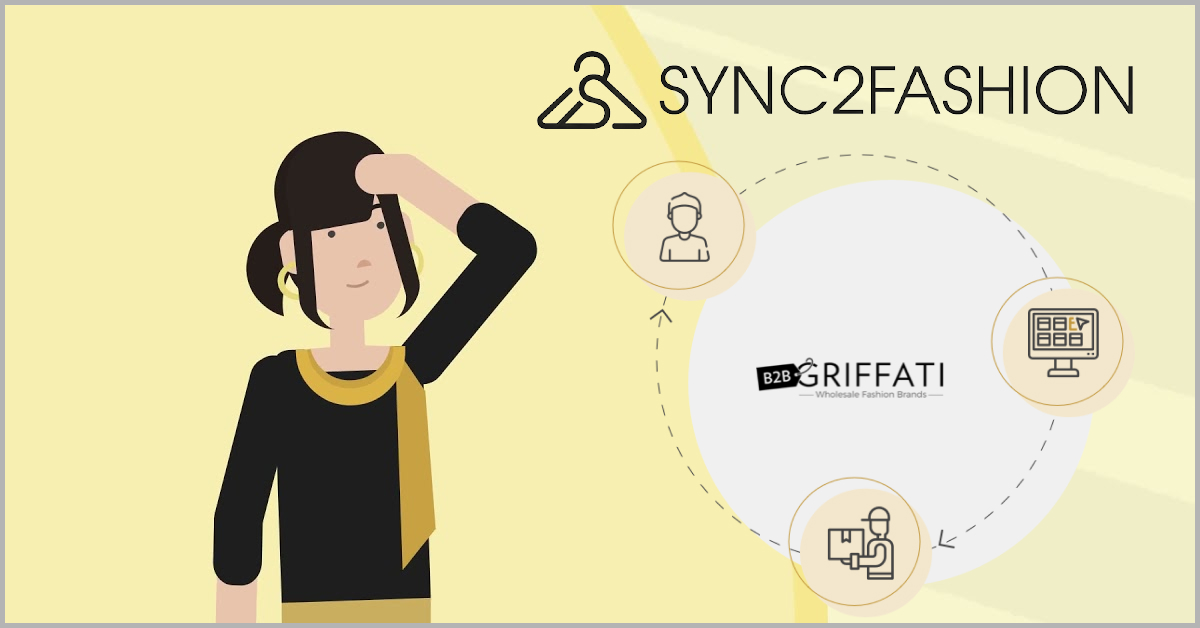 If you're into the fashion world and thinking of setting up a Shopify dropshipping store, then you'll need access to the best suppliers and luxury clothing brands to compete against other similar stores. Look no further than Sync2Fashion by B2B GRIFFATI, a dropshipping service that can provide e-commerce store owners with numerous clothing brands at the best possible prices.
Pros
User-friendly interface

Wide range of features

Highly customizable

Integration with major e-commerce platforms

Detailed analytics

Great customer support
Cons
Free trial is only 1 day

Item and shipping costs aren't included in pricing plans

Certain stores are excluded from installing the app
What Is Sync2Fashion (and How to Integrate It)




Sync2Fashion is a dropshipping app that offers a variety of useful features to help you streamline operations and increase sales. The app is ideal for small and medium-sized e-commerce businesses looking to expand their product offerings without the need for inventory management or shipping logistics.
Sync2Fashion helps you save time and money by automating various aspects of the dropshipping process, including product procurement, order fulfillment, and tracking shipments.
What Sets Sync2Fashion Apart
Sync2Fashion differs from other dropshipping feature apps by offering many unique and valuable features:
An advanced product search feature

allows you to quickly find the products you want to sell based on various criteria such as brand, category, price, etc.

Built-in product customization tools

that let you create your own product listings with your own descriptions, images, and prices.

Manage multiple stores under a single account

, which is especially useful if you have

multiple brands and product lines

.

A powerful integration feature with major social media platforms

such as Facebook and Instagram lets you expand your reach and attract new customers.
Sync2Fashion Features
1. Customize Your Store With an Updating Catalogue
B2B GRIFFATI's catalog of available products is constantly updated to keep up with the latest trends, so your store will never fail to be trendy. Choose from many of the most well-known brands, including Ralph Lauren, Armani Jeans, Michael Kors, Levi's, Calvin Klein, and more.
Additionally, decide which products you want to sell in your store, filtering by everything from brand, category, color, gender, and even season!
»Here's how to test if the products you want to sell on Shopify will be successful
2. Fast Fulfillment Without Warehousing
The dropshipping business model allows e-commerce merchants to keep items in their stores without having to pay for warehousing costs. B2B GRIFFATI's warehouses will keep your listed products in stock and ship to customers in over 180 countries with reputable services like UPS and DHL so that you never have to worry about losing stock or storage costs.
Furthermore, the automatic stock synchronization feature will prevent you from suffering stock errors for unavailable products.
» Explore other top inventory sync apps to improve your decision-making
3. Wholesale Pricing for Elevated Profit Margins
List luxury products in your store with discounts of up to 75% to ensure that you receive the highest profit margins available. Sync2Fashion will also automatically configure prices by adhering to general markup rules.
» Make sure your products are priced correctly by monitoring your competitors' prices
4. Automatic Order Forwarding
Once customers complete an order in your store, it will automatically be forwarded to B2B GRIFFATI's warehouses while also allowing you to keep your customers updated on the status of their orders.
Sync2Fashion Pricing Plans
Sync2Fashion offers a 1-day free trial to ensure that you like the service and can become comfortable with the software before paying. There are three pricing plans to choose from.
Play Plan
The Play Plan is the most basic at $39/month. Features are limited and include access to the product catalog and the ability to create and manage stores. However, this plan does exclude features such as order tracking and automated order fulfillment. It also limits you to 250 products.
Limited Plan
The Limited Plan is $90/month and includes more features than the Play Plan, such as automated order fulfillment, shipment tracking, and the ability to create and manage up to three stores. You can also import up to 1,000 products.
Business Plan
The Business plan costs $190/month and includes all the features of the Limited Plan, plus extras like a 5,000 product limit, priority customer support, and the ability to create and manage an unlimited number of stores. This plan is ideal for businesses with high order volumes and more complex dropshipping needs.
Usability
Sync2Fashion has a user-friendly interface that's intuitive and easy to operate. The app is highly customizable, allowing you to tailor settings and features to suit your needs.
Additionally, by effortlessly integrating with leading e-commerce platforms such as Shopify and WooCommerce, Sync2Fashion makes it easy to streamline your online operations.
Support
Sync2Fashion offers a variety of support options to help you resolve any issues or questions you may have.
Support email:

Sync2Fashion provides a support email for businesses to make inquiries and get help from the support team.

Whatsapp and Telegram:

The app provides support through messaging apps to get immediate support.

FAQ:

Sync2Fashion's comprehensive

FAQ section

covers various app-related topics such as installation, setup, and troubleshooting.

YouTube:

The app offers helpful video tutorials on its

YouTube channel

.
Sync or Swim: Optimize Your Fashion Dropshipping Store
Running a dropshipping fashion store is a difficult endeavor at the best of times. With having to maintain the latest items from the best suppliers while also worrying about order fulfillment and warehousing, it's essential to select a great Shopify dropshipping partner to do the difficult work for you so that you can focus on growing your brand.
B2B GRIFFATI's Sync2Fashion offers a variety of customizable features to suit your brand and different pricing packages to suit your pocket. Its diverse product range is second to none, so while fashion trends come and go, Sync2Fashion will ensure your store remains relevant and on-trend.
Sync2Fashion by B2B GRIFFATI Review—Features, Pricing, Support, and More!