Core Web Vitals Booster By Speedien—Improved SEO and Page Speed for Shopify Stores

By

Joel Taylor

Edited by

Davor Štefanović
Published May 19, 2023.
Our team tests eCommerce apps and publishes reviews that are unbiased and not influenced by payments we receive from some of the app developers.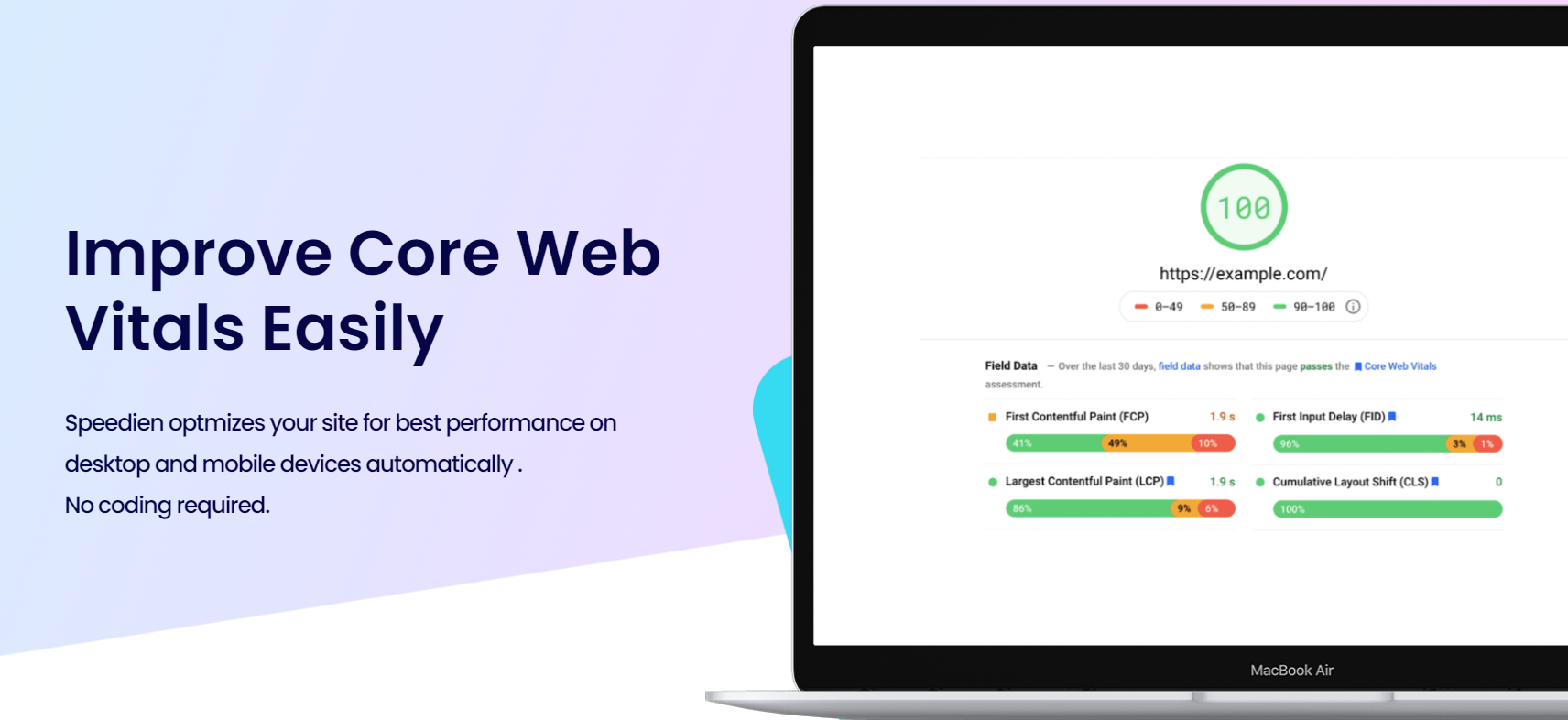 There are many different aspects that contribute to a website's overall SEO quality. Improving your Google discoverability takes more than just high-performing keywords placed strategically—you have to consider your site's page speed too. Websites and pages that have slow load times will be flagged by the Google Search Console, lowering your authority and making it less likely that potential customers will discover your store.
Thankfully, you can improve your site's load speed without having detailed knowledge and experience in coding. If you'd like to start taking steps to improve your site's load speed, look no further than Core Web Vitals Booster, a Shopify app developed by Speedien.
Pros
No coding experience required

Intelligent Javascript loading

24/7 support

Lots of popular app integrations

Works for desktop and mobile devices
Cons
Can take time to see results

Some users may have compatibility issues
What Is Core Web Vitals Booster Best For?
Most Shopify sellers improve their loading speeds by optimizing the size of their images—or other similar tactics—without realizing the negative impact of having multiple different Shopify apps interfering with your store's code and slowing the process down.
Although Speedien's app optimizes your images and backend code, Core Web Vitals Booster excels in deferring third-party scripts and apps from activating until they're required, letting Google load the important stuff first. It works with all the most commonly used apps and even provides daily speed reports to allow you complete monitoring control. The cloud-based caching also helps you to quickly implement your frontend code.
» Learn the basics of optimizing a slow-loading Shopify store
Overview of Features
Core Web Vitals Booster is loaded with features to help improve page loading speeds. These include but are not limited to;
Cloud-based caching:

Frontend code is delivered using cloud-based cache for improved time to first byte (TTFB).

Global CDN compatibility:

Global CDN, HTTP/2 Compatibility, including GZIP and Brotil compression. This can help enhance an online store's scalability and increase global reach by handling high levels of traffic during peak times.

HTML & CSS optimization:

Advanced HTML optimization, critical path CSS generation, script optimization for increased SEO ranking, and improved site performance, especially on mobile devices.

Image optimization:

Responsive

image sizing

, lazy loading, and automatic WebP conversion.

JS optimization:

Progressive loading of third-party scripts to minimize impact on page speed.

Daily speed reports:

Daily report of core web vitals including alerts if the vitals change drastically.
Plans & Pricing
Speedien's app only offers one pricing plan at $9/month but allows a 7-day free trial to try out the service before committing to anything. This ensures you get all the features and 24/7 customer support you need without spending a fortune on premium pricing plans.
Other useful features included in the plan are:
Automatic theme optimization

Unlimited image optimization

Unlimited pageviews

Critical CSS generation

CSS lazyloading
Integrations
The app integrates with a number of different platforms and plugins, and can help with Facebook pixel speed optimization, Klaviyo speed optimization, Google Analytics / Tag Manager speed optimization, and intelligent Javascript loading for Shopify apps. It can also help with live chat optimization provided your store has that functionality.
Core Web Vitals Booster integrates with three of the best CMS providers i.e. WooCommerce, WordPress, and Shopify.
Usability
Core Web Vitals Booster is relatively straightforward to use. E-commerce merchants must simply enter their domain name and a preview domain will be generated so all the optimizations can be viewed before going live. Once you're happy with the changes, point your domain name to the CDN IP and the optimizations will take effect for increased page loading speed and improved site performance.
Support
Speedien offers 24/7 support for any queries that you may have while using the app. The quickest way to reach them is via e-mail [email protected] but there is also an FAQ section on their website which can help with common issues.
A Vital Organ For Shopify Stores?
Not only can poor page speed hurt your SEO rankings and discoverability, but it's also sure to annoy and chase away potential customers. And while optimizing your images or preloading pages can speed your site up, it won't help you get around the inevitable lag of accumulating necessary apps.
Instead of spending time and effort trying to code your way out of a bogged-down store, let an efficient service like Core Web Vitals Booster by Speedien do the work for you. We found that most users will see an improvement in site performance almost immediately and while some users may experience slight compatibility issues, the 24/7 support team is there to help and resolve issues quickly and efficiently.
Core Web Vitals Booster By Speedien—Improved SEO and Page Speed for Shopify Stores