6 Best Shopify Apps to Resize & Optimize Product Images

By

Ashley Stander

Reviewed by

Michelle Meyer
Updated May 26, 2023.
Our team independently researches and recommends the best products and services. We publish reviews that are unbiased and not influenced by payments we may receive from advertising partners.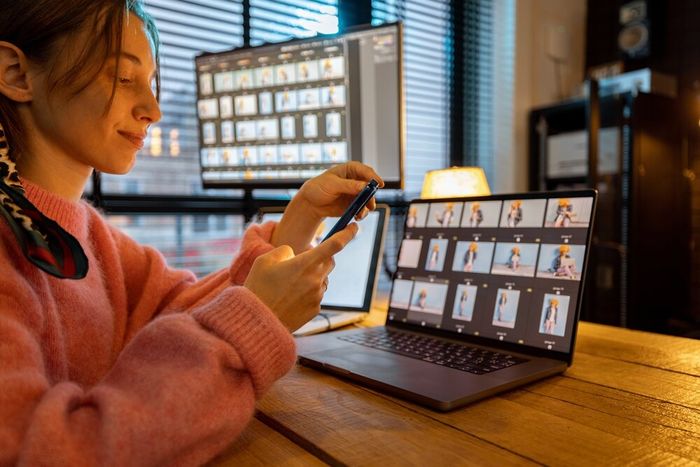 As an e-commerce store owner, you probably take on a range of different roles. But can you successfully wear the hat of "photographer" and "designer" to optimize your product images for desktop and mobile?
High-quality product images are critical because first impressions, as you know, are lasting. Your customers don't have the luxury of touching and holding your products, so low-quality images can be a major put-off for potential buyers.
The good news is there are many innovative tools with great features to help optimize your images. We've compiled a list of six excellent options to help you find the best app for your needs.
Our Top Picks for the Best Apps to Resize & Optimize Product Images
1. Best Overall
KeepShoppers Score: 9.8
Key Features
Automatic alt text generation

Unified pre-set rules for ease of use

Image & canvas customization options
If you're looking for a great all-rounder, All-In-One Image Master by Egnition is a top choice. It will save you time and effort through easy automation. Simply set rules for your images and get a unified look and feel for all of them. The app is versatile and allows you to remove backgrounds, resize canvases, center products, resize and crop images without compromising ratio, set preferred quality, choose between JPG and PNG formats, and generate alt text.
Why We Liked It
The best part about All-In-One Image Master is its automated functionality. Once you have settled on a store design theme, you can deliver the same look for your entire store with easy-to-use templates. The app also comes with 24/7 support with lightning-fast response times, so any queries you may have will get resolved quickly.
Pros
Free to install (with 20 free credits)

Credit packages available based on usage

Flexible style settings

Excellent 24/7 customer support
» Looking for more info? Head to our full review of All-In-One Image Master
2.

Best for Reducing Load Times
KeepShoppers Score: 9.6
Key Features
Broken link detection and page redirection

Auto Ava SEO Audits

SEO reports
SEO Suite by AVADA allows users to optimize images for faster loading times and improved user experience, as well as to reduce the file size of images without compromising on quality. The app also includes tools for optimizing page speed, such as caching, minification of HTML, CSS, and JavaScript files, and the ability to defer loading of certain scripts.
Why We Liked It
AVADA SEO Suite is wholly focused on helping you optimize your store for search engine visibility. We increased our site and page loading speeds while compressing, renaming, resizing, and adding alt text to our images to boost SEO. What's more, the app helped optimize our Google Search Console and SEO manager performance with a number of handy tools.
Pros
Free plan available

14-day free trial

Boosts on- and off-page SEO

Maintains image quality
Cons
Free plan has limited features

Steeper learning curve than other apps
3.

Best for Bulk Image Resizing
KeepShoppers Score: 9.5
Key Features
3 aspect ratio settings

Bulk image resizing options

Automatic store & image analysis
Pixc: Photo Resize is designed to make photo resizing quick and easy. Key features include the ability to resize photos to any custom size, compress images without losing quality, and crop images to specific dimensions. Choose from three aspect ratios (square, portrait, and landscape) and let the app run in the background, saving you time. Additionally, the app provides an intuitive interface that is easy to use, making it accessible to people of all skill levels.
Why We Liked It
Pixc: Photo Resize allowed us to edit and replace product images automatically, giving our store and products a more consistent and professional look and feel. The app's built-in algorithm is designed to make store analysis faster and allows for easy bulk image editing in just a few clicks—making it perfect for stores with lots of product images.
Pros
Free to install (with 50 free images)

Effortlessly resize bulk images

Automated processes to analyze, improve, and replace images

30-day backup of files
Cons
Packages can become expensive
» Check out our list of other great apps to automate photo editing
4.

Best for Image Customization
KeepShoppers Score: 9.2
Key Features
Image size optimization for SEO

Image protection

Flexible user interface
Hextom: Bulk Image Edit & SEO is designed for easy image editing and optimization, allowing users to bulk edit image files, add watermarks, resize, crop, frame, and trim images, and also optimize them for search engines. With Hextom, users can streamline their image editing process, save time, and improve their website's overall look and performance.
Why We Liked It
With or without any technical skills, Hextom: Bulk Image Edit & SEO is easy to use, offering a range of editing tools such as filters, brightness and contrast adjustments, and cropping options. The app helped to improve the SEO of our product images by optimizing image sizes, alt text, and file names. For e-commerce store owners looking for maximum customization options, Hextom is a great pick.
Pros
Free to install (start with 50 free images)

Easy to use

Versatile SEO, resizing, and backup functions

Perform bulk actions
Cons
Free plan has limited features

Customer service may be slow
5.

Best for SEO
KeepShoppers Score: 9
Key Features
Image template options

Auto-edit functionality

3-in-1 imagine resizing, compression, & optimization
SpurIT SEO Image Optimizer helps users boost their SEO, improving website visibility and performance. It offers various features, such as bulk editing and compression, automatic alt tag generation, and the ability to add watermarks and text overlays. As an added bonus, the app offers suggestions for improving image optimization based on Google's best practices.
Why We Liked It
The app helped optimize our images for search engines in three ways: it resized images in bulk for uniformity, compressed images to reduce image size without losing quality, and optimized alt text using a template.
Pros
Easy-to-navigate interface

Bulk image editing

Great backup restoration features
» Take a look at these top SEO apps to drive even more organic traffic
6.

Best for Beginners
KeepShoppers Score: 8.9
Key Features
Simple user interface

Keyword search function

Shopify admin integration
With its extremely easy-to-use interface, PixPix Image Editor can help online store owners add custom text, logos, and watermarks to their images, adjust brightness, contrast, and saturation levels, and apply filters and effects to create a unique visual style for their products. The app also includes features for image cropping and resizing, as well as the ability to bulk edit multiple images at once.
Why We Liked It
The app provided us with a wide range of editing options, including image resizing and cropping. The simple and intuitive interface meant we could browse product lists or search for a product simply using a keyword. The Chrome and Shopify integration features enabled us to open a product in the app from the Shopify admin section, again simplifying usability.
Pros
Free plan available

Extensive image editing functions

Chrome and Shopify integration

7-day free trial
Cons
No specific SEO features

Free plan has limited features
Let's Get Digital
In the e-commerce world, competition is fierce, and most shoppers will skip over unattractive, slow-loading, and poorly designed websites. This means you need to be at the top of your game and really stand out, especially when it comes to product images.
We definitely recommend All-In-One Image Master by Egnition as a one-size-fits-all solution to help make your store pop. However, consider the other options as well in relation to your budget, inventory size, business goals, and specific needs. Ultimately, the best app is the one that will boost your bottom line the most, which may require more effort to set up or come with a higher price tag.
» Check out our list of sales-boosting apps to rev up your revenue even more
KeepShoppers Methodology
Here at KeepShoppers, we make our recommendations based on a specific set of criteria, including:
Ease of Use:

This includes developer friendliness, how easy the setup was, and the quality of the customer support available.

Features

: We factored in the range of features offered and the extent of the features' usefulness.

Pricing:

We considered whether there were free plans, features, and add-ons available. For paid plans, we assessed if the monthly fee was worth it.

Customer Reviews:

For a more holistic and well-rounded evaluation, we reviewed how store owners in different countries and different sectors rated the app.
We also considered the time and resources required to make the best use of the app—more feature-rich solutions are usually more complex and require a greater time investment to learn. All of these traits were aggregated into the KeepShoppers Score you can see in each app description.