5 Best Shopify Apps to Automate Product Photo Editing (2024)

By

Rebekah Brace

Edited by

Michelle Meyer
Updated November 17, 2023.
Our team independently researches and recommends the best products and services. We publish reviews that are unbiased and not influenced by payments we may receive from advertising partners.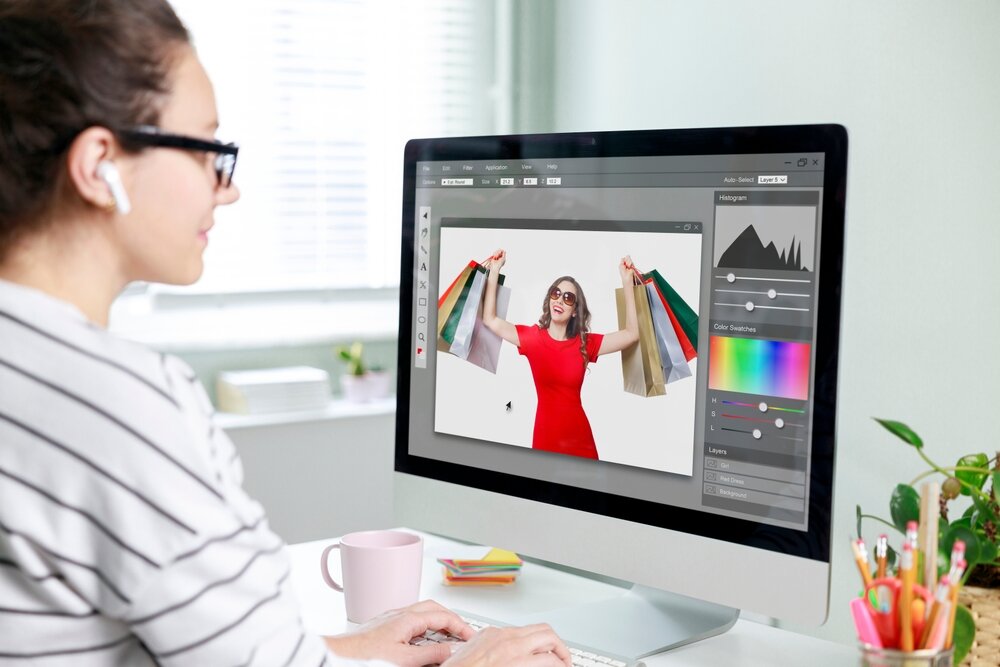 The product photos on your Shopify store can make or break your chances of a sale. Because your customers can't see or evaluate your items in person, they rely on you to provide valuable photos to help them visualize exactly what they're buying.
Making your items look more appealing and making your site seem more trustworthy and credible are important reasons to optimize your product images. Fortunately, you don't need to spend a fortune on photo editing services and tools to enhance your images. There are great Shopify apps available that can automate your photo editing process, saving you valuable time.
Our Top App Picks to Automate Photo Editing
KeepShoppers Score: 9.9
Key Features
Wide range of image editing functions

Unified pre-set rules for uniform images

Automatically generated ALT text
This convenient app by Egnition is a user-friendly and powerful tool to enhance your Shopify product images instantly. Users can rapidly remove the background from photos, resize their canvas, maintain aspect ratios, add new elements, and generate ALT text. Automate your processes and get uniform photos with pre-set rules, including image quality and format (PNG or JPG).
Why We Liked It
All-In-One Image Master is a well-rounded app that lets you edit product images manually or in bulk based on pre-set rules. Its diverse photo editing functions are a breeze to use. If you don't like the final result, the app keeps the original image for you. Finally, the app boosts your SEO by automatically adding alt text to your images, saving you time and effort.
Pros
Free to install (first 20 credits free)

No monthly fees (pay as you go)

Versatile functions

Automate processes with pre-set rules

Excellent customer support
» Automatically compress images for your Shopify store with All-In-One Image Master
KeepShoppers Score: 9.7
Key Features
Versatile photo editing functions

Google Images integration

Access to 3 different photo editors
Swap Photo Editor is one of the most highly-rated photo editing apps on the Shopify marketplace. With access to 3 photo editors (Adobe, Swap Editor, and Photopea), you can remove backgrounds, add or remove different logos, text options, stickers, and more. The app's many image editing features include resizing, cropping, and compressing images, renaming your visuals, and instantly finding and replacing low-resolution photos in bulk.
Why We Liked It
This app is best suited for advanced users that need extra features to edit their product photos. With access to multiple different photo editors, you can choose which tool suits you best and, by integrating with Google images, you can do a web-wide search for similar or higher quality images. Its bulk editing capability speeds up image optimization and saves you from individually editing product photos.
Pros
3-day free trial

Access to 3 photo editors

Bulk-edit images

Versatile functions
KeepShoppers Score: 9.6
Key Features
Auto-optimize image size and quality

Advanced SEO analysis

Google Search Console integration
AVADA SEO Suite is designed specifically to help improve your Shopify store's SEO performance by enhancing your images. Easily compress and rename images to improve your site and page speed while optimizing ALT text and meta tags. Advanced SEO settings provide multiple tools to help optimize your GSC (Google Search Console) and SEO Manager. Therefore, some SEO knowledge may be required to use the app's features as optimally as possible.
Why We Liked It
If your main aim is to improve your Shopify store's page speed and improve SEO, AVADA SEO Suite is your answer. The app doesn't solely focus on photo editing—instead, it uses this as one of many functions to boost your SEO. So, while its editing functions aren't as extensive, all of the features are aligned to increase your page speed.
Pros
14-day free trial

Free plan available

Advanced SEO optimization functions

Broken link detection & page redirection

Unlimited ALT optimization
Cons
Free plan has limited features

Limited photo editing functions

Learning curve
» Explore the best Shopify SEO apps to beat your competition
KeepShoppers Score: 9.5
Key Features
Bulk image editing

Customizable template

App applies all changes within hours
Retail Ready Photos aims to help you increase online sales with professional-looking product photos. Rapidly remove and replace background images, placing your products in any custom environment. Easily set uniform image dimensions and borders to bulk edit photos and provide consistency across your store. Cloud-based image storage and backup options make it easier to access images and revert them back to their original version.
Why We Liked It
Retail Ready Photos has a unique approach to bulk-edit images. Once your images are uploaded, you only need to create a custom template with all your requirements once. Once you've submitted the template, the app will apply it to all your images and return the edited images within 24 hours. This means you don't have to manually edit images or apply any changes—simply approve them once the app has done all the work.
Pros
Free to install

Pay-as-you-go method

Bulk-edit images

Image storage and backup
Cons
May include additional charges

No free plan or trial
KeepShoppers Score: 9.5
Key Features
User-friendly interface

Access to two image editors

Diverse range of editing functions
Simple and effective, PixPix uses two image editors to allow users to easily resize, modify, and crop product images while saving time by uploading, deleting, and compressing images in bulk. Quickly browse for products by keyword or open a product in PixPix directly from your Shopify Admin section.
Why We Liked It
Whether you're a beginner or just not much of a technology enthusiast, PixPix's simple and intuitive interface will suit you perfectly. You can easily find the images you want to edit, and your choice between two photo editors means you can use the one you prefer.
Pros
7-day free trial

Free plan available

Easy to use

Versatile photo editing functions

Chrome and Shopify Admin integration
Cons
SEO functions not available yet
Make Your Shopify Photos Picture Perfect
The process of editing photos individually for your Shopify store can often be time-consuming, expensive, and just frustrating. Fortunately, with the right Shopify image optimization apps, you can leverage a convenient and streamlined tool within your Shopify environment that handles every step on your behalf.
Choosing the best Shopify apps can be overwhelming, so it's important to partner with an app that suits your business needs and budget. For a comprehensive and straightforward solution, we recommend All-In-One Image Master.
KeepShoppers Methodology
Here at KeepShoppers, we use a specific set of parameters and criteria when we're evaluating the apps we recommend to you. Here are those parameters:
Ease of Use:

Is it developer friendly? How easy is the setup? Is support available?

Features:

What's the range of features and the extent of their usefulness?

Integration:

How many integrations are available, and what are their benefits?

Design Functionalities:

How many templates are available? How professional do they look? How much can you customize?

Pricing:

Are there free plans, features, & add-ons available? Is the monthly fee worth it?