Shogun Review (2024): Pricing, Features, Integrations, and More!

By

Ali Shah

Edited by

Nevena Radulović

Fact-check by

Romi Hector
Updated November 16, 2023.
Our team tests eCommerce apps and publishes reviews that are unbiased and not influenced by payments we receive from some of the app developers.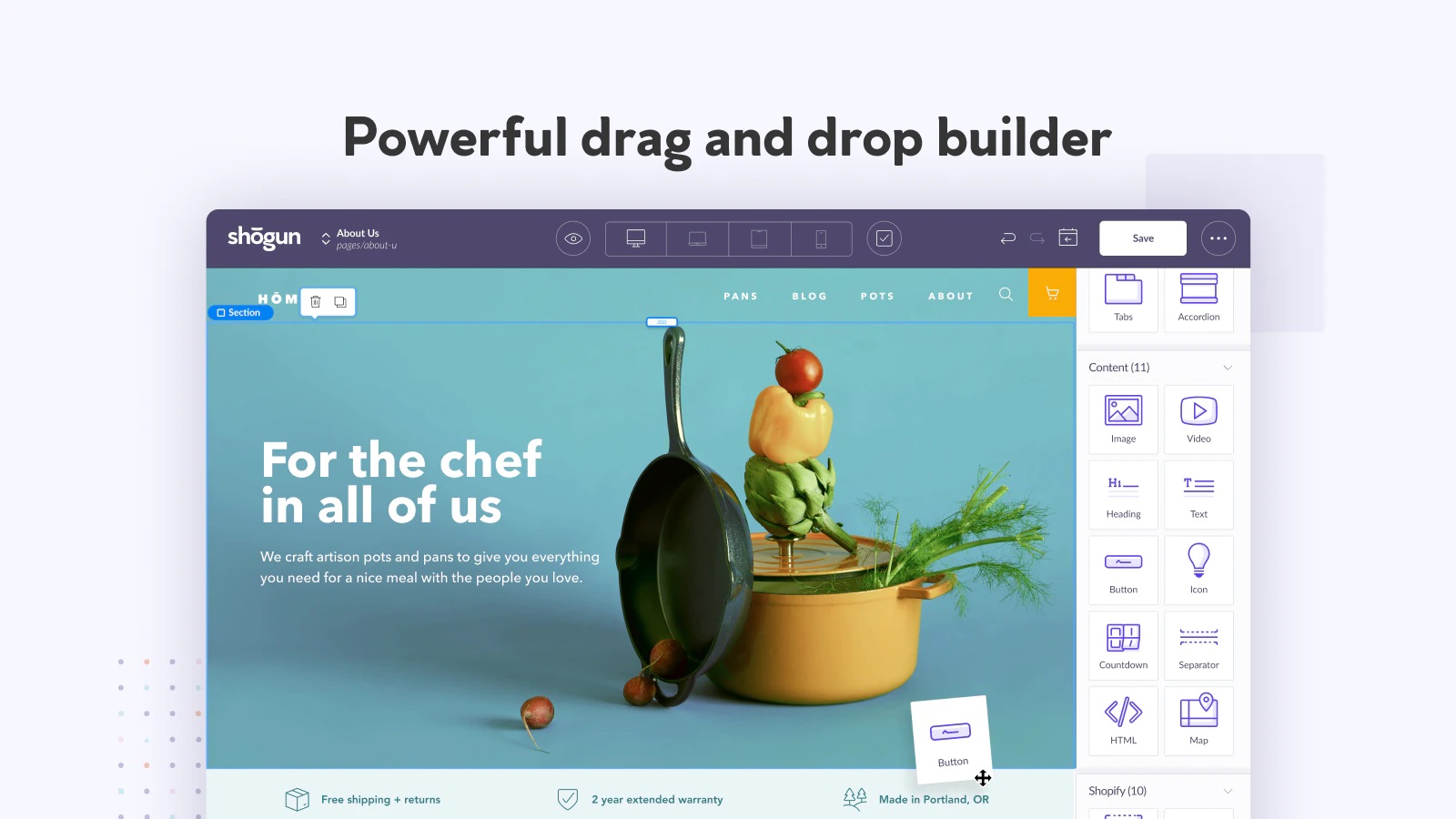 Keeping in mind that businesses with 10–15 landing pages on their website generate 55% more leads than those with fewer than 10, you can see that landing pages are an essential part of any successful website.
If you're running an e-commerce business, you'll need multiple landing pages tailored to your products, services, or campaigns to optimize conversion rates and increase sales. Luckily, with a customizable website builder like Shogun, you can easily create professional-looking e-commerce landing pages and reap the benefits in no time. In this Shogun review, we'll analyze the app's features, integrations, pricing, and more to help you decide whether this is the best Shopify store design app for you.
Pros
Easy to use drag-and-drop page builder

Customizable templates and design options

Popular e-commerce platforms integrations

Analytics & reporting features

Excellent customer support
Cons
No native mobile app

No option to import/export site content
Best for
Shogun is a website builder suitable for both startups and established businesses looking to improve their performance. However, it's a particularly great choice for online store owners with no developer and coding knowledge.


With a drag-and-drop page builder, customizable templates, and a wide array of easy-to-use features, Shogun is suitable for users who aren't tech-savvy. The app can help you effortlessly create a professional-looking e-commerce website to grow your online presence, boost engagement, and increase sales.
» Boost your bottom line with the best Shopify apps for increasing sales
Overview of Features
Shogun helps you build powerful landing pages with minimum effort by offering the following features.
Page Variety
Shogun allows you to build a variety of page types, including:
You'll also gain access to 70+ templates that you can customize to fit your brand and style, as well as pre-styled blocks like product grids and testimonials that you can quickly drag and drop onto your pages. By offering various page types and templates, Shogun lets you easily create a cohesive and visually appealing online store to best showcase your products and brand.
» Learn the basics for building your Shopify store's landing pages
Drag-and-Drop Page Editor
The app's drag-and-drop page editor is a standout feature that helps you easily create custom pages by offering useful design elements such as text, images, buttons, videos, and more.
While the editor is simple to use and doesn't require any coding knowledge, it also allows advanced users to add custom HTML and CSS. This can be particularly helpful if you want to create unique pages to make your business stand out.
Synchronized Theme Editor
With Shogun's synchronized theme editor, you'll be able to save time and effort by making changes to your website's theme that reflect across your site. This feature is particularly helpful if you want to make global changes to your business website, such as updating the font or color scheme.
This can also provide you with more control over your website's design, allowing you to maintain a consistent look and feel throughout all your web pages. A cohesive design will, in turn, help your e-commerce business build its brand recognition and customer trust.
Tracking and Analytics
Shogun offers tracking and analytics features to help you stay on top of your website's performance. With this feature, you can view a range of useful metrics, such as page views, conversion rates, and revenue.
Allowing you to filter data by device type, this feature can also help you get an accurate picture of how your website performs across different devices. With such valuable insights, you'll be able to make more data-driven decisions to improve your conversions and sales.
» Improve your store's performance with the best Shopify analytics apps
Plans & Pricing
Shogun offers multiple pricing plans so you can choose the one that best suits your business needs and budget:
Free Plan:

This plan offers basic functionality, including the drag-and-drop page builder and limited template access. It's a good option for businesses on a tight budget or those that are just starting out.

Build Plan

($39/month):

Suitable for businesses that require more flexibility, the Build Plan offers more features than the free plan. These include unlimited page creation and A/B testing.

Measure Plan

($149/month):

With this plan, you can expect additional features like advanced analytics, heat mapping, and session recording. As such, it's suitable for businesses that require data-driven insights to optimize their website and marketing efforts.

Advanced Plan

($499/month):

As the app's most comprehensive plan, the Advanced Plan comes with a wide range of advanced features, such as a dedicated account manager and priority support. It's the best choice for large businesses that require more powerful functionalities.
» Find out how much you should spend on Shopify apps
Integrations
Shogun offers a variety of third-party app integrations that can streamline and enhance your marketing and performance efforts. Some of the platforms that the app can be integrated with include:
Usability
Shogun is known for its user-friendly interface and intuitive design that makes it easy to create and customize your landing pages quickly and efficiently. Its drag-and-drop functionality allows for a high degree of customization without requiring any coding skills.
It also integrates seamlessly with other apps and services, such as popular email marketing tools, analytics platforms, and payment gateways, to help you extend your website's functionality and streamline your workflow.
Support
The app provides a variety of resources to support its users, including:
Email support

Form submission

Comprehensive help center

Blog with tips and tutorials

Case studies that showcase successful implementations of the platform

Guides and reports with deeper insights into e-commerce best practices and trends
Easily Master Your Shopify Store Design With Shogun
Overall, Shogun is a powerful website builder app that offers a range of features for Shopify users to easily customize and optimize their online stores. With Shogun, you can create and customize your landing pages without any coding skills and access a range of tools for A/B testing, analytics, and website optimization.
When choosing the best app for your Shopify store, an app like Shogun that helps you quickly create a professional-looking website can go a long way and boost your business's bottom line.