10 Best Easy to Use Landing Page Builder Apps for Shopify in 2023

By

Adeel Qayum

Reviewed by

Michelle Meyer

Fact-check by

Romi Hector
Updated August 29, 2023.
Our team independently researches and recommends the best products and services. We publish reviews that are unbiased and not influenced by payments we may receive from advertising partners.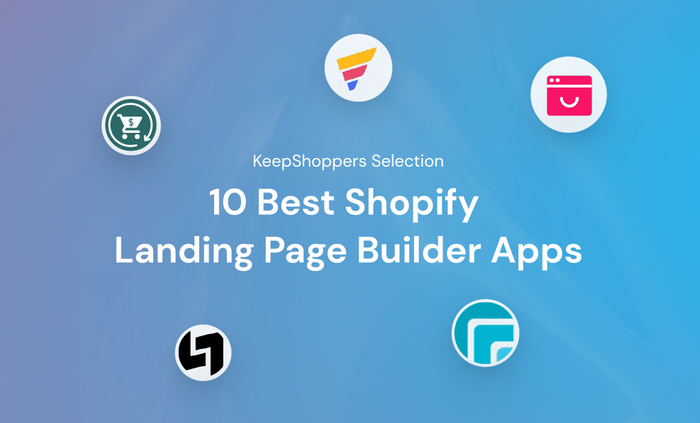 Landing pages are versatile. Whether you need to generate leads, drive traffic, build your brand, or improve SEO, you can build a Shopify landing page with everything you need to help you meet your goal. And the more pages, the better! A study from HubSpot shows how brands that increase their landing pages from 10 to 15 see a 55% boost in leads.
There are many apps available to help you build professional and effective landing pages. The trouble is: how do you choose the best Shopify app that will meet your store's unique needs? Don't worry—we've done the legwork and gathered only the best options for landing page builder apps.
Our Top Picks for the Best Shopify Page Builder Apps
1.

PageFly

- Best Overall
KeepShoppers Score: 9.9
Key Features
100+ customizable page templates

Drag-and-drop page builder

Advanced analytics and integrations

Product variant and color swatches
PageFly is an advanced e-commerce page builder that lets you design your online store in no time. With an intuitive drag-and-drop editor and over 100 customizable templates, you can quickly create beautiful pages that match your brand identity. Additionally, the app has advanced features like Countdown Timers, Opt-in Forms, and Product Variant Swatches, making it a top choice for Shopify store owners.
Why We Liked It
We love PageFly's ease of use—you don't need any coding knowledge. You can create stunning pages with just a few clicks, thanks to the platform's intuitive interface. The drag-and-drop builder is particularly handy for page customization, and PageFly's integrations with other popular apps like Klaviyo or Judge.me make page building even more seamless.
» Read our full PageFly review for more detail
2.

GemPages

- Best for Increasing Conversions
KeepShoppers score: 9.8
Key Features
Various page types

80+ fully responsive templates

Conversion elements that utilize FOMO

A/B testing
GemPages is a Shopify page builder that uses drag-and-drop functionality to create visually striking and optimized pages. With a vast selection of design elements, blocks, templates, sales boosters, and integrations, it offers everything to set up your store for conversions. Additionally, its high-speed CDN ensures your site remains responsive even when it experiences a lot of traffic.
Why We Liked It
GemPages is a conversion powerhouse for Shopify stores. Its robust suite of conversion-boosting features include the ability to create enticing discounts, reiterate offers, show a countdown timer, and more. This makes GemPages the perfect tool if you're looking to increase traffic and sales conversion.
» Delve deeper into our full GemPages review
3.

Shogun

- Best for Shopify Plus
KeepShoppers score: 9.7
Key Features
Custom template creation

Built-in A/B testing

Detailed analytics dashboard

Version control for pages
Shogun is a robust drag-and-drop page editor to create landing pages, theme sections, and product pages for Shopify Plus websites. You can design using the app's templates or make something unique with a countdown, sliders, video, and other elements. Shogun also has built-in image optimization and lazy loading, which can make your Shopify Plus store load faster and convert more visitors.
Why We Liked It
Shogun's custom elements feature offers limitless possibilities for creating unique and customized pages. Additionally, the app's themes section editor lets you make universal changes to template pages, so you can easily reduce manual overhead for your Shopify Plus store.
» Read our full Shogun review for better insights
4.

Automizely

- Best for Ease of Use
KeepShoppers Score: 9.7
Key Features
Easy-to-use editor

Hundreds of pre-built templates

Advanced analytics

Built-in image optimization and SEO
Automizely Page Builder is a powerful yet user-friendly tool that simplifies creating and customizing Shopify store pages. With an intuitive drag-and-drop editor and various codeless page elements, anyone can easily edit and publish functional pages in no time. Additionally, the app offers an analytics dashboard to track key page metrics like total subscribers and add-to-cart percentage.
Why We Liked It
Automizely Page Builder is a fantastic option if you don't have technical expertise. With its codeless page elements, you can design a new or edit an existing page in approximately five minutes. What's more, the app offers mobile optimization, fast loading speeds, and product list integration to help boost customer experience.
5.

EComposer

- Best for Extra Add-Ons
KeepShoppers Score: 9.6
Key Features
Build-in add-on library

Live drag-and-drop editor

100+ page layouts and 260+ section templates
EComposer is a versatile Shopify page builder with a rich library of elements and templates. You can even set global colors and typography across pages as well as preview your design in real time.
Why We Liked It
EComposer's extensions are incredibly valuable for optimizing your store's customer experience and increasing sales. By adding extra features to your store, like color swatches, sticky add-to-carts, cross-selling, and various other options, you can convert more visitors into paying customers.
6.

LayoutHub

- Best for Ready-to-Use Layouts
KeepShoppers Score: 9.5
Key Features
Big library of high-quality layouts

Drag-and-drop builder

SEO optimized pages
LayoutHub Easy Page Builder is a Shopify app designed with readiness in mind. Its vast library of diverse and professional templates takes only minutes to customize. You can preview the design before publishing, as well as fill in SEO data like title and description tags once the page is live.
Why We Liked It
What we appreciate most about LayoutHub Easy Page Builder is the plug-and-play layouts on offer. You can import any of them and move the blocks/sections with the drop-and-drag tool to get your desired style. Every layout is compatible with all devices and UI/UX optimized for high conversion rates.
7.

Tapita

- Best for Multiple Languages
KeepShoppers Score: 9.5
Key Features
One-click page translation

100+ intuitive templates

Widget builder (popups, promotional bar, etc.)
Tapita Landing Page Builder is results-driven and aims to give you all the tools to build the best landing pages. This includes ready-made templates, AI content generation, custom code, and translation features.
Why We Liked It
What we like most about Taptia is that it helps you present a global image and sell internationally with its one-click translation feature. Crossing language barriers can help increase your conversions and sales by allowing you to reach a wider audience.
8.

Zipify

- Best for Testing Landing Pages
KeepShoppers score: 9.5
Key Features
Split testing

Proven templates

Drag-and-drop editor

Light boxes
Comparatively the most expensive Shopify landing page builder on the list, Zipify lets you launch better campaigns faster for more profit. You can embed opt-in forms, countdown timers, and dynamic buy-boxes to amplify your customers' shopping experience. Plus, the app's native integration with Shopify means you can start displaying your pages as soon as you publish them.
Why We Liked It
Zipify removes the need to sign up for an external A/B testing tool. With the app's native split testing functionality, you can compare entire pages or specific elements to see which version delivers better results.
9.

Zeno

- Best for Beginners
KeepShoppers score: 9.5
Key Features
Powerful visual editor

High-speed CDN

SEO optimization
Zeno Page Builder stands out among Shopify page builders for its user-friendly approach. Zeno's simple and intuitive interface requires no coding or design skills. But power users aren't left behind—Zeno also offers advanced customization options to push the limits of page building. Merchants of all skill levels can benefit from Zeno's easy-to-use and flexible page builder.
Why We Liked It
Whether you're a novice or just not that tech-savvy, Zeno lets you quickly build pages that are robust and poised for conversions. You can choose from over 100 element locks to drag and drop into your page as you design it and customize the content with images, colors, etc. All it takes is a few clicks.
» Discover the best Shopify marketing apps to support your team
10.

Replo

- Best for Marketing Teams
KeepShoppers score: 9.4
Key Features
100+ expertly designed templates

Customize any element

Saved sections
Replo Landing Page Designer is a fully-customizable Shopify page builder app for marketing teams. With this tool, teams can create dynamic experiences without having to custom-develop themes. Additionally, Replo integrates with apps like Klaviyo, Recharge, and Okendo, allowing you to reshape your customers' experience across the board.
Why We Liked It
Replo is designed to help marketing teams consistently deliver on-brand experiences. With its fully customizable templates and saved sections feature, you can streamline your workflows and ensure that all pages reinforce your brand image.
Meet Your Business Goals With Landing Pages
Landing pages are an exceptional tool when it comes to meeting (and exceeding) your business goals. And as you can see, there are plenty of top-notch landing page apps to help you along the way.
Of course, you won't need all of the apps on this list. You'll need to consider the specific needs and goals of your own business when it's time to choose the best one. But when you do, the benefits are tenfold: you'll be able to boost your performance via conversions, traffic, brand-building, and SEO, all while keeping a professional look.
» Already have landing pages? Here's how to master landing page optimization
KeepShoppers Methodology
Here at KeepShoppers, we use a specific set of parameters and criteria when we're evaluating the apps we recommend to you. Here are those parameters:
Ease of Use:

Is it developer friendly? How easy is the setup? Is support available?

Features:

What's the range of features and the extent of their usefulness?

Integration:

How many integrations are available, and what are their benefits?

Design Functionalities:

How many templates are available? How professional do they look? How much can you customize?

Pricing:

Are there free plans, features, & add-ons available? Is the monthly fee worth it?