PageFly Review (2023): Pros & Cons, Pricing, & More

By

Kate Pauline Galagnara

Reviewed by

Nevena Radulović
Updated March 28, 2023.
Our team tests eCommerce apps and publishes reviews that are unbiased and not influenced by payments we receive from some of the app developers.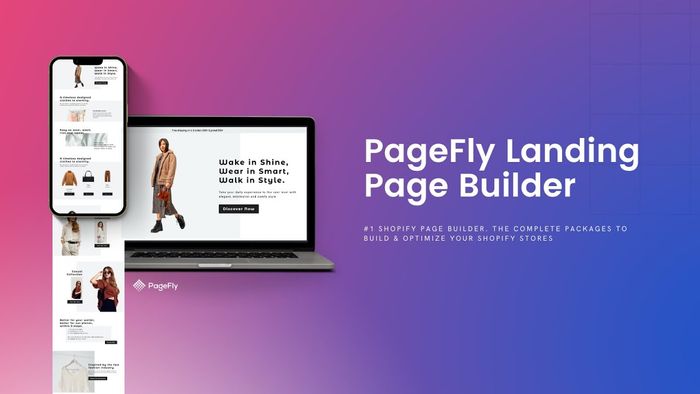 In today's competitive e-commerce market, having a visually appealing and easy-to-navigate website is essential for your business' success. A well-crafted website that's easy to navigate can help attract more customers, increase your brand visibility, and build credibility while providing an enjoyable user experience.
If you're looking for an easy way to make your Shopify store look more attractive, PageFly is an advanced e-commerce page builder that allows you to design and customize your store in a matter of minutes. Below, we'll look into the app's pros, cons, pricing, and more to help you decide whether this is the best Shopify store design app for you.
Pros
150,000+ active users

Advanced analytics tools

Unlimited design options

24/7 support

Optimized for mobile phones
Cons
Limited Free Version

Possible slow loading at times
Best For
Offering great features for conversion rate optimization, PageFly is best suited for e-commerce merchants, partners, agencies, and freelancers. If your aim is to build advanced web pages without the help of a technical programmer, PageFly can come in quite handy.
Although the app is useful for most e-commerce stores, it's particularly beneficial for SMBs using Shopify. In addition to offering customizable templates for your Shopify page, the app also comes with the latest Shopify features, including Countdown Timers, Opt-in Forms, and Image Carousels, making it a great choice for Shopify store owners.
» Check out other apps to increase sales as well
Overview of Features
PageFly offers a host of helpful features for building your landing pages, including the following:
Customizable Page Templates
The app provides a library of over 100 templates you can use as the foundation of your page. The available template types include:
Holiday page

Landing page

Home page

Collection page

Product page

Integration templates

About page

Contact page

Blog post page

Password page
What's more, all the templates are highly customizable—you can change them to your liking and add elements such as custom images, video backgrounds, product carousels, and more. This can help make your pages match your brand identity, increasing your chances of sales by reinforcing your brand with your customers.
» Here's what you need to build your Shopify store's landing pages
Drag-and-Drop Page Builder
The drag-and-drop page builder makes it easy for you to create and customize your pages with just a few clicks. In addition to the easy-to-use options for adding images and slideshows, text editing, and button design, you can also add HTML and CSS code if you wish.
The builder lets you simply drag the elements you want into place, adjust their settings, and save changes to facilitate your store design and improve customer experience in your store in no time.
Mobile-Responsive Pages
PageFly helps make sure that your pages look great on any screen by automatically optimizing them for mobile devices. This helps ensure your store's design looks great even when customers access your store from tablets or phones, improving user experience and boosting your chances of conversion.
SEO-Friendly Pages
You can expect the pages you create with PageFly to be optimized for search engine crawlers and users. With helpful SEO elements like meta tags and descriptions, PageFly's pages are designed to rank higher in search engines, driving more organic traffic to your store. This can increase your store's visibility, improving its performance and helping you attract more customers.
Analytics & Tracking
PageFly also allows you to track page views as well as conduct A/B tests to test different page variations. Some of the useful analytics PageFly provides for your pages include:
Page visits

Time on page

Conversion rate
This data can help you understand user behavior in your store and make decisions based on their actions. By tracking and measuring the performance of your pages, you can make improvements to boost your store's bottom line.
Plans & Pricing
PageFly offers several plans depending on the features that you need. Here's what they are:
Free Plan

: Best for those who are just starting out, the Free Plan includes PageFly's basic features with 1 slot to test out the page builder before committing to a paid plan.

Pay As You Go Plan

: Offering additional flexibility and payment on a per-user basis, this plan comes at $24 per month for 10 slots, all app features, and 24/7 live chat support.

Enterprise Plan

: Best for those who need advanced customization features, this plan includes access to all of PageFly's features, priority support, SEO optimization, the ability to create unlimited pages, and more for $199 per month.
Integrations
PageFly also offers a wide variety of integrations with other popular apps and services to streamline your marketing efforts and enhance your performance. This allows you to easily add features such as customer reviews, product upsells, Google Analytics tracking, and more.
Additionally, you can use PageFly to add custom code and tracking snippets so you can easily choose third-party integrations or custom scripts. Popular integrations available with PageFly include:
These top-tier integrations offer an array of features to improve the user experience and take your online store to the next level.
Usability
As it requires no coding knowledge, PageFly is very easy to use—all of the features are intuitive and simple to navigate with just a few clicks.
PageFly's intuitive user interface makes creating beautiful, mobile-responsive pages easy with minimal effort. Its drag-and-drop builder significantly facilitates page customization, while the various integrations with other popular apps and services like Klaviyo or Judge.me further streamline the page-building process.
Support
PageFly offers 24/7 customer support in the form of either live chat or email. The app's knowledgeable team will help you with any queries you have about the platform in a timely manner, helping you resolve any issues quickly.
This is what we love about PageFly the most, as it helps build trust and reassure merchants that resolving their issues is a priority. What's more, the app offers additional resources like the Help Center, video tutorials, blog posts, and an active Facebook group for users of the platform, which is a great place to get advice from other merchants.
Build a Profitable Store One Page at a Time
PageFly is a feature-rich page builder for Shopify stores that offers a powerful suite of tools to help you create and customize pages quickly, easily, and efficiently.
With its user-friendly interface, reasonable pricing, and strong customer support, we highly recommend PageFly. This page-building app is a great solution to boost user experience and sales in your Shopify store that benefits newbies and experienced users alike.