PixCleaner Background Remover Review (2024): Quality Image Editing for Shopify

By

Joel Taylor

Edited by

Davor Štefanović
Updated November 17, 2023.
Our team tests eCommerce apps and publishes reviews that are unbiased and not influenced by payments we receive from some of the app developers.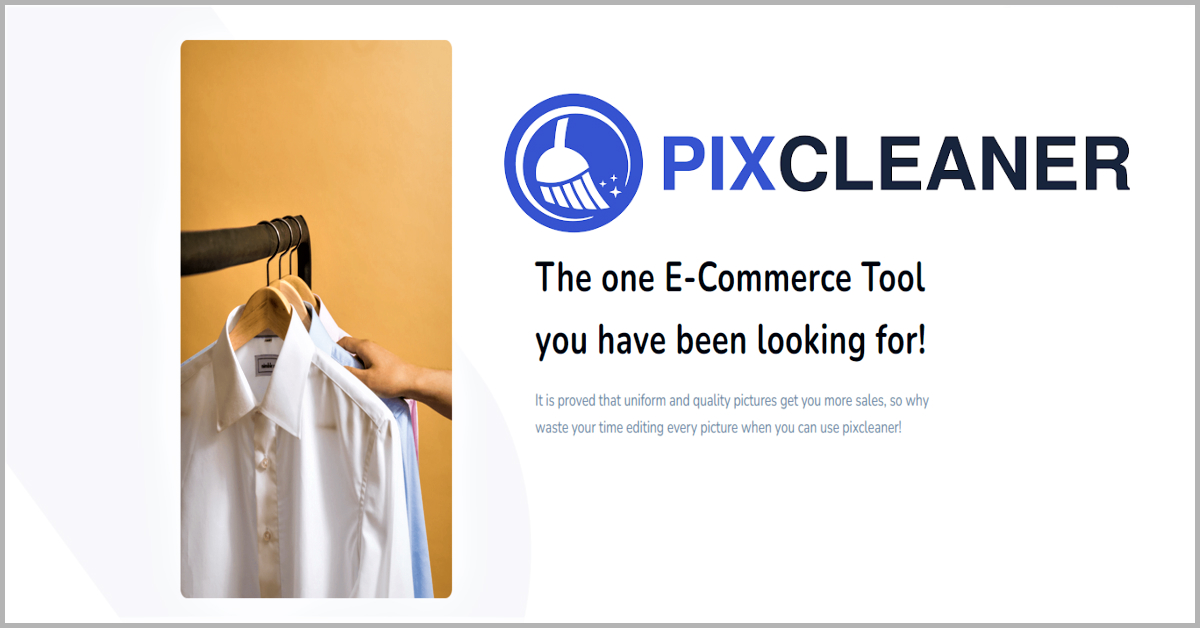 Most customers are visual shoppers, meaning that a professional image of a quality-looking product can mean the difference between a sale and a bounced customer. Unfortunately, very few services offer the required editing capabilities you need to showcase your products authentically at a reasonable cost.
That can all change with an app like PixCleaner by Proxima, a free Shopify image editing app that integrates directly into your store and allows for easy background removal and image optimization.
Read on to learn more.
Pros
Free to install

Easy to use

Bulk image editing functionality

Very cost-effective

AI-driven platform
Cons
Free plan only suitable for low resolution images

Might not be suitable for larger stores
What is PixCleaner Best For?
PixCleaner is best for small to medium sized e-commerce stores with large product catalogues. It's free to install and offers a cost effective solution for e-commerce merchants looking to quickly and efficiently edit photos in just a few simple clicks with features such as image retouch, resize, crop & correct and smart touch. It is also especially useful for business with a mobile site as the app is very good at optimizing images for mobile to increase page loading speeds.
» For more help with page speed optimization check out our list of best apps
For a free to install app it offers a surprising amount of customization and functionality for even the most complex images with tricky backgrounds, difficult edges or finer details such as hair. We found the app was very easy to integrate and set up with a simple learning curve so anyone who installs it can get to editing product images on Shopify straightaway.
Features Overview
PixCleaner comes loaded with features to help any user including but not limited to e-commerce merchants, developers, advertisers & marketers or even creatives who would like to use the app for personal use. It also allows users to set IP limits for greater control over account accessibility and offers enterprise-grade security to keep your company data safe. Some of the more important features include the following.
AI-Powered Background Removal
One of the necessities of a great product image is a plain white or colored background instead of awkward shadows and dirty tablecloths, but paying for a professional studio is out of the budget of most Shopify sellers. Instead, Pixcleaner offers an AI-powered background removal tool to simulate the presence of a professional studio. Plus, the feature is customizable and allows you to make fine-tuned adjustments to match your standards.
The smart AI has studied millions of images to be able to identify precise features and minute details like strands of hair.
Intuitive Photo Editor
The app comes fully equipped to handle all your basic image editing needs, including:
Cropping

Resizing

Rotating

Layer adjustments

Text additions

Watermarking

Shadow additions

Color gradients
This allows you to ensure that all your images match your brand, style, and sense of quality.
Bulk Operations
In addition to all of the individual editing features, Pixcleaner also offers bulk productivity operations, allowing you to automate your photo editing process and apply features and touchups to multiple images at once. Not only can this save time and effort, but it also ensures that all images you're choosing to export will have the same features and style.
PixCleaner Plans & Pricing
Pixcleaner doesn't offer a paid plan for their Shopify app. Instead, the app is free to install and use, only charging you a small fee of 0.20$ to 0.05$ when you decide to export an image for use, meaning you never have to pay for a service that you aren't currently using. Instead, you can keep the app installed and only have to spend money when you need more product images. There are, however, paid plans available on the developers website as laid out below.
Integrations
PixCleaner offers a robust API allowing users to merge the app with their website, app or product through an HTTP interface. The developers software and technology is highly scalable and their team are super friendly and helpful if you're finding it difficult to get the API set - they'll do it for you!
Usability
We found the app to be intuitive and quite straightforward to use. It follows a logical process and workflow and we never felt lost when navigating the app. Most of the buttons and tools are where you would expect them to be and it's not difficult to use. Although it offers many features & customization options, some users might feel slightly limited if they are used to more comprehensive software.
If you're unsure about the quality of your images, PixCleaner recommends to upload and edit the images first on a free trial and if you're still not satisfied, they offer a 14 day money back guarantee.
Support
The team at Proxima are super friendly and quick to respond to any customer queries. They can be reached via phone or e-mail and have even listed their address based in France if you'd like to pop in for a physical visit. There is also quite a comprehensive resources page on the company's website with user cases, tutorials and FAQ's to help customers with common queries.
Step Out From The Background
If your Shopify product images are poor quality or nonexistent, you might as well say goodbye to any potential customers coming your way. Quality images are a necessity, but the price of most reputable image editing software can easily cost you thousands of dollars for licensing before you even know how to use it.
Instead of the hassle, leverage the capabilities of a pay-per-use service that offers all the necessary features you need to lift your store with great images like Pixcleaner. At the time of writing this review, the app didn't have a single negative review or comment on its Shopify app store page listing. Head to their website to learn more or directly install the app now. If you're still unsure, the developers also offer free consultations and demos to help you make a better decision.
PixCleaner Background Remover Review (2024): Quality Image Editing for Shopify