TagRobot: Auto-Tag Orders & Customers on Shopify

By

Brody Hall

Reviewed by

Joel Taylor
Published June 1, 2023.
Our team tests eCommerce apps and publishes reviews that are unbiased and not influenced by payments we receive from some of the app developers.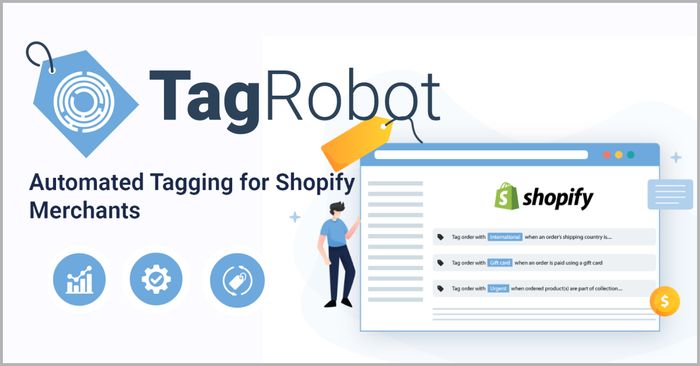 As a Shopify seller, you have to handle and fulfill various kinds of orders. TagRobot is an intuitive, convenient, and fully customizable solution that makes managing your orders and customer segmentation far simpler.
Why Should You Use TagRobot?
Easy setup:

Tag automatically without coding in seconds.

Automated tagging:

Accurately categorize orders and customers with automated tagging rules.

Advanced reporting:

Tag your orders for easier management and reporting.
Shopify lacks user-friendly features for segmenting orders or auto-tagging customers. TagRobot helps you streamline and organize your order management and customer segmentation, all directly within your store's admin area.
The app integrates with your existing admin interface, saving you the time and effort of learning a new system. You can filter your orders and customers by tags and save those applied filters as searches for future use, giving you an efficient solution to organizing order and customer segments.
You can get started with TagRobot immediately since there's no coding required.
How Does TagRobot Work?




Once you've defined a set of tagging rules, TagRobot will analyze each new order placed in your store against each of your tagging rules. If the order matches any rule conditions, that order will be tagged as specified in the rule.
TagRobot provides over 50 easy-to-follow rules to either remove tags or auto-tag orders and customers based on an extensive list of criteria, such as the time that orders are placed, the order quantity, the use of discount codes, and much more.
In addition to tagging new orders automatically, you can apply your rules to past orders.
» Discover how to tag gift your orders on Shopify
Pricing Plans
TagRobot has a free option and three paid pricing plans to choose from, all of which come with real-time tagging:
Free Plan
Free
Real-time tagging
Up to 50 orders per month
Up to 50 customers per month
Basic Plan
$5/month
Real-time tagging
Up to 1,000 orders per month
Up to 1,000 customers per month
Pro Plan
$10/month
Real-time tagging
Up to 5,000 orders per month
Up to 5,000 customers per month
Business Plan
$25/month
Real-time tagging
Unlimited order tags per month
Unlimited customer tags per month
It is important to note that 1¢ per additional tag will be charged if the plan limit is exceeded.
Is TagRobot Worth Investing in?
TagRobot is a valuable investment for Shopify sellers who want to streamline their order management and customer segmentation. The app's user-friendly interface, over 50 auto-tagging rules, real-time tagging, efficient order management, and cost-effective pricing plans make it a compelling solution for sellers. By automating the tagging process, TagRobot can save sellers significant time and effort in managing their orders and customer segments.