Hextom: Ultimate Sales Boost Review (2023) – Pricing, Features & More

By

Adeel Qayum

Reviewed by

Nevena Radulović
Published March 5, 2023.
Our team tests eCommerce apps and publishes reviews that are unbiased and not influenced by payments we receive from some of the app developers.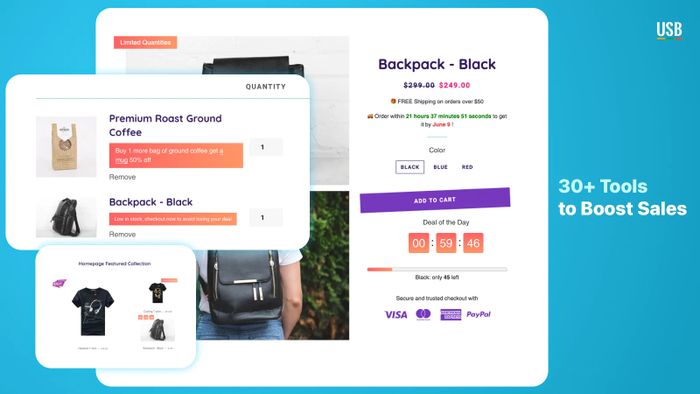 As an e-commerce merchant, you know sales are the lifeblood of your business. Unfortunately, common challenges like customer procrastination and cart abandonment can make driving conversions difficult. According to Baymard Institute, as of Q3 2022, the average online shopping cart abandonment rate is 69.99%, underscoring the importance of choosing the best Shopify apps to help increase sales.
Enter Hextom Ultimate Sales Boost (USB), a Shopify app designed to address many of the issues e-commerce merchants commonly face. By creating a sense of urgency, scarcity, and trust, Hextom USB helps increase conversions and drive sales. In this review, we'll take a closer look at the app's pricing, features, and benefits to help you determine if it's the right tool for your business.
Pros
30+ customizable sales widgets

Geo-targeting feature

Site-wide integration

Affordable pricing
Cons
Limited to Shopify stores only

Might take a few weeks to start seeing results
Best For
Hextom USB is a useful app for improving sales at all stages of the shopping journey, from the home page to the checkout page.
In our opinion, the businesses that can benefit from this app the most are those that struggle with high cart abandonment rates, such as automotive and fashion online stores. With its range of features that create a sense of urgency and trust, the app is particularly helpful for convincing potential customers to take action, resulting in increased conversions.
» Discover ways to reduce your cart abandonment rate
Overview of Features
Hextom USB offers over 30 sales widgets to boost conversions and sales, which can be grouped into three main categories:
1. Features for Urgency and Scarcity
Hextom USB offers several widgets that create a sense of urgency and scarcity, including:
Countdown timers

Low stock indicators

Recent sales notifications
Creating a fear of missing out (FOMO) among shoppers, these features help drive them to complete their purchase before the opportunity passes. By leveraging urgency and scarcity, merchants can increase their conversion rates and revenue.
2. Features for Social Proof and Building Trust
Hextom USB also has various tools for building social proof and trust. For instance, the app lets you display:
Product reviews

Trust badges

User testimonials
By showcasing these elements, you can demonstrate your products are high quality and build credibility with potential customers, increasing the chances of them making a purchase.
» For more options, check out other social proof apps too
3. Features for Promotions
Hextom USB provides merchants with several promotional tools to add throughout the checkout flow, including:
Welcome discounts

Free shipping bars

Exit-intent pop-ups
By offering promotions and setting up discounts, you can entice potential customers to make a purchase, increasing the likelihood that they'll complete the checkout process.
» Explore other apps to optimize conversion rates
Plans & Pricing
Hextom USB offers various pricing plans to fit the needs of different e-commerce businesses, each with its own set of features and benefits. Here's a breakdown:
Starter plan

: Available for free, this plan comes with essential features like inventory countdown, promo messages, and product targeting on manual selection.

Basic plan

: At $9.99 a month, the Basic plan offers all Starter plan features with add-ons like image labels and geo-targeting.

Professional plan

: For a monthly payment of $29.99, this plan offers everything covered by the Basic plan with some additional features like smart labels and customer targeting on spending.

Advanced plan

: Coming at a price of $79.99 a month, the Advanced plan offers all Professional plan features with add-ons like payment badges on the checkout page.
» Determine how much you should spend on Shopify apps
Integrations
You can integrate Hextom USB with Shopify and Shopify Plus seamlessly, making it easy to start using the app for your e-commerce businesses. However, integrations with other apps are limited, but some of the apps Hextom USB does integrate with include:
GemPages

PageFly

Translate My Store
Usability
Hextom USB's user interface is user-friendly and intuitive, making it easy for users to navigate and create customized widgets. With the drag-and-drop editor functionality, you can create effective widgets to increase conversions and drive sales even with minimal technical knowledge.
The app also offers a high level of flexibility by allowing you to design and implement widgets that match your branding and website design, making this app the ideal choice for stores in all verticals.
Support
Hextom USB provides a range of support options to help merchants get the most out of the app. The app's extensive support features include:
Email support:

Merchants can email the Hextom support team with any questions or issues they may encounter while using the app.

Video tutorials:

A variety of video tutorials on Hextom's website can help merchants understand how to use the app's different features.

Setup & configuration articles:

Besides video tutorials, Hextom USB also provides a range of setup and configuration articles to help merchants get started with the app.

FAQs:

The app's website also includes a comprehensive FAQ section that addresses common questions and issues users may face.
Boost Your Bottom Line With Hextom USB
Despite taking some time to deliver results, Hextom USB is a powerful app with numerous features to enhance your e-commerce store. What stands out the most is the app's ease of use and flexibility, allowing users to create useful widgets without much technical knowledge.
And with its free plan and reasonable pricing, it's worth it to try out the app for yourself and create a sense of urgency and FOMO to persuade your customers to purchase your products right away.