Transcy Review (2023): Pricing, Features, Integrations, & More!

By

Elijah Adebayo

Reviewed by

Kirsty Macdougall

Fact-check by

Romi Hector
Updated April 30, 2023.
Our team tests eCommerce apps and publishes reviews that are unbiased and not influenced by payments we receive from some of the app developers.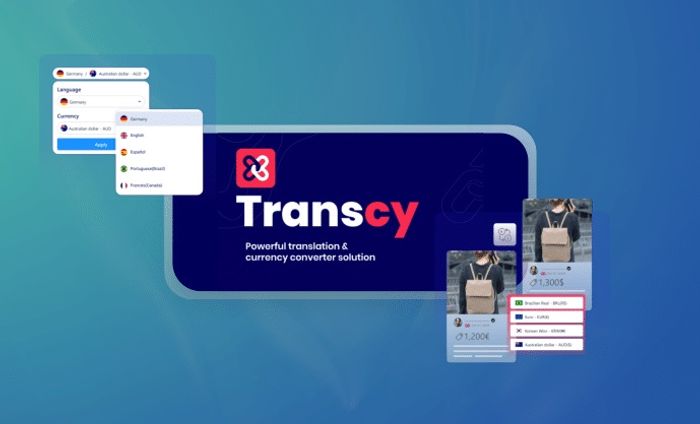 Did you know that the globalization of e-commerce is rapidly expanding, with a projected value of $6.51 trillion by 2023? However, language and currency barriers are a major problem for businesses looking to expand to other countries and regions. In fact, according to a study, 76% of online shoppers prefer to purchase products that include information in their native language. This is a mammoth obstacle to stores looking to expand globally.
This is where Transcy comes in—a language translation and currency converter app designed to help businesses overcome this language barrier. Transcy allows merchants to translate their stores' content into multiple languages and provide real-time currency conversion, making it accessible to a much wider audience.
In this review, we'll take a closer look at Transcy, its pricing, features, integrations, and more to help you make an informed decision about whether it's the right tool for your business.
Pros
Easy-to-use interface

Unlimited word translations

Auto geolocation detection system

Integrates with many e-commerce tools

Great value for money
Cons
Customization takes some time
Best For
At its core, Transcy is an essential tool for any Shopify store looking to expand into new countries or regions. We believe this app is useful for merchants of any size or category who want to offer their products to customers who speak different languages and use different currencies.
Transcy is particularly relevant for stores that don't have the budget to hire a translator, as it offers affordable language translation and currency conversion solutions. With Transcy, any Shopify store can become a global business without breaking the bank.
Overview of Features


Geolocation Autodetection

Transcy's geolocation autodetection feature automatically identifies the customer's location and displays the corresponding language and currency—providing a personalized shopping experience to each customer.

AI-Language Translation

With AI language translation, Transcy supports over 110 languages and translates an unlimited number of words across all types of pages, including product, collection, and checkout pages, blogs, articles, and third-party apps. The fast translation speed and the ability to edit and customize translations make it an efficient tool for merchants.

Automatic Currency Converter

Transcy's automatic currency converter supports over 160 currencies and updates the exchange rate several times a day. It can convert any price, including product prices, shipping fees, taxes, and more.

Image Translation

Image translation means different pictures, like banners, are used for different language groups. The app auto-inspects these elements and replaces them with something more contextually appropriate. Not only does this grab the shopper's attention, but it improves the customer experience by showing an appreciation for the local context.

Customizable Language & Currency Switcher

Transcy's customizable language and currency switcher offers many template designs and can be edited to match the store's branding and theme. It has different settings for mobile and desktop devices and does not affect site speed.

Multilingual SEO

Transcy translates meta tags, such as titles, descriptions, and alt tags, in all targeted languages to

improve on-page SEO

to drive more traffic to your store.
» Looking for more ways to boost traffic? Check out these top SEO apps
Plans & Pricing
Transcy offers a 14-day free trial and four pricing plans to choose from, all of which offer unlimited words for AI translation.
Free

This plan is free to install and includes unlimited words for AI translation. It offers basic switcher settings, translations for one language and one currency, and support for third-party-app translations. Additional expert service is available on demand.

Basic

The Basic Plan costs $11.90 per month. It includes all features of the Free Plan, translations for two languages and 167 currencies, and the ability to edit translations for one language.

Growth

At $29.90 a month, the Growth Plan includes all the features of the Basic plan but also allows for translations in 111 languages and the ability to edit translations for up to five languages. Additionally, it offers a glossary, basic auto-update translation, and language redirection.

Premium

The Premium Plan tops the list at $59.90 per month. It allows for translations in unlimited languages and the ability to edit translations for up to 20 languages. It also includes advanced auto-update translation, a priority server, and a dedicated customer success manager.
Integrations
Transcy offers a range of third-party app integrations that are especially useful for businesses looking to expand their online presence globally. By translating and localizing various aspects of the site—including size guides, reviews, sales pop-ups, and trust badges—Transcy helps ensure a seamless customer experience across all touchpoints.
Some of the most popular integrations include:
These integrations allow store owners to streamline their translation process and provide an even more personalized shopping experience for their customers.
Usability
Usability is one of Transcy's biggest strengths. The setup process is straightforward and easy to navigate. Plus, the user interface is clean, modern, and intuitive, making it easy to find what you need. You don't need any coding or technical knowledge to use Transcy, which is great for users who aren't familiar with website development. Transcy is accessible to everyone, including those new to website translation and localization.
Support
Transcy provides comprehensive customer support through their 24/7 live chat and email support. The platform offers support in 10 languages, including English, French, Spanish, German, and Japanese. Plus, the Growth and Premium Plans come with an onboarding specialist to help users get started, while the Premium Plan offers a dedicated customer success manager to ensure users have the best possible experience.
Speak Your Customers' Language for Sales Success
Despite some shortcomings, like customization taking time, Transcy offers powerful features that make it an excellent choice for businesses looking to expand their global reach and improve their customer experience.
With its advanced AI translation capabilities, intuitive user interface, and robust set of integrations, Transcy has the potential to do great things for businesses of all sizes. By speaking your customers' language, you can improve engagement, build trust, boost traffic, optimize conversions, and ultimately, drive more sales.
» Check out our list of the best translation apps to see some great alternatives