9 Best Shopify Subscription Apps: Maximize Your Sales Potential

By

Adeel Qayum

Reviewed by

Kirsty Macdougall

Fact-check by

Staff Editor
Updated June 28, 2023.
Our team independently researches and recommends the best products and services. We publish reviews that are unbiased and not influenced by payments we may receive from advertising partners.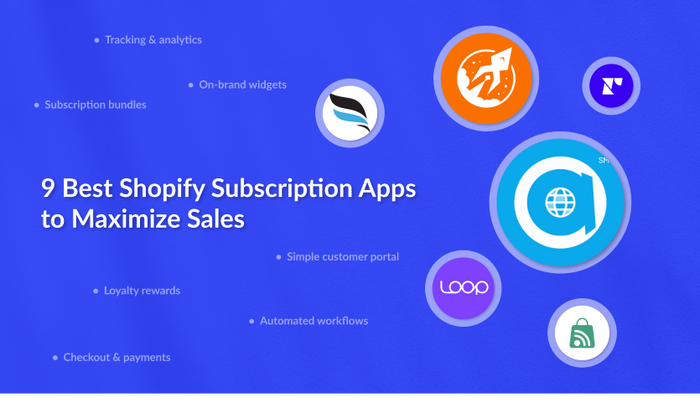 E-commerce subscription businesses sell their products on a regular, recurring basis. This equates to reliable, consistent revenue for the company, as well as strong customer relationships and increased customer lifetime value (CLV). It's therefore not surprising that this market is growing rapidly. In 2019, the market was worth $16.5 billion, but by 2023, it's expected to more than double this figure—at an astonishing $38 billion!
But merchants often face challenges when implementing a subscription-based model, like high competition, trouble generating momentum, and managing the logistics and administrative tasks involved. Fortunately, subscription apps can go a long way in streamlining and automating many of these tedious tasks. To help you find the best app for your needs, we've put together our choices of the top nine subscription apps to unlock your sales potential.
Our Top Picks for the Best Shopify Subscription Apps
1. Best Overall
KeepShoppers Score: 9.9
Key Features
Various subscription widgets

1-click customer portal login

Bulk automations

Growth-focused analytics
Appstle Subscriptions takes the top spot on our list of subscription apps for Shopify—and with good reason. It boasts a range of powerful tools to help you generate conversions, including build-a-box, free trial, tiered discounts, and more. Plus, the app allows you to present a feature-rich customer portal with one-click login and quick action links, enhancing the customer experience while maximizing ROI.
Why We Liked It
We love that Appstle Subscriptions serves as an all-in-one tool for building and managing custom subscription plans. With this app, you get everything from email templates and bulk automations to dunning management and analytics, making it easy to drive conversions and growth.
» Take your conversions up a notch with these great conversion rate optimization apps
2. Best Range of Features
KeepShoppers Score: 9.7
Key Features
Multi-language subscriptions

Auto-charge & recurring invoices

Magic links for quick access

Custom email domains
If you're looking for a Shopify subscription app with diverse features, look no further than Seal Subscriptions. This app gives you full control over your products, discounts, subscriptions, churn rate, and cancellations. It also boasts loyalty features like tiered discounts and custom shipping, plus it makes it easy to access subscriptions with magic links.
Why We Liked It
Seal Subscriptions provides a wide selection of valuable features to drive signups and recurring revenue. Features range from page translations, payment calendars, and savings badges to prepaid subscription options and advanced product swaps. Additionally, it has an excellent support team renowned for its responsiveness and expertise, ensuring users get the best experience.
3. Best for Automated Workflows
KeepShoppers Score: 9.5
Key Features
Powerful workflows & automations

Recurring billing engine

Build-a-box bundles

Unified checkout
Recharge Subscriptions brings a host of business-growing features to the table, extensive customization options, and many seamless third-party integrations. One of our favorites is the recharge bundles feature, which lets you combine multiple products into curated boxes or give customers the option to create their own bundles, adding value for both one-time and subscription customers.
Why We Liked It
Are you tired of manual subscription management? Say hello to Recharge Subscriptions! Above all else, we were impressed by the app's automated workflows. Effortlessly add automatic discounts or free trials, and update all future orders with a single setup. You can choose to create a fully customized workflow or use one of their many premade templates. The app even provides operational analytics to track the performance of your workflows.
4. Best for Checkout & Payments
KeepShoppers Score: 9.6
Key Features
Latest checkout methods

Flexible customer features

10+ email templates

Powerful subscription analytics
PayWhirl simplifies subscription management by enabling quick integration with existing products or services. Its drag-and-drop interface makes setup a breeze, while advanced features like APIs and webhooks offer flexibility. With discount capabilities, customizable notifications, and multiple payment options, PayWhirl significantly enhances the customer experience.
Why We Liked It
We were highly impressed by PayWhirl's conversion-focused features. The app boasts seamless payment integration with Shopify checkout and offers the latest checkout methods. Customers can also save their payment details for future payments and easily manage their accounts through the user-friendly customer portal. For these reasons, PayWhirl is #1 in providing customers with the best checkout and payment process.
5. Best for Loyalty Rewards
KeepShoppers Score: 9.4
Key Features
Deeper discounts

Automated billing

Fixed payment dates

Advanced email notifications
Propel Subscriptions is designed to help Shopify merchants increase retention and grow revenue. It offers a beautiful, mobile-optimized subscription widget along with a powerful customer portal and automatic billing. Plus, you can customize the widget's style and color to match your theme and reflect your brand identity perfectly.
Why We Liked It
Propel Subscriptions helps you build long-term customer relationships by creating special discount offers. With the app, it's easy to monitor customers' subscription history to identify your most valuable customers. You can then entice loyal subscribers with exclusive discounts and even sweeten the deal with free shipping, all aimed at motivating them to maintain an active subscription.
» If rewarding loyal customers is a priority, check out these top-rated loyalty apps
6. Best for Customizable Widgets
KeepShoppers Score: 9.5
Key Features
Intuitive admin panel

Multiple widget layouts

Tiered discount bot

In-depth data & analytics
Recurpay is a Shopify subscription app for businesses of all sizes. With this tool, you can easily configure prepaid or ongoing subscriptions on your store. Recurpay automatically syncs the latest item price from store to subscription orders, plus it supports multicurrency payments and refills without the need to reorder.
Why We Liked It
A standout feature of the app is its customizable product widgets that you can tailor to your store's branding. There are also plenty of pre-built layouts to choose from if you want to get started immediately. Additionally, its widget translation and currency conversion features make it a versatile choice, functioning as a translation app or currency converter app when necessary.
7. Best for Subscription Analytics
KeepShoppers Score: 9.7
Key Features
In-depth analytics

Flexible subscription rules

Cancellation & dunning management

Customizable email notification templates
RecurrinGO! is a Shopify app that allows you to create flexible subscription rules. You can give discounts, set different delivery frequencies, and even leave notes for customers. The app is fully integrated with Shopify checkout and includes features like dunning management to help reduce churn.
Why We Liked It
As we reviewed RecurrinGO!, one aspect that truly impressed us was its unmatched analytics capability. Unlike other Shopify subscription apps that only analyze completed subscriptions, RecurrinGO! provides in-depth insights derived from subscription rules and customer subscriptions. This feature allows you to optimize your workflows, streamline operations, and make data-driven decisions with confidence.
» Explore more ways to analyze store data with these leading analytics apps
8.

Best Customer Portal
KeepShoppers Score: 9.6
Key Features
Intuitive customer portal

Subscription widget customization

Automated SMS updates

Multiple subscription options
Here is another valuable app from the giants in e-commerce app development: Yotpo. Yotpo Subscriptions offers customers a user-friendly portal where they can add to, change, or cancel their subscriptions with a few clicks. And for the merchant, the app can be set up in under 10 minutes, creating and managing irresistible product catalogs is a breeze, and tedious manual tasks like customer notifications are automated.
Why We Liked It
Yopto Subscriptions won us over with its customer portal. The passwordless login feature offers unparalleled convenience for customers, enabling them to effortlessly access the subscription. Moreover, customers can conveniently edit payment methods, adjust schedules, and skip next delivery date, all through one user-friendly dashboard.
9. Best for Subscription Bundles
KeepShoppers Score: 9.8
Key Features
No-code subscription bundling

Mobile-first customer portal

Subscription retention tools
Loop Subscriptions was created with expert input from DTC brands and offers a customizable, user-friendly subscription management solution. Its subscription widget is designed to convert browsers into subscribers without impacting your product page speed. The app also has an excellent stack of subscription retention tools, including exit surveys that allow you to embed TikTok and Instagram videos for brand recall.
Why We Liked It
Loop Subscriptions comes with features that take the hassle out of subscription bundling to ensure you're maximizing AOV. With this app, you can create product bundles without developer assistance, which go live in under an hour. What's more, customers have full control over their bundles through an easy-to-use customer portal that offers plenty of flexible subscription options.
» While you're upselling with bundles, check out our best picks of upsell and cross-sell apps
Subscribe to Success With Recurring Revenue
Subscription apps are a useful tool to help launch, manage, and monitor a subscription service, as long as you know how to choose the best app. When weighing up your choices, consider your business's unique circumstances, like your needs, goals, number of subscribers, and budget.
Equipped with the right tools, following a subscription-based model can be highly advantageous. Where shoppers enjoy added value, convenience, and a personalized experience, merchants gain a recurring source of revenue, improved customer loyalty, and opportunities for more sales. It's a clear win-win for you and your customers.
» Drive more sales through subscriptions & some of these top-rated sales-boosting apps
KeepShoppers Methodology
When we recommend apps for your store, we first evaluate each option using a specific set of criteria, including:
Ease of Use:

This encompasses developer friendliness, how easy the setup is, and the quality and timeliness of customer support.

Features:

We factor in the range of features and the extent of the features' usefulness in running a subscription service. We also consider the degree to which the elements can be customized.

Integrations:

We look at how many third-party integrations are available and the extent of their benefits to the user.

Pricing:

We're looking for apps that are great value for money, and we consider whether there are free plans, features, and add-ons available and if the monthly fee is worth it.

Customer Reviews:

For a more holistic and objective evaluation, we weigh in dozens of customer reviews to see how stores in different countries and different sectors rate the app.
We also consider the time and resources required to make the best use of the app—more feature-rich solutions are usually more complex and require a greater time investment to learn. All of these traits are aggregated into the KeepShoppers Score you can see in each app description.