8 Best Purchase Order Apps for Shopify in 2023: Easy Product Sourcing

By

Hamza Ahmed

Reviewed by

Kirsty Macdougall
Updated August 24, 2023.
Our team independently researches and recommends the best products and services. We publish reviews that are unbiased and not influenced by payments we may receive from advertising partners.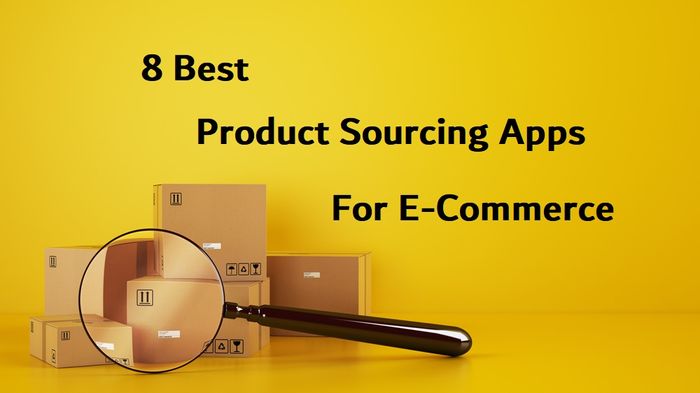 Effective product sourcing is essential for e-commerce stores to succeed. According to a study, 44% of Americans rated having a broad selection of products to choose from as their top motivation for online shopping. This highlights the importance of sourcing a wide range of high-quality products at reasonable rates to attract and retain customers.
Using apps for product sourcing in e-commerce can streamline this process significantly. Not only can they help you find a wider selection of products, but they can also simplify product importing, automatically update and manage your inventory, help order fulfillment, and improve communication with suppliers.
With so many apps available, how do you know which one is right for your store? We've put together a list of the top 8 product sourcing apps to help you find out.
Our Top Picks for the Best Product Sourcing Apps for E-Commerce
1. Best Overall
KeepShoppers Score: 9.8
Key Features
Branded invoicing & packaging

Dropshipping automations

One-click product import

Real-time analytics
Zendrop is designed to make it easier for online stores to source products and deliver orders. The app enables users to rapidly and effectively import products from AliExpress and other sources to their Shopify store. Zendrop users can also personalize their invoices and packaging to offer customers a polished and branded experience.
Why We Liked It
Zendrop is a top-performing Shopify app that simplifies order fulfillment and product procurement for online retailers. One-click product import, automatic order fulfillment, and branding customization are some of its advantages. Zendrop is a great option for companies looking to streamline their operations and improve the client experience because of its simple user interface and solid customer service.
» Interested in learning more? Read our full review of Zendrop
2. Best for Fast Shipping
KeepShoppers Score: 9.7
Key Features
Inventory management

Automated order fulfillment

Extensive product catalog

Print-on-demand services
EPROLO makes it easier for e-commerce sellers to find products and fill orders. Users can manage their inventory, automate order fulfillment, and import products from a variety of sources using EPROLO. This app is a popular pick for stores looking to streamline their operations, improve customer experience, and increase sales.
Why We Liked It
We were impressed by EPROLO's quick shipping options and consistent delivery periods. The app's network of suppliers helps guarantee that things are delivered fast and effectively, and its free shipping options for specific products can enhance the customer experience. Businesses can process and distribute orders quickly with the help of EPROLO's automated order fulfillment and inventory management tools, lowering the possibility of delays.
» For more details about the app, check out our EPROLO review
3. Best for US & EU Products
KeepShoppers Score: 9.3
Key Features
Branded invoicing

Automated inventory management

Direct chat with suppliers

Access to high-quality products
Spocket users can easily add high-quality products to their online stores by browsing and choosing them from suppliers all around the world. The app offers a number of features, such as branded invoices and automated order processing, that simplify e-commerce processes. The integration of Spocket with well-known e-commerce platforms like Shopify and WooCommerce makes it simple for businesses to import a wide range of bestselling and trending products.
Why We Liked It
Spocket is our top recommendation for sourcing US and EU products. It streamlines the entire procedure from sourcing to delivery with a large selection of high-quality products, real-time inventory updates, and automatic order fulfillment.
» Take a closer look at the app in our in-depth Spocket review
4. Best for Free Services
KeepShoppers Score: 9.1
Key Features
Global supplier network

Product & packaging customization

Automated order syncing & processing

Shipping calculation tool
The platform makes it simple for businesses to find products that match their unique needs by giving them access to a broad choice of high-quality goods from reputable suppliers across the world. Additionally, CJdropshipping provides options like branded invoices and automated order processing, easing the entire process from sourcing to delivery.
Why We Liked It
What stands out to us about CJdropshipping is the value for money that it offers. There are no setup costs or monthly membership fees, each seller is allocated a free dedicated customer agent who will work with you one on one, and there are free fulfillment centers spread across the US, Europe, and China.
» Check out our Spocket vs. CJdropshipping comparison to see how it measures up against the competition
5. Best for Branding
KeepShoppers Score: 9.5
Key Features
One-click product import

Product customization tool

Supplier management system

Multi-store management
Topdser is an online shopping application that builds partnerships between small e-commerce retailers and wholesale warehouses and manufacturers, ensuring reliable quality and prompt delivery of branded goods. It offers valuable features like automated order placement for up to 300 orders at once, automatic order sync and fulfillment, and powerful multi-store management capabilities.
Why We Liked It
E-Commerce merchants can add their own branding and make distinctive products that stand out in the market by using Topdser's product customization tool. With Topdser, you can offer customized boxes, tapes, stickers, thank you cards, and more.
6. Best for Large Orders
KeepShoppers Score: 9.6
Key Features
Custom branding

Automated order fulfillment & tracking

Profit & analytics dashboard
Dropified is a feature-rich app created to automate many facets of online store operations, including dropshipping from well-known websites like eBay, AliExpress, and Alibaba. Using the in-app editor, it's easy to edit images, remove backgrounds, and change product descriptions and headlines. There's also advanced variant mapping, the option of sending custom order notes to suppliers, and product review importing functionality.
Why We Liked It
For individuals wishing to source and sell large orders, Dropified is the best option, thanks to its bulk order processing and auto-order features. Sellers can place hundreds of orders in a minute without having to copy and paste order details manually. It's also extremely simple to add or change a supplier if they run out of stock. What's more, with Dropified, merchants can effortlessly create bundles from different suppliers and fulfill them in one click.
7. Best for Automation
KeepShoppers Score: 9.3
Key Features
Automated order fulfillment

Product research tool

Easy-to-use built-in editor
Importify is a simple app for store owners to import and sell goods from many well-known marketplaces like Alibaba, Amazon, and Etsy. A convenient editor is built into the app for creating product descriptions, titles, prices, and tags, and it comes with customizable templates. Importify also offers a product research tool, allowing sellers to monitor competitors' pricing and fast-selling products.
Why We Liked It
Many time-consuming tasks can be automated and streamlined with Importify, from locating products to processing orders and tracking updates. Merchants can import products from over 30 leading dropshipping suppliers in just one click and automatically assign products to store collections.
» Learn more about the app in our comprehensive Importify review
8. Best for Multiple Stores
KeepShoppers Score: 9.7
Key Features
One-click order management

Supplier optimizer

Multiple stores manager

Price monitor tool
DSers offers a practical method for running your dropshipping company because of its user-friendly design and robust capabilities. The app streamlines product sourcing and order processing from Aliexpress suppliers, helping you find the best products from the right suppliers using its supplier optimizer functionality. In addition, DSers offers real-time tracking data for each order, enabling retailers to track their shipments' progress.
Why We Liked It
DSers is an excellent option for business owners who manage several stores since it provides a centralized platform for efficient order fulfillment. With the app, you can use one account to manage all your stores simultaneously, whether using WooCommerce, Wix, or Shopify platforms.
» If you have multiple stores, check out our list of great multi-store inventory management apps
Get Resourceful With Product Sourcing Apps
Make finding winning products an absolute breeze with these top 8 Shopify product sourcing apps. They are sure to make sourcing, importing, and shipping high-selling products to your customers a fast and painless process.
It's essential to consider factors such as product variety, reliability of suppliers, ease of integration, and shipping capabilities when choosing the best app for your e-commerce store. Equipped with the right product-finding tool, you can access a diverse range of products, streamline your inventory management, and enhance your overall customer experience.
» Make sure you find the best shipping rates with one of these excellent dropshipping apps for Shopify
KeepShoppers Methodology
When we recommend apps for your store, we first evaluate each option using a specific set of criteria, including:
Ease of Use:

This encompasses developer friendliness, how easy the setup is, and the quality and timeliness of customer support.

Features:

We factor in the range of features and the extent of the features' usefulness in sourcing quality products efficiently. We also consider the degree to which the elements can be customized.

Integrations:

We look at how many third-party integrations are available and the extent of their benefits to the user.

Pricing:

We're looking for apps that are great value for money, and we consider whether there are free plans, features, and add-ons available and if the monthly fee is worth it.

Customer Reviews:

For a more holistic and objective evaluation, we weigh in dozens of customer reviews to see how stores in different countries and different sectors rate the app.
We also consider the time and resources required to make the best use of the app—more feature-rich solutions are usually more complex and require a greater time investment to learn. All of these traits are aggregated into the KeepShoppers Score you can see in each app description.