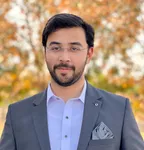 Hamza Ahmed
Expertise
E-Commerce, Shopify Development, Content Marketing, Affiliate Marketing
Education
Bachelor's Degree in Computer Science from Iqra University Islamabad
Highlights
Developed & launched successful Shopify stores for multiple clients.

Increased a client's referral traffic by 30% with affiliate marketing.
Experience
Hamza is an experienced Shopify developer and affiliate marketing blogger with a strong background in computer science. Over the past several years, he has gained expertise in Shopify development, customization, and optimization and has helped numerous clients increase their revenue. Hamza's technical knowledge and copywriting skills have allowed him to craft engaging, informative content that resonates with readers and drives conversions. Hamza is also passionate about staying up-to-date with the latest trends and best practices in e-commerce to provide the best possible solutions to his clients.
Quote From Hamza Ahmed
"Yesterday I was clever, so I wanted to change the world. Today I am wise, so I am changing myself." – Rumi
About KeepShoppers' Editorial Process
At KeepShoppers, our teams of expert writers and editors are committed to providing practical information to accelerate your e-commerce business. We fact-check our content to ensure relevance and accuracy. We only source content from reputable sites and research institutions. Our content is rigorously reviewed before publication and upon considerable updates.