Reviewing The Niche Scraper Tool (2023)

By

Brody Hall

Reviewed by

Davor Štefanović
Updated June 1, 2023.
Our team tests eCommerce apps and publishes reviews that are unbiased and not influenced by payments we receive from some of the app developers.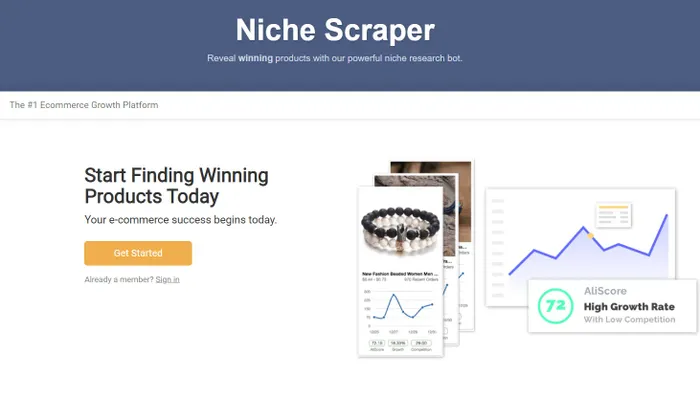 Finding that ever-elusive winning product for your dropshipping store can be a challenging and lengthy process. You need to identify and analyze potential products that you can sell based on a variety of factors like demand, competition, and profit margins. Products that rank well for these factors can drive significant traffic to your e-commerce store, while poor ones are usually wasted investments.
Thankfully, there are tools that can help with product research. Some can even automate scraping products from Shopify (dropshipping) stores, making the whole thing a lot easier. These dropshipping spy and scraping tools are designed to collect and analyze large volumes of data, and they can provide useful information about products, competitors, keywords, and market trends, helping business owners make data-driven decisions.
Find Best Selling Products With Niche Scraper
Niche Scraper, one of the Ecomhunt alternatives, is one such tool. In this review we'll cover its key features, pricing, pros & cons, and other important bits of information to help your eCommerce store get an edge on the competition.
Let's dig in.
Pros
A lot of data on winning products

Easy-to-navigate interface

Comprehensive tutorials

Reliable analytics

Regular updates

Affordable
Cons
Shipping can be slow

Suggested selling prices may be unrealistic
What Is Niche Scraper?
At its core, Niche Scraper is a SaaS (software as a service) dropshipping tool that scrapes together winning products in one easy-to-access place. These products are pulled from both competitor stores and AliExpress, making the process of finding trending and hyped products much easier than manually hunting for them online by yourself. It also allows you to outsource products you want to sell on your Shopify store.


What is Niche Scraper Best For?
Simple to Use

Niche Scraper makes research incredibly simple. It takes only a few clicks to get all the information you need to find new niches and start targeting them.

Comprehensive Tool

Niche Scraper gives users access to a trove of data you'd have to use several other tools to get. It has a comprehensive database you can use to get the most up-to-date information available.

Affordable Solution

The monthly plan technically starts at $69, but it's perpetually discounted to $49.95. In addition, the deal for the annual plan is excellent, as you get a full-year subscription for just $199.

Not Just for Shopify

If you don't have a Shopify store, you can still make good use of Niche Scraper. It identifies and sources products you can list on any platform. The only advantage Shopify has is that Niche Scraper supports the one-click

Copy

option only for this e-commerce giant.
Overview of Niche Scraper's Features
The two best features of Niche Scraper are its winning product scraper and its store analysis tools, but it offers much more.
Product Discovery
Niche Scraper's Product Scraper goes hand in hand with the Hand-Picked feature. The giant boasts that it has the most advanced product research tool, and it truly is a comprehensive solution. It allows for a variety of filtering options so you can fine-tune your research and ordering to suit your needs. You can pick products by their shop scores, popularity, categories, the country where it's popular, and many more.
The app shows all relevant information in an easy-to-understand format, and adding them to your store takes just a click or two.
Hand Picked selects winning products and pairs them with sample Facebook Ads, Suppliers, and more. You'll be able to see costs and expected profit margins, so you can see just how much you stand to make from each sale.
» Learn more about how to organize your bestselling products here
Market Research
Niche Scraper Store Analysis tool allows you to browse thousands of top Shopify stores and reveal their best-selling products, traffic, popularity, and more. All you have to do is enter a store name or URL, and you're set. Niche Scraper will show you the store's top sellers, and you'll be able to copy them to your store just by entering its link into the prompt you get.
After that, you'll still have to fulfill your order, but the lion's share of the work will be done.
You can also use Niche Scraper's Top Niches option to discover which niches are the most profitable. It shows the 12 most profitable niches for the year or the 10 most profitable niches for the week.
» For tips on tracking your own store's profit, check out our list of best profit tracking apps
Ad spy does exactly what it says on the tin. It allows you to browse thousands of profitable ads and saves you time and money you'd otherwise spend on those that don't work. You can browse Facebook and Tik Tok, filter images or videos, select the number of likes and comments, and use many other metrics to find the right ad you want to use for inspiration.
Marketing Tools
When it comes to marketing tools, Niche Scraper can help you create video ads with its Video Ad Maker. The process is very simple, and you'll have a video ready in five easy steps:
Copy and paste your Shopify product URL.

Click

Fetch Images

.

Select your desired customization options.

Click

Generate Video

.

Download the video and use it as your Facebook Ad.
Niche Scraper Pricing
Niche Scraper is a fairly affordable tool. It comes with a free, if limited, plan, and the pro membership is on a permanent discount from $69 to $49.95 per month. It's a very good deal considering what you're getting. In addition, the annual plan is also available at a frankly astonishing $199. That's a total of eight months free at the discounted rate. Definitely worth picking up if you've decided that this is the app for you.
Niche Scraper accepts payments via all major debit or credit cards and offers a 7-day money-back guarantee.
» For more help with Shopify buy now pay later options, check out our list of apps here
Niche Scraper Usability
Niche Scraper is easy to use and has a simple user interface. The clean website design allows for intuitive navigation, and all important information is presented right there on the main screen.
If you're using Shopify, the whole process is incredibly simple, and you can start selling products in just a few clicks.
Since Niche Scraper is a dropshipping app, there are a few things to keep in mind regarding shipping times.
Since most products that Niche Scraper finds originate in China, you can expect fairly long shipping times (6–8 weeks). However, many suppliers have international warehouses with fast local shipping. This works great with Niche Scraper's filtering function that allows you to show only products that can be shipped from warehouses based in the US. Alternatives for other markets exist as well, enabling you to deliver the goods to your shoppers fast.
Niche Scraper Support
The Niche Scraper team is doing great work educating the company's customers. There's a comprehensive library of video tutorials and educational videos right there on the main page. Users can learn how to use the app and how to identify the best deals, correctly recognize trends, and market products.
After signing up for Niche Scraper, you'll be invited to join the Facebook group. The community is very helpful, and you'll be able to get the latest marketing recommendations from them.
Standard support options are somewhat limited—all you have is a contact form, and the remaining communication will be done via email. The upside is that you'll most likely be put in contact with the creator of Niche Scraper, Eric Smith, as he appears to run pretty much everything. The response time is pretty good, and you can expect him to deal with any issue you might be having.
Niche Scraper Integrations
Niche Scraper can draw products from AliExpress and Shopify, but you can use it to sell on any e-commerce platform. This includes Amazon, eBay, WooCommerce, and others. It also supports integration with US, UK, and EU AliExpress alternatives that provide faster local shipping.
It can analyze Tik Tok and Facebook for ads and help you create ads for your own store, ensuring your products stand out.
Why We Recommend It
In three words, ease of use. Niche Scrape is an excellent, simple-to-use tool that offers some great functionality. It may not seem as feature-rich as the Zendrop Shopify app, but it's very user-friendly and a great choice for beginners.
Who It's Best For
Niche Scraper is a solid choice for all dropshippers, but its features make it a great starting point for both beginners and those with a tight budget.
The app gives beginner dropshippers all the information regarding market data and product research they need to get started. Finding an item for a quick sale is easy, and the interface is incredibly simple.
If you have a tight budget (or even no budget), you can go with the free plan that will at least give you some useful functionality, and you can use it to get ideas on how to develop your Shopify store. Once you're set up, you can choose the paid plan and make growing your business even easier.
In addition, if you just don't have any experience in creating videos but want to use them for ads, Niche Sraper is just excellent. You get access to the Video Ad Maker feature that makes creating slideshow video ads very simple. You'd be surprised just how easy it is to create a high-converting video ad from product images, music, and simple overlay text.
The Bottom Line: Is Niche Scraper Worth It?
Niche Scraper is an excellent tool for e-commerce merchants. It not only takes the headache out of finding winning products but also significantly reduces the time it takes to do so.
In addition, when compared to alternative e-commerce tools like Ecomhunt, Dropship Spy, and Pexda, Niche Scraper performs really well. Niche Scraper is not only similarly priced, but its paid plan also grants unlimited access to its product scraping features and includes the ability to create Facebook slideshow ads.
Niche scraper definitely deserves a recommendation from KeepShoppers.