8 Yotpo Alternatives & Competitors: Hassle-Free Reviews and UGC for Shopify in 2023

By

Brody Hall

Reviewed by

Davor Štefanović
Updated May 25, 2023.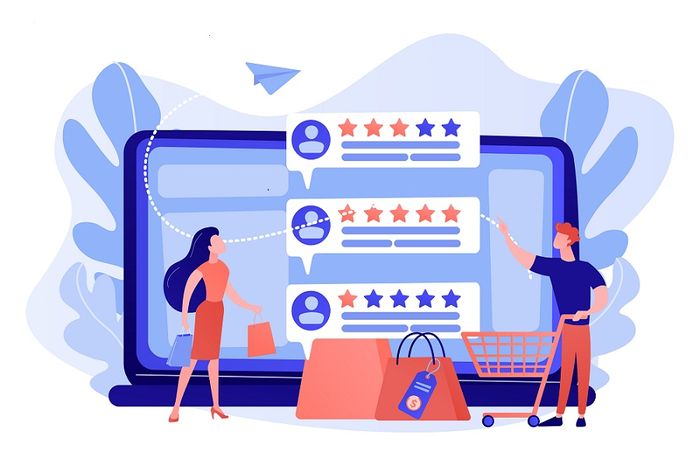 Yotpo is one of the leading marketing apps currently available on Shopify. It has been designed specifically to integrate with many other e-commerce platforms systems as well, including Woocommerce, Bigcommerce, Magento, Prestashop, Opencart, and Volusion, making it a popular option for online business.
While Yotpo is one of the best social proof apps on the market, it isn't the only option available and in fact, it might not even be the best fit depending on your site's individual needs and marketing niche. If you're an e-commerce merchant looking to solidify your brands credibility and reputation, there are a number of alternative & competitor apps available to choose from. We've compiled a list below for you to consider before making a final decision.
How Does Yotpo Work?
Yotpo allows users to manually or automatically control key conversion user-generated content through a wide range of different customizable widget options. The app is very easily set up, migrates previously generated content from other user-generated content apps, and integrates with other third-party tools like Mailchimp, Hubspot, Findify, plus many more.
Many Shopify sellers prefer not to use Yotpo because:
They find the free plan rather limiting.

The API is somewhat limited.

Social media sharing options for visuals can feel restrictive.

Yotpo's premium plans are based on a tiered pricing model. This can make many of the add-ons and price brackets very expensive, as the store is charged by the number of orders it receives each month.
» If you want to learn more about Yotpo, check out our full Yotpo review
KeepShoppers' Pick of the Best Yotpo Alternatives
Whether you're looking for cheaper alternatives to Yotpo or want some different features, there are plenty of choices out there for you. If you find that Yotpo isn't a good fit for your e-commerce store, why not try out one of these eight comparable alternatives?
1. Best for Photo Reviews
KeepShoppers Score: 9.9
Ease of Use: 9.1

Features: 9.8

Price: 7.5
Loox is a Shopify exclusive marketing tool that specializes in taking standard customer reviews and turning them into attractive and shareable user-generated photo reviews. It's fully customizable to fit your brand look, supports multi-lingual stores, integrates with your tech stack, and operates on auto-pilot for you.
Plans and Cost
14-day free trial.

Paid plans range from $9.99 to $299.99 per month.

Review & Referrals plan available.
Best Suited For
Loox is perfect for stores that stock products with a serious visual, aesthetic, and share-worthy appeal. If your site stocks clothes, art, jewelry, or something of the like, Loox might be the best option for you.
» Read our Loox review
2. Cheapest Yotpo Alternative
KeepShoppers Score
Ease of Use: 8.9

Features: 9

Pricing: 9.9
Similar to Yotpo, Judge.me is a product review app that utilizes customizable widgets to power its super easy-to-navigate interface. It has excellent Shopify integration and offers great value for money.
Plans and Cost
Free plan.

Paid plan starts at $15/month.
Best Suited for
For smaller stores or start ups that are on a tight budget, $15 for their advanced functionalities is a very competitive price. Plus, if you aren't happy, Judge.me offers their customers a 30-day money-back guarantee.
» Read our Judge.me review
3. Best for Platform Support
KeepShoppers Score
Ease of Use: 8.7

Features: 9.5

Pricing: 8.4
Stamped.io supports all major e-commerce platforms and is a highly-rated piece of customer engagement software that showcases high-impact and interactable reviews.
Plans and Cost
Free trial - 7 days.

Free plan available.

Paid plans range from $23 to $299 per month for reviews (a 20% discount for yearly billing is available).

Extra options for Loyalty and Reviews + Loyalty plans.
Best Suited for
Medium to small-sized Shopify stores that require a limited amount of review requests per month.
» Read our Stamped.io review
4. Best for Shopify Integration
KeepShoppers Score
Ease of Use: 9.4

Features: 7.1

Pricing: Free
A free integrated feature within the Shopify platform, Shopify Product Reviews provides an easy-to-set-up solution for customer reviews and user-generated content.
Plans and Cost
Best Suited for
The technically challenged e-commerce Shopify merchants or those that are just starting in the e-commerce space.
5. Best for Customization
KeepShoppers Score
Ease of Use: 9.2

Features: 9.6

Pricing: 7.9
Okendo is a review management software specifically designed to make the handling of user-generated content, social media engagement, and the collection of customer reviews as easy as possible.
Plans and Cost
14-day free trial.

Essentials plan that starts at $19/month.

Plans range from $199 to $499 per month.

Custom plans available.
Best Suited for
E-commerce merchants that like to know a company has their back. Located in both the US and Australia, Okendo's 24/7 customer support is top-notch.
6. Best for Data Security
KeepShoppers Score
Ease of Use: 9.1

Features: 8.9

Pricing: 9.1
Automizely is a Shopify-focused platform that helps you showcase customizable product reviews, execute email campaigns, and deploy customer feedback popups and widgets.
Plans and Cost
7-day free trial.

Free to install.

Paid plans range from $11 to $119 per month (18% discount on annual billing available).
Best Suited for
E-commerce stores that use AliExpress stockists for many, if not all, of their stocked products.
7. Best All Rounder
KeepShoppers Score
Ease of Use: 9.2

Features: 9.9

Pricing: 8.5
Growave is an all-in-one marketing platform designed to help e-commerce stores boost customer engagement through reviews, customer rewards, and user-generated content.
Plans and Cost
30-day free trial.

Premium plan options range from $9 to $299.99 per month (20% discount available for annual billing).

Custom plan available.
Best Suited for
E-commerce merchants who need an all-in-one review app.
8. Best for Shopper Re-Engagement
KeepShoppers Score
Ease of Use: 7.9

Features: 6.8

Pricing: 8.9
LAI Ali Reviews allows brand-new sites to import reviews from AliExpress in minutes. This a great solution for those sites starting out and wanting to leverage online reviews quickly.
Plans and Cost
7-day free trial.

Free plan available.

Paid plans range from $4.95 to $24.95 per month.
Best Suited for
Brand new e-commerce stores that wish to start building customer trust immediately.
Yotgo or Yotno?
Just like Yotpo may not be the perfect solution for you despite its popularity and functionality, the same may be true for any of the apps we listed. In order to figure out which review and UGC platform works best for your e-store, you need to be clear regarding your business goals and needs. These are all great apps in their own right, but just like Yotpo, they have their own drawbacks.
If you're using Shopify as your e-commerce platform of choice, you should at least try Loox. It's feature-rich and affordable, in addition to being incredibly popular.
If you're not on Shopify, it's not a bad idea to pick an app with a long free trial like Growave or a free plan like Stamped.io so you can ensure you're making the right choice. In fact, trying out a variety of apps and making full use of trials, promo codes (if you can find any), and free plans is the best piece of advice we can give you.
Do thorough research, and compare app features against your needs and the app pricing against your budget. If you do that right, you're set.
» Need help choosing an e-commerce platform to get started? Check out our list here