10 Best Shopify Apps for Wholesalers: Diversify Your Offerings in 2023

By

Adeel Qayum

Reviewed by

Michelle Meyer
Updated July 10, 2023.
Our team independently researches and recommends the best products and services. We publish reviews that are unbiased and not influenced by payments we may receive from advertising partners.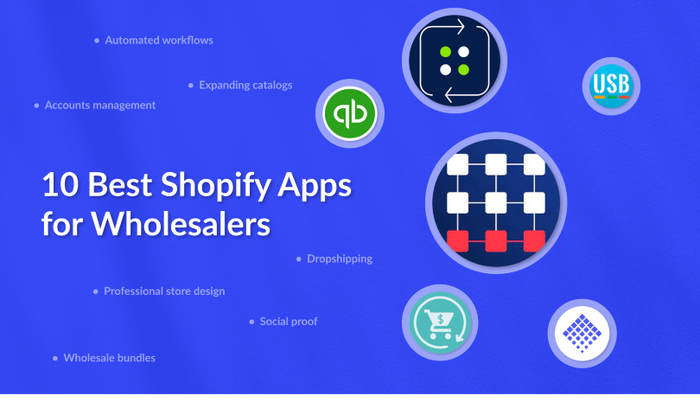 E-commerce wholesale is a powerhouse. It generates 31.4% of the total wholesale revenue in the US—or put differently, $1.8 trillion. But this success doesn't happen overnight or in isolation.
For Shopify wholesalers specifically, apps can play a huge role to help them reach their maximum potential. This includes streamlining and automating bulk production, orders, pricing operations, and more. But because there are so many apps out there, many wholesalers are unsure which one they should choose. Fret not: we've done the research and testing to compile a list of the best apps for wholesalers to help you find the perfect one.
Our Top Picks for the Best Shopify Apps for Wholesalers
1. Best Overall
KeepShoppers Score: 9.9
Key Features
Out-of-stock item management

Automated item sorting

Collection statistics
Out-of-Stock Police is an inventory management app that lets wholesalers organize products that are temporarily out of stock by automatically pushing sold-out products to the bottom of collections. This helps to improve your customer experience by drawing attention to the items you currently have available, so you're likely to get sales.
Why We Liked It
We like how Out-of-Stock Police is a complete inventory management solution for Shopify businesses. With this app, you can efficiently avoid overselling and save valuable time by optimizing product availability levels. Plus, stay in the loop with out-of-stock and low-stock alerts you can receive via SMS, email, or Slack.
» For a more in-depth look, head to our review of Out-of-Stock Police
2. Best for Managing Multiple Wholesale Stores
KeepShoppers Score: 9.8
Key Features
Complete multi-location support

Automatic product creation

Inventory, products, and collection sync
Wholesalers running multiple online stores often struggle to synchronize products and inventory. Enter Multi-Store Sync Power, a Shopify app that automatically updates inventory in real-time in all linked stores whenever there's a new order, refund, or cancellation.
Why We Liked It
As one of the best apps to sync multiple stores, Multi-Store Sync Power is ideal for streamlining your products and inventory. We were particularly impressed with its custom pricing feature—the app lets you set a pricing rule that'll be used when updating/creating products across your stores. This can help preserve your profits by ensuring products are always sold at a specific margin.
» Check out our review of Multi-Store Sync Power for more info
3. Best for Email & SMS Automations
KeepShoppers Score: 9.5
Key Features
Unlimited list growth pop-ups

Email and SMS automations

Shopify coupons sync
Privy is an all-in-one e-commerce solution designed to help wholesalers reap the benefits of email marketing and SMS marketing. The app provides a range of pre-built templates to help you get started quickly and dozens of pop-up display options to grow your marketing lists. Moreover, its powerful Shopify integration allows you to pull products directly into your email campaigns and sync your coupon offerings to generate sales.
Why We Liked It
One word: automation. Privy offers six different email and SMS marketing automations to free up your time and focus on growing your business. Choose from abandoned cart email, customer win-back email, purchase follow-up email, and other options. While plenty of email marketing apps are available for wholesalers, Privy stands out for its ease of use and automation capabilities.
» Interested in learning more? Take a look at our comprehensive Privy review
4. Best for Building Credibility as a Wholesaler
KeepShoppers Score: 9.7
Key Features
Photo & video reviews for products

Automatic review request emails

Beautiful display options
Social proof holds significant importance for wholesalers, given the nature of their larger quantities and potentially complex transactions. Loox can help you build social proof using the power of reviews. You can collect product reviews, photos, and videos from your customers, then showcase them in stylish widgets to build trust with visitors.
Why We Liked It
Having tested various social proof apps, we found Loox great value for money. For a modest sum, the app lets you collect high-quality product reviews you can display across your store and use in post-purchase upsells. Plus, Loox offers complete customization, allowing you to tailor its appearance to seamlessly align with your brand. Overall, it offers everything you need to maintain a consistent brand image and reap the benefits of product reviews.
» For all the details, head to our Loox app review
5. Best for Wholesale Bundles
KeepShoppers Score: 9.6
Key Features
Upsell & cross-sell bundles

Advanced segmentation

Shopify checkout integration

Post-purchase data collection
Creating product bundles is one of the most effective ways to increase AOV. ReConvert is a versatile app that allows you to easily create, promote, and manage bundles for your wholesale store. One-click upsells and cross-sells allow you to get started quickly, and the checkout and thank you display options make for a highly-engaging customer experience.
Why We Liked It
We loved the overall user experience of ReConvert. From one-click activation to custom checkout upsells, you'll find that the app is quite easy to use. Plus, it offers deep segmentation to trigger each upsell, allowing you to match bundles to customers' preferences. Hands-down, it's one of the best upsell and cross-sell apps for Shopify.
» If you're looking for further info, check out our full ReConvert review
6. Best for Professional Store Design
KeepShoppers Score: 9.5
Key Features
100+ professional page and section templates

Extensive element library

Option swatches for product variants

Separate layouts for each device
Wholesalers often face challenges when it comes to the visual appeal of their websites. However, you can transform that perception with the help of PageFly, one of the best store design apps for Shopify. This powerful app allows you to easily customize every aspect of your website's visuals and functionality, leaving no detail untouched. Additionally, PageFly offers a range of tools designed to enhance the customer experience, such as product swatches and conversion-focused elements.
Why We Liked It
We consider PageFly one of the best landing page builders due to is extensive selection of 100+ page and section templates. And with its customizable styling settings and intuitive drag-and-drop editor, the app empowers wholesalers to create personalized and visually stunning pages that truly impress potential buyers.
» For the full low-down, read our in-depth review of PageFly
7. Best for Automated Dropshipping Services
KeepShoppers Score: 9.3
Key Features
Automated dropshipping fulfillment

Faster worldwide shipping

One button add-to-store
If you're considering setting up Shopify dropshipping for your wholesale business, Zendrop is an app you don't want to skimp on. The tool connects you with a platform offering access to over 1 million products, reliable suppliers, and automated fulfillment. You can import unlimited products to your store, plus request custom branding and product bundles with paid subscription.
Why We Liked It
Zendrop handles everything for wholesalers: from supplier communication to product shipment. Additionally, it offers a decent selection of US-based vendors that provide faster shipping to domestic locations. Moreover, you can customize your ordered products with private labeling and custom packaging through a higher-tier plan.
» Find out more about this great app in our Zendrop review
8. Best for Expanding Product Catalogs
KeepShoppers Score: 9.5
Key Features
5 million+ US/EU Products

Wholesale prices with no MOQ

Automated AliExpress dropshipping
Spocket is widely regarded as one of the top dropshipping apps for finding winning products and suppliers. You can find profitable items from multiple suppliers in the US, Canada, Europe, Australia, and more. Plus, Spocket has official partnerships with Alibaba and AliExpress, meaning you can easily import products and fulfill orders through a simple API.
Why We Liked It
Spocket is an all-around solution to make growing your product selection easier. Apart from its extensive supplier network, the app also gives you access to bigger discounts, no restrictions on order volume, and automated AliExpress dropshipping.
» Head to our in-depth Spocket review for further details
9. Best for Streamlined Accounting Management
KeepShoppers Score: 9.4
Key Features
Track income and expenses

Synchronize your inventory and accounting

Create workflows based on your needs
Wholesalers are no strangers to e-commerce accounting difficulties. Fortunately, QuickBooks Online Global is designed to make your life easier. With it, you can track expenses and income and maximize tax deductions for your wholesale operation.
Why We Liked It
We loved using QuickBooks Online Global for automating Shopify accounting. With this app, you can sync all order, financial, and customer data between QuickBooks Online and Shopify. Plus, save time and ensure accuracy by reducing the need for manual data entry.
» For more great apps like this, check out our top choices of accounting and taxes apps
10. Best Range of Sales-Boosting Tools
KeepShoppers Score: 9.7
Key Features
30+ customizable sales widgets

Works on every page

Geo-targeting feature
Looking for the best apps to generate sales throughout the buyer's journey? Look no further than Hextom: Ultimate Sales Boost (USB). With this tool, you can create a sense of urgency and scarcity among shoppers via countdown timers and other widgets. Plus, you can build social proof or run promotions to entice potential customers to make a purchase.
Why We Liked It
We were particularly impressed by Hextom USB's user-friendly and intuitive interface. With its drag-and-drop editor, merchants can easily create optimized widgets to boost conversions and sales. Plus, the app lets you design and implement your own widgets, enabling you to present a consistent brand image to your target audience.
» Learn more about the app's sales-boosting features in our review of Ultimate Sales Boost
Take Your Wholesale Store to a Whole New Level
Today's ecommerce wholesaler has a world of opportunities—but that also comes with a world of challenges. Things like strong competition, inventory management, order fulfillment, shipping, and logistics can all create barriers to success. But fortunately, there's help out there: Shopify apps like the 10 we've discussed have helped thousands of wholesalers to overcome these challenges. Just make sure you choose apps wisely: consider your own unique circumstances, like your business size, goals, competition, prices, and budget.
KeepShoppers Methodology
When we recommend apps for your store, we first evaluate each option using a specific set of criteria, including:
Ease of Use:

UI friendliness, how easy the setup is, and the quality and timeliness of customer support.

Features:

Range of features, extent of the features' usefulness for wholesalers, and how much the elements can be customized.

Integrations:

Number of third-party integrations and their value for the user.

Pricing:

Apps that are great value for money, whether there are free plans, features, and add-ons available, and if the monthly fee is worth it.

Customer Reviews:

Weigh in dozens of customer reviews to see how stores in different countries and different sectors have rated it.
We also consider the time and resources required to make the best use of the app—more feature-rich solutions are usually more complex and require a greater time investment to learn. All of these traits are aggregated into the KeepShoppers Score you can see in each app description.