How to Start Affiliate Marketing on Shopify in 2023

By

Adeel Qayum

Reviewed by

Kirsty Macdougall
Updated August 21, 2023.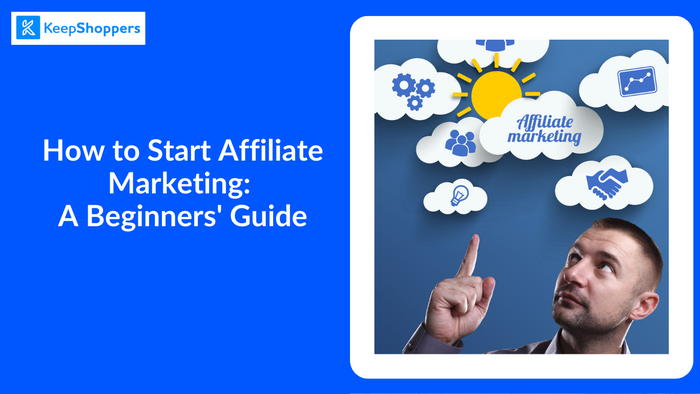 Affiliate marketing has been steadily growing for more than a decade. In fact, the industry grew from $1.6 billion in 2010 to a whopping $8.2 billion in 2022.
Affiliate marketing is a performance-based strategy where individuals or companies (known as affiliates) promote merchants' products or services. They then earn commissions for each successful referral or sale they generate.
This type of marketing can have tremendous benefits for affiliates and brands. However, it may seem overwhelming to get started, especially for aspiring affiliates. If you find yourself in this boat, fret not. We've put together a guide that will give you all the insights you need to become a successful affiliate marketer.
» Get a head start & try out one of our best affiliate marketing apps
Is Affiliate Marketing Right for You?
Affiliate marketing can be highly profitable if you learn how effectively to promote a product or service and partner with the right businesses. Affiliates earn a commission each time someone makes a purchase using the unique affiliate link provided by their partner. As an affiliate, you are responsible for incorporating this link naturally within your content to encourage clicks and conversions.
Below is a summary of the main advantages and benefits of affiliate marketing, as well as some potential drawbacks.
Pros
You can work from anywhere

Can start affiliate marketing with virtually no money

Highly flexible & scalable

Passive income potential

No customer service worries
Cons
High competition in some industries

Set income isn't guaranteed

Merchant rules apply
Now that you have a basic idea of its potential, let's go through the steps needed to start an affiliate marketing business.
Steps to Creating an Affiliate Marketing Program
Step 1: Research and Choose a Profitable Niche
Niche research is vital to building a successful affiliate marketing business. You'll want to choose a niche with strong consumer demand and high popularity. Use tools like Google Trends and Exploding Topics to discover emerging market trends, and leverage apps like Niche Scraper to identify profitable products and niches.
Here are some examples of emerging and popular niches in 2023:
AI software

Wealth building

Cybersecurity and data protection

Eco-friendly products

Meal replacements

Home office equipment
Pro tip:
When choosing a niche for affiliate marketing, carefully assess the level of competition to avoid entering an oversaturated sector. Additionally, choose a niche that aligns with your interests and passions—this will fuel your motivation and increase your chances of long-term success.
» Learn more about how Nichescraper can help you in our in-depth Niche Scraper review
Step 2: Find and Join Affiliate Programs or Networks
As you explore different affiliate programs, consider how closely they align with your niche. Programs that are a good match increase the likelihood of attracting relevant audiences and achieving higher conversions.
You can either approach partners directly or sign up on an affiliate marketplace to start your journey. Conduct thorough background research and assess the brand/platform's reputation and their competition. Additionally, compare their commission structures, incentives, and payment methods to make an informed decision.
Some good examples of affiliate programs and marketplaces in 2023 include:
Step 3: Create and Optimize Your Online Platform
At this point, you'll need to start thinking about your online platform. While plenty of platforms are available for hosting affiliate content, we recommend creating your own blog or website.
An affiliate site provides more freedom in terms of branding, customization, and monetization opportunities. Plus, it allows you to reap the benefits of blogging and keep all commissions from sales.
Here are the steps to launching your own affiliate site:


Buy a domain name

:

Choose a memorable, relevant, and easy-to-spell domain.

Choose reliable web hosting:

Select a trustworthy hosting provider with fast speeds.

Work on the design:

Use a pre-made theme to infuse life into your site's appearance and functionality.

Optimize your site for SEO:

Enhance visibility by incorporating keywords and

optimizing image alt text

for search engines.
How do you start affiliate marketing without a website? You can make a YouTube channel or leverage social media apps like Facebook, TikTok, and Instagram to promote your affiliate content. Offline techniques like word-of-mouth marketing and group networking are also effective for expanding your reach and generating interest in your affiliate offerings.
» Make a good first impression. Use a page builder app to create a professional site
Step 4: Create and Promote Valuable Content
Content is the backbone of any affiliate marketing campaign. Your content must engage, educate, and persuade audiences to take action.
To create good content for conversions, aim to build credibility and authority. Conduct in-depth research on the topics you cover to ensure the accuracy and timeliness of your content. Link to highly credible external sources to lend support to your claims. In addition, outline your review process to tell readers your criteria for choosing affiliate products and keep things transparent.
There are various types of content you can create, including:
Blog posts:

Engage readers with informative content that highlights the benefits and specific use cases of your affiliate product.

Product reviews:

Provide a detailed product assessment, including its features, benefits, drawbacks, and personal insights to help readers make an informed purchase.

Comparisons:

Compare similar products side by side to assist readers in choosing the best option for their needs.

How-to guides:

Create comprehensive guides demonstrating how to use the affiliate product or service effectively.

Social media posts:

Share captivating visuals, entertaining memes, and engaging short videos featuring your affiliate product to grab the audience's attention.
Once you've created your content, promote it through various channels like social media, email marketing, and paid ads to maximize its impact and reach.
Facebook ads are highly effective for promoting affiliate products, especially if you don't have a broad existing audience on social media. But before using them, ensure you've made all the necessary Facebook ad considerations to optimize your campaign's success.
» Try out one of the top email marketing apps to help expand your reach
Step 5: Track Performance and Optimize Your Strategy
"What gets measured gets managed" is an adage that holds true in affiliate marketing. Once you launch your campaign, ensure you track and analyze key metrics like clicks, impressions, click-through rate (CTR), and sales. Effective tools for measuring these data points include:


Google Search Console

:

Gain insights into keyword rankings and search performance.



Google Analytics

:

Obtain comprehensive data on website traffic and user behavior.

All-in-one affiliate dashboards:

Dashboards like

Supermetrics

simplify data integration and analysis.
These tools will provide insights into your campaign's traffic and conversion rates. You can use the data points to improve your marketing efforts to make sure you make the most money with your affiliate marketing.
For instance, if data shows you're not getting many conversions from YouTube, you can shift your marketing efforts from the video-sharing site to another social media platform or app.
Top Tips for New Affiliates
Before diving into the affiliate marketing world, it's essential to set a solid foundation for success. Here are a few tips to help you make the most of this marketing strategy:
Understand your products:

Learn about their features, pricing, competitive advantage, and other traits to promptly address customer inquiries.

Craft compelling content:

Think beyond blogs and videos—today's audience craves diverse formats like podcasts, infographics, and interactive experiences.

Diversify your portfolio:

Promote a variety of products to minimize dependence on a single source of income.

Write authentic reviews:

Share genuine, unbiased product reviews to inform and guide your audience's purchasing decisions.

Use a multi-channel approach:

Leverage various marketing channels, such as your website, blog, social media platforms, and email marketing, to reach a wider audience.

Stay updated with industry trends:

Keep tabs on emerging tools and developments to adapt and stay competitive in the ever-evolving affiliate marketing landscape.

Don't underestimate the power of SEO:

Content optimized for search engines will go far in driving traffic—and potential customers—to your site.
» Check out these on-page SEO techniques to increase traffic to your site
From Amateur to Ace: Simple Steps to Affiliate Success
While affiliate marketing might seem complicated or intimidating, it's easier when you take advice from the pros.
Remember to research your niche, find and join programs, create and optimize your platform, create and promote great content, and track and optimize your process. If you follow this systematic approach, you'll find you're well on your way to being a successful affiliate marketer.
» Become a sales pro with help from these leading apps to increase sales