Customer Retention Success Story: Insights From an E-Commerce Expert

By

Adeel Qayum

Reviewed by

Michelle Meyer
Updated August 4, 2023.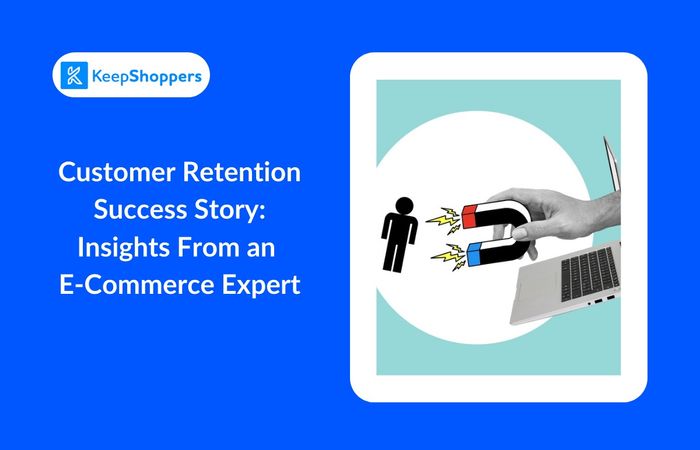 Customer retention is critical if you want to increase customer lifetime value in e-commerce. Customer retention is essentially a series of tactics that help to turn one-time customers into repeat buyers. This brings long-term value to your brand, especially because retaining existing customers is much more cost-effective than constantly acquiring new ones.
Last year, I was contacted by the owner of an up-and-coming e-commerce skincare brand specializing in innovative, all-natural niche products. While selling well, the company didn't have nearly as many repeat customers as first-timers. We worked together to implement an e-commerce customer retention strategy that brought them incredible growth — a 37% increase in repeat customers within 8 months.
Let's take a closer look at how they made this happen.
1. Customer Retention Success Story: A Case Study
Scenario Overview
This brand was new to the personal care scene: a young, scrappy startup with less than 10 employees (the brand has asked for anonymity, but we'll call it Skinova for the sake of easy reference in this post). Skinova managed to capitalize on the growing niche of all-natural, vegan, and ethically-sourced skincare products. Their product line includes items like vitamin face spritz, herbal body lotion, facial serum, detox cleanser, and high SPF face cream. Their products are all handmade in the US using a special quality of care in small batches, giving them a unique value proposition among many competitors.
Industry Background and Competitive Landscape
The e-commerce industry has seen exponential growth, driven by more and more customers who want a convenient experience shopping from home. In the skincare sector specifically, there's a soaring demand for high-quality, ethical products like the ones sold by this brand.
But small companies still face challenges: the skincare industry is dominated by larger, more established brands with an existing market presence and a lot more resources to operate and expand. Smaller companies like Skinova face obstacles in areas like brand recognition, standing out from the competition, and building trust among an audience that highly scrutinizes the brands it chooses to buy from.
Target Audience and Customer Profile
Skinova's target audience is made up of consumers who are conscious of their health, the environment, and other social issues like labor conditions, animal cruelty, and responsible and sustainable manufacturing. They're looking for high-quality products that truly improve their skin, but they're not willing to compromise their ethical values.
These consumers have some unique pain points, like having trouble finding reliable brands that align with their values. This is especially true because of the rampant practice of "greenwashing," where brands claim that they're environmentally friendly and sustainable, but they're not actually taking the necessary steps to do so. Another challenge for these consumers is finding products that cater to their unique skin care needs, which often require specialized products with specific ingredient types.
2. Customer Retention Strategy Implementation
Step 1: Identifying the Company's Initial Customer Retention Approach
In its early stages (and to this day), Skinova focused on building customer trust, placing special emphasis on transparency and authenticity. They used generalized social media and email marketing campaigns to engage with customers, posting about products and sending emails to offer exclusive promotions and product updates. They tried to foster a sense of community and reliability, aligning with their customers' values, and encouraging repeat purchases through genuine connections.
Step 2: Challenges Faced During the Early Stages of Customer Retention Efforts
But Skinova found that their efforts simply weren't enough. They experienced key challenges that are rather common in the e-commerce industry. For example, they couldn't get a strong foothold in brand recognition, and a lot of their target audience was still shopping with larger brands. They also experienced some hesitation from customers who weren't convinced that the products were actually as effective as they claimed to be — which, in the skincare realm, can't be known unless the customer uses the product for a while.
Step 3: Analyzing the Customer Journey
One of my first pieces of advice was to map out their typical customer journey. For Skinova, this begins with brand awareness that's developed through social media marketing, email marketing, and engaging with customers on various eco-conscious online platforms.
This then brings potential customers to the website to explore their products. From here, we identified some critical touchpoints for customer retention — some of which they implemented, but not all. These include:
High-quality and informative product listings, including ingredients

Educational and

engaging blog content

related to their products and topics like ethical practices and industry news



Social proof

like 5-star reviews and media mentions

User-generated content like re-posting social media mentions from past customers

Personalized post-purchase follow-ups

A loyalty program that incentivizes repeat purchases and referrals
3. Key Factors for Successful Customer Retention
Personalization and Customer Segmentation
Two important factors to address were personalization and customer segmentation. We realized that Skinova was only employing entry-level personalization and segmentation techniques. For example, they sent out generalized emails to their entire list, rather than segmenting their list into different groups based on things like purchase history, behavior, and preferences. By implementing this, they would be able to create more personalized, targeted messages that customers found more relevant, which in turn increases the chances of them making another purchase.
At first, they had trouble collecting, organizing, and interpreting their data into meaningful strategies. But we worked together to focus on key performance indicators (KPIs) like average order value (AOV), customer retention rate, customer satisfaction scores, and the number of single and repeat purchases.
» Use one of the best Shopify analytics apps to help you manage and understand your data
Loyalty Programs and Incentives
The next step was to implement a customer loyalty program that gave customers special perks for making repeat purchases. Skinova turned to Shopify loyalty apps, specifically Growave, to easily and smoothly create a loyalty and reward program for the store. With this Shopify customer retention strategy, customers earned loyalty points for each purchase and received extra incentives, like special discounts and exclusive access to new products.
Skinova juggled the careful balance between offering appealing rewards without losing too much potential profit. They measured KPIs like:
Growth in repeat customers

Number of customers enrolled in the loyalty program

Referral rates

Reward redemption rates

Customer feedback on their experiences with the program
» Here's how to create your own reward system in a few easy steps
Proactive Customer Support
Another key consideration for customer retention is to ensure an exceptional customer experience. This means that every single customer query should be answered in a timely manner (within 24 hours, ideally) and in a way that satisfies the client. Skinova realized that while it had solid customer service, there was still room for improvement:
By using a

Shopify customer refund

app, customers received their refunds efficiently and as soon as possible.

Skinova allocated more resources to channels like email, live chat, and social media to ensure they all operated at high levels.

Customers could join a survey program to provide feedback.

KPIs like customer query response times, customer survey satisfaction scores, and the percentage of fully-resolved issues helped to identify common pain points and keep Skinova on track.
Engaging Content and Communication
To keep customers actively engaged, Skinova ramped up its content creation efforts. This included 2 posts per week on the company blog about all things skincare, from new product announcements and "product spotlights'' to education on ethical production to interviews with industry leaders. They repurposed this content and created unique content for other channels, like social media and email. Additionally, Skinova's team used these communication channels as a way to more actively engage and communicate with followers, like asking questions and responding to comments.
Skinova measured content performance using KPIs like:
Blog traffic

Social media engagement via new followers, likes, shares, and comments



Email marketing

engagement like open rates and click-through rates
As they tracked and analyzed this data, they were able to see which content users most enjoyed, allowing them to continuously improve their customer engagement.


I can't tell you what a difference this customer retention plan has made for us. We thought we were doing the best we could, but Adeel helped us realize that we had tons of room for improvement. When you look close enough, it's all in the data. —

Ava Barham, CEO of Skinova
4. Expert Tips for Implementing Customer Retention Best Practices
Skinova's case study highlights the importance of personalization and customer segmentation, loyalty programs and incentives, proactive customer support, and engaging content and communication. While each e-commerce brand will have unique circumstances, you can benefit from exploring these categories and how they can improve.
Extra tips for your own customer retention strategy
Data-driven decisions

: Dig into your customer data to spot trends, preferences, and customer pain points so that you can create personalized solutions.

Loyalty programs

: Not only will they keep customers coming back — they'll also incentivize them to refer others.

Consistent communication

: Never let a message go unanswered. This can cause irreparable damage to your customer relationships, as well as your reputation in the industry.

Brand storytelling:

Share authentic, transparent stories that resonate with your target audience and their beliefs, attitudes, behaviors, and values.

Continuous improvement

: Never stop improving. Revisit your data on a monthly basis to see how you're doing and how you can optimize your campaigns to be even better.
Embracing Customer Retention: A Path to Lasting E-commerce Success
Skinova went full-throttle on their customer retention journey, and they saw the results to back it up: within 8 months of applying all the strategies above, their repeat customers grew by 37%. I can't stress enough how important these strategies are to the long-term success of your e-commerce business. It's important to remember that it's a marathon, not a sprint: these efforts need to be ongoing and consistent.