Growave Review (2023): Best Shopify Conversion Tool?
Need to boost your conversions and marketing efforts? Find out whether Growave is the right Shopify conversion tool for your store.

By

Arjel Vajvoda

Edited by

Lulu Mulambya
Published November 9, 2023.
Our team tests eCommerce apps and publishes reviews that are unbiased and not influenced by payments we receive from some of the app developers.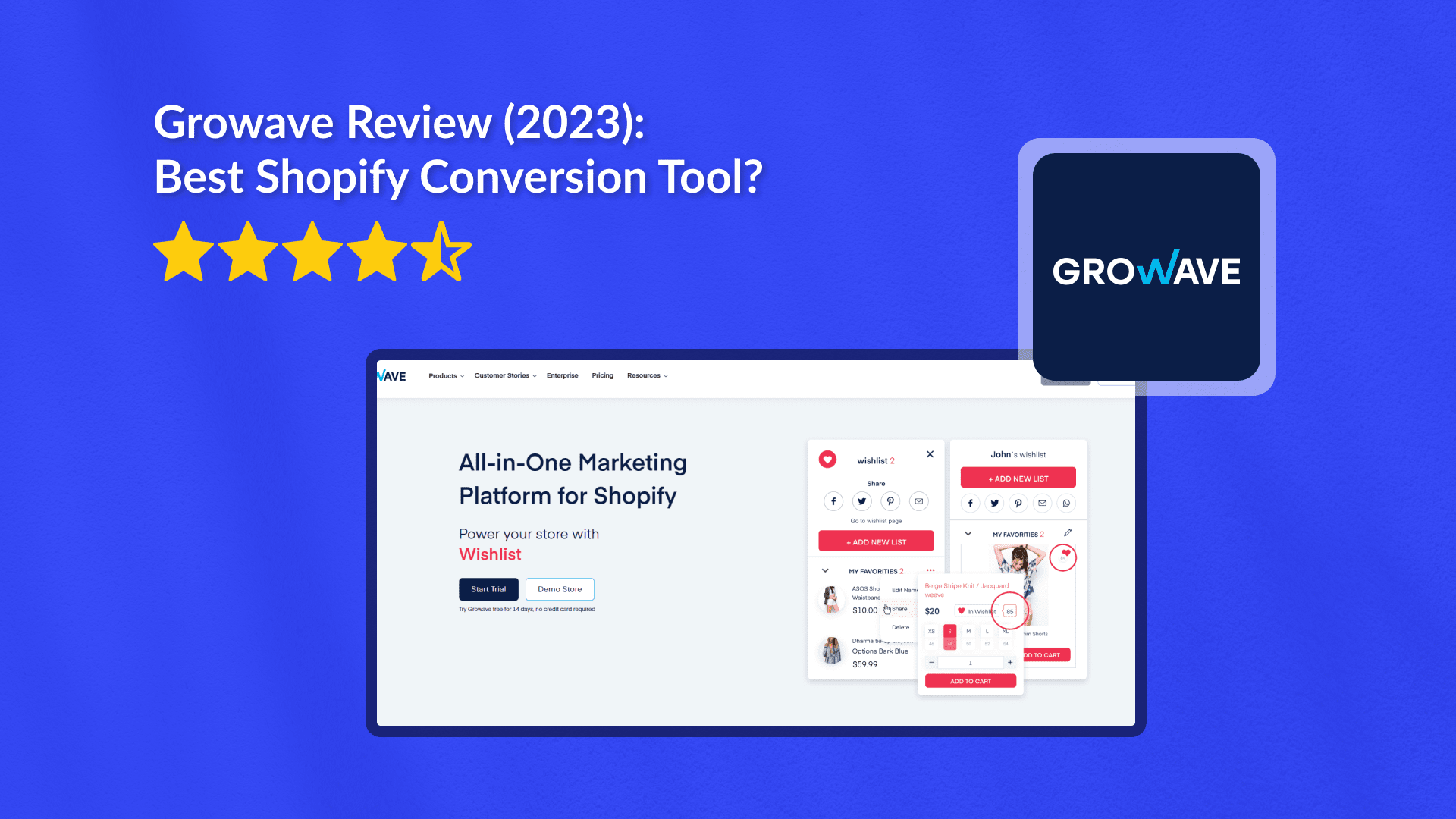 With an estimated 4 million+ active Shopify stores currently online, competition in the e-commerce field is fierce. Standing out is extremely crucial—and has become more difficult. But with the right tools, you can supercharge your sales and conversions.
Growave, a versatile Shopify conversion tool, has been making its own waves in the industry. But does it live up to the hype? In this Growave review, we'll explore its primary functions, features, pricing, and much more, so you can make an informed decision about whether it's the right app for your e-commerce business.
Meet the Expert
Arjel Vajvoda is the Head of Product and Marketing manager at Motomtech, a leading software company. With her strong background in customer support, marketing, and documentation, she excels in creating successful, million-dollar SaaS products and strategies.
What is Growave?




Growave is an all-in-one marketing platform tailored for Shopify merchants, offering a comprehensive set of tools to enhance customer engagement and drive sales. The platform emphasizes boosting customer loyalty, driving conversions with reviews and social proof, increasing customer lifetime value, and growing sales through innovative features like wishlists.
Pros
All-in-one marketing functionality

Comprehensive loyalty programs

Fully customizable

Multiple third-party integrations

Free plan
Cons
Limited technical experience can lead to initial complexity
What is Growave Best For?
Growave is best suited for e-commerce businesses looking to boost their conversion rates and establish trust with their customer base. It excels at creating a loyal customer community, encouraging repeat business, and showcasing your products in an authentic and trustworthy manner. By combining features like a loyalty program, reviews, wishlists, and more, Growave empowers your store to engage customers and nurture lasting relationships, ultimately resulting in increased conversions and revenue.
Overview of Growave Features
Loyalty and rewards
Growave's loyalty program is designed to foster customer retention by rewarding them with points for every purchase and engagement on the platform. Customers earn points that can be redeemed for discounts, special offers, or other incentives. This not only encourages repeat business but also creates a positive cycle where customers feel appreciated for their loyalty, leading to increased brand affinity.
» Looking to implement loyalty programs only? Try one of these top Shopify loyalty apps
Reviews
Growave facilitates customer reviews, providing a platform for customers to share their experiences with products. Reviews play a crucial role in building trust and credibility for potential buyers who rely on the opinions of others before making a purchase. Positive reviews act as social proof, instilling confidence in the quality and reliability of the products, ultimately influencing buying decisions.
» Explore more benefits of adding product reviews to your Shopify store
Wishlists
The wishlist feature in Growave serves as a valuable tool for keeping products on customers' radars. By allowing users to curate a list of desired items, businesses can boost brand recall and create opportunities for future purchases. This feature not only enhances the user experience by enabling customers to plan and organize their preferences but also provides businesses with insights into popular products and customer preferences.
Social login
Growave simplifies the customer onboarding process by integrating social login options. This functionality streamlines the sign-up process, allowing users to use their existing social media credentials to create accounts. By reducing friction during the registration process, social login contributes to a smoother customer journey, potentially increasing conversion rates and overall user satisfaction.
Instagram integration
Growave's Instagram integration is a powerful tool for leveraging visual content. It allows businesses to seamlessly showcase their Instagram content on their online store, creating an enticing gallery. This integration capitalizes on the popularity of visual marketing, enabling businesses to harness the aesthetic appeal of their Instagram feed to engage customers and drive sales. By integrating Instagram content directly into the store, Growave helps businesses maintain a cohesive and visually appealing online presence.
» The flip side: Here's how to auto-post from Shopify to your Instagram and Facebook pages
Plans & Pricing
Growave offers 5 different pricing plans, making it accessible to businesses of varying sizes and needs. Their pricing accommodates different levels of demand:
Free Plan

Ideal for new entrepreneurs with up to 100 monthly orders.

Medium Plan

Priced at $49 per month, suitable for stores processing up to 500 monthly orders.

Growth Plan

Priced at $149 per month, catering to stores with up to 1000 monthly orders.

Premium Plan

Designed for larger stores with up to 3000 monthly orders, priced at $349 per month.

Custom Plan

Tailored for enterprises surpassing 3000 monthly orders, providing a bespoke experience.
» Not sure what you should be spending? We offer helpful guidelines on how much to spend on Shopify apps
Growave Integrations
Growave integrates with a variety of third-party apps to streamline and enhance your marketing and performance efforts. Some of the most popular integrations include:
Usability
Growave's usability shines on both sides of the coin. For merchants, it offers a straightforward setup, aided by guides and customer support to help overcome any hurdles. Once your store is equipped with Growave, managing it is a breeze. This is thanks to an intuitive dashboard that provides insights into various customer interactions, such as points earned and review feedback.
On the customer front, Growave makes the shopping experience seamless. Shoppers can easily earn points, leave reviews, and engage with products using social media accounts, reducing friction and enhancing overall usability.
Support
Growave backs its users with robust support options. Depending on your plan, you can access support through channels such as:
Get Your Shopify Store Ahead of the Wave
Growave, a versatile Shopify conversion tool, offers a comprehensive all-in-one marketing platform for merchants, emphasizing customer loyalty, trust-building through reviews, and visual content integration. With strengths in loyalty programs, customization, and seamless integrations, Growave caters to businesses of all sizes with accessible pricing plans. Despite potential initial complexity for less technically experienced users, Growave's user-friendly interface and robust support make it a valuable solution for businesses seeking enhanced online presence and sustainable growth.