10 Best Shopify Mobile Builder Apps for Shopify Stores in 2024
Compare the best mobile builder apps to take your Shopify store to the next level.

By

Adeel Qayum

Edited by

Michelle Meyer
Updated November 16, 2023.
Our team independently researches and recommends the best products and services. We publish reviews that are unbiased and not influenced by payments we may receive from advertising partners.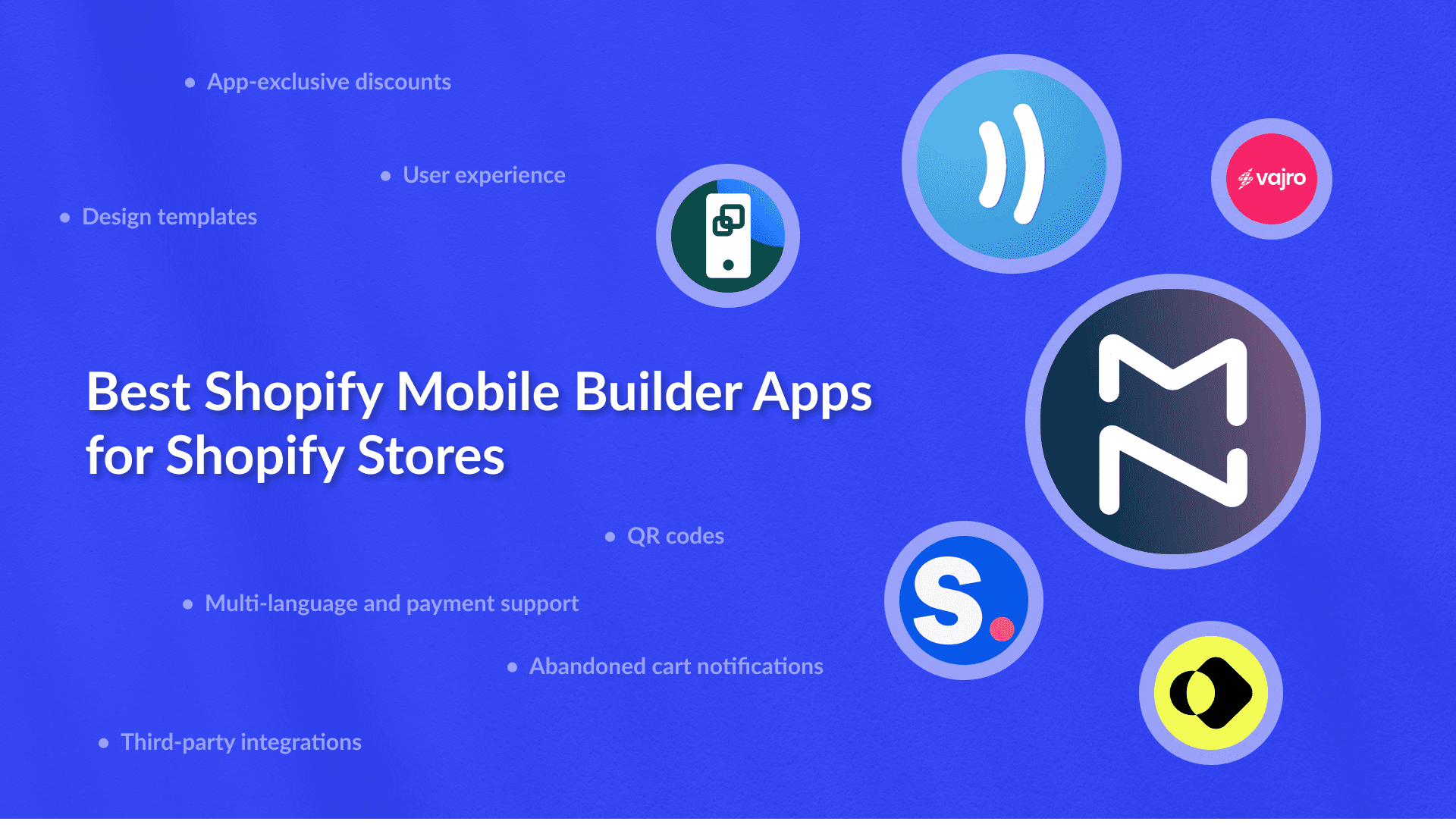 Mobile commerce volume is expected to hit $710 billion by 2025, and nearly half of all e-commerce purchases will be made via a mobile device. With stats like these, building a mobile app for your Shopify store is crucial.
Shopify's mobile builder apps enable you to craft a mobile version of your store directly from your phone. You can set the layout, pick a theme, and integrate new features—all without any coding experience.
However, the many available options can make selecting the right app challenging. We've curated a list of the top 10 mobile builder apps for your Shopify store to assist you.
Our Top Picks for the Best Shopify Mobile Builder Apps
KeepShoppers Score: 9.9
Key Features
Drag-and-drop theme builder

Personalized notifications

App-only discounts

Advanced analytics tools
MageNative takes the complexity out of mobile app building. With an intuitive drag-and-drop editor, real-time auto sync, and 20+ tool integrations, you can quickly create an app for your Shopify store without writing any code. Moreover, the app boasts features like WhatsApp support, social media log-in, and image search, making it an excellent choice for aspiring merchants.
Why We Liked It
MageNative takes the top spot because of its ease of use and versatile features. You can create a stunning mobile app with just a few taps, plus enhance the customer experience by offering app-exclusive discounts, AR shopping, and multi-currency payments.
KeepShoppers Score: 9.8
Key Features
Loading indicators

Branded splash screens

Push preferences
MobiLoud can help you launch an engaging and interactive app in less than three weeks. The tool strives to take the mundane out of mobile app building and instead turn it into a CVR (conversion rate) and LTV (customer lifetime value) boosting effort.
Why We Liked It
MobiLoud offers a range of features, but its seamless maintenance makes it shine. You can make changes to your store, which will automatically reflect in-app without configuration.
KeepShoppers Score: 9.6
Key Features
Real-time push notifications

iOS & Android compatibility

Interactive dashboard
Hulk Mobile App Builder is a user-friendly tool that helps you create mobile apps for both iOS and Android without requiring coding skills. The app empowers you to engage with your customers through mobile apps, improving customer loyalty and expanding your sales channel.
Why We Liked It
The app also includes additional benefits like deep linking integrations for Google Analytics and Facebook, customer accounts for a personalized shopping experience, and a single-page checkout for your store, enhancing customer engagement and improving retention rates. With Hulk Mobile App Builder, you can bring your brand directly to your customers' fingertips.
» Elevate your customer engagement further with one of the best loyalty apps
KeepShoppers Score: 9.8
Key Features
No-code e-commerce app builder

Rich-media push notifications

Live video selling

Mobile-only discounts and product drops
Vajro is a powerful mobile app builder for Shopify specifically designed to ignite business growth. With rich-media push notifications, easy integration with major Shopify plugins, and multi-currency and language options, it helps you create high-converting mobile apps that enhance user engagement and boost sales.
Why We Liked It
Vajro distinguishes itself with its live selling capability. The feature seizes the moment of real-time engagement from shoppers. Products showcased in live videos often trigger impulse buying. As a result, Vajro boosts user engagement and effectively increases sales for your Shopify store.
» For more details, read our full Vajro review
KeepShoppers Score: 9.6
Key Features
Easy drag-and-drop editor

Various theme options

Rich push & abandoned cart notifications

In-app messaging
Shopney helps Shopify brands worldwide to provide a mobile-first experience to their customers. Its drag-and-drop editor lets you easily craft your app's layout, while third-party integrations help bolster user engagement. The platform's focus on fast checkout and rich notifications aims to improve overall conversion rates.
Why We Liked It
Shopney's versatile in-app chat is the most fascinating aspect of the mobile app builder. It integrates with customer service apps like Gorgias and Shopify Inbox, allowing you to maintain effective, real-time customer communication.
KeepShoppers Score: 9.5
Key Features
Instant sync

Mobile-friendly block design

Automated drops & push notifications

Robust app analytics
Tapcart serves as a one-stop-shop, with drag-and-drop editing, cost-free unlimited push notifications for marketing, and proprietary analytics to know exactly how your store is performing and how you can optimize it for even better performance.
Why We Liked It
One of Tapcart's main selling points is that it can help you build a mobile app in weeks—or even hours—instead of months. It offers users unique "Capture Kit" features, which include a generator for custom-branded QR code widgets to drive app installs. You can also print this QR code to use on your shipping packages or promotion cards, then add a discount code to encourage more downloads and purchases.
KeepShoppers Score: 9.7
Key Features
Simple drag-and-drop designer

Advanced push notifications

Real-time screen preview

Easy multi-language settings
Mowico is a no-code mobile app builder that seamlessly integrates with all major e-commerce platforms. Using its drag-and-drop editor, you can add custom components like images, videos, or anything you want to each section of your app. Build your app the way you want, then use the integrated m-commerce features to drive brand loyalty.
Why We Liked It
Mowico has all the features you need to design a fulfilling shopping experience. You can quickly optimize product detail pages, adjust your logos and splash screens, and offer app-only discounts to secure repeat sales.
KeepShoppers Score: 9.4
Key Features
Drag-and-drop app builder

Personalized push notifications

Advanced mobile analytics

Extensive integrations
Plobal Apps is a mobile app builder tailored for Shopify and Shopify Plus merchants. With capabilities for personalized push notifications, it helps store owners keep their audience engaged. Add to that its robust analytics tools, and you get real-time insights for performance optimization. The 24/7 customer support rounds out the offer, ensuring you never hit a snag in your mobile commerce journey.
Why We Liked It
Plobal Apps sets itself apart with analytics that give you full ownership of customer engagement data. You can fine-tune audience segments through insights gained from 60+ in-app actions. The deep-linking feature provides another edge—you can funnel web traffic directly to your app, ensuring your push notifications make an impact long after the click.
» Looking to take your analytics to the next level? Check out our top-rated analytics apps
KeepShoppers Score: 9.3
Key Features
Intuitive design modules

Intelligent push notifications

Real-time activity tracking

One-click checkout with Google & Apple Pay
Venn Apps offers a mobile app builder focused on Shopify stores. Using its intuitive drag-and-drop interface, merchants can develop native iOS and Android apps without needing to code. The platform also boasts compatibility with a wide array of Shopify plugins and offers actionable analytics to fine-tune app performance.
Why We Liked It
Ven Apps excels in behavioral tracking. With real-time insights into user actions, you can make immediate, data-driven updates to your app. Alternatively, schedule those changes for a future date to maintain a consistent user experience.
KeepShoppers Score: 9.2
Key Features
Intuitive drag-and-drop editor

Robust product filters

Smart push notifications
Shoppy is a user-friendly mobile app builder designed for the effortless creation and management of your digital storefront. With 14+ widgets and real-time Shopify synchronization, you can easily craft the homepage of your app and update your catalog. Further, Shoppy's diverse set of integrations enhances your omnichannel strategy, all while requiring zero coding knowledge.
Why We Liked It
Shoppy differentiates itself with an exceptionally user-friendly interface for organizing your catalog. While most app builders offer basic sorting options, Shoppy allows for intricate categorization down to the smallest details. In a market where every second counts, these features make navigation quick and intuitive for users.
App Builders Shaping Shopify's Mobile Tomorrow
Mobile builder apps have revolutionized the e-commerce landscape. Gone are the days when expensive software was needed to design a Shopify store or app. Now, with Shopify tools' assistance, you can build, test, publish, and release an app without much hassle.
If you're looking for a comprehensive, all-in-one solution, MageNative is the best choice. With robust analytics, app-exclusive discounts, and response customer service, it sets the stage for online store success. In an ever-evolving e-commerce landscape, your choice of tools can make or break your competitive edge.
KeepShoppers Methodology
At KeepShoppers, we test Shopify mobile builder apps to find the best options for you. We ask several crucial questions during our evaluations:
Is the app user-friendly? How simple is the setup? Is support readily available?

What range of features does the app offer, and how useful are they?

How many integrations are available, and what benefits do they provide?

How many templates are available, how professional do they look, and to what extent can they be customized?

Are free plans, features, and add-ons available? Is the monthly fee justified by the value provided?
The KeepShoppers Score combines these assessments to offer you a reliable, complete view of app quality. We also consider the time and resources you'll need to fully leverage your chosen app.