Traffic Boost for Shopify: Boost Organic Traffic Through Word-Of-Mouth Marketing

By

Joel Taylor

Reviewed by

Davor Štefanović
Published June 1, 2023.
Our team tests eCommerce apps and publishes reviews that are unbiased and not influenced by payments we receive from some of the app developers.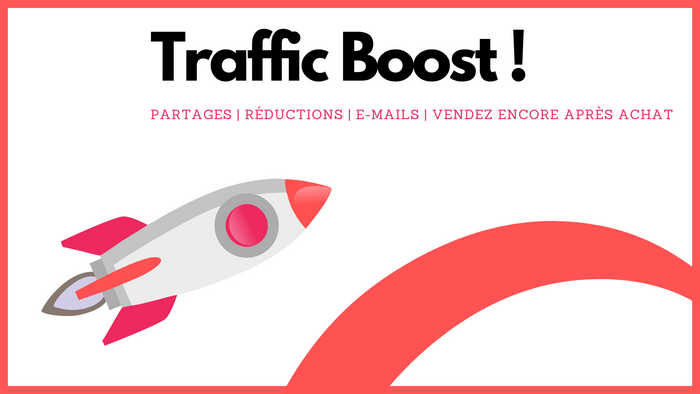 Word of mouth is one of the most effective marketing techniques that businesses can utilize. Potential customers are far more likely to purchase something if one of their peers has purchased the same product and validated its quality.
This is exactly the kind of benefit you can achieve when you use a service like Traffic Boost by BERMUDAPPS. This handy app can help you leverage your customers to do your social proofing for you by offering them incentives to share what they bought through social media, saving money on ad spending and boosting your conversions at the same time!
Traffic Boost Highlight Features
Automated Requests
The app will automatically send marketing request emails with discount codes to customers once they complete purchases on your store, meaning that you never have to lift a finger after the setup.
Customizable Pages
The "thank you" and "discount" pages sent to your customers are totally customizable to fit your brand's personality and voice.
Save Money on Ad Spending
Why waste money on social media ads when your customers can do it for you for less cost and greater effectiveness? Customers can share your product through direct messages, Facebook stories, and everything in between.
Seamless Installation and Integration
With all the parameters pre-filled and easily modifiable, you can have the service up and running on your Shopify store minutes after the one-click installation.
Traffic Boost Pricing
All the paid plans come with a 14-day free trial, allowing you to test the service before committing.
Free Plan
This is a test plan that lets you get a feel for the service without paying for it first. It offers the following features:
Customizable "thank you" and "discount" pages

Customizable post-purchase emails

Conversion stats and tracking

24h chat support
Starter Plan
$3.99/month
This plan offers all the features of the Free Plan, as well as:
1-50 orders after the free trial

Live chat support
Advanced Plan
$9.99/month
This plan offers all the features of the previous plans, as well as:
Up to 200 monthly store orders
Pro Plan
This plan offers all the features of the previous plans, as well as:
Up to 1,000 monthly store orders
Our Verdict: Should You Use Traffic Boost?
Utilizing the most effective marketing technique without having to lift a finger is a no-brainer, and this is exactly what you'll get when you use Traffic Boost by BERMUDAPPS. Doing so will save you time, effort, and money while boosting your conversions and customer loyalty. It's no surprise that, at the time of writing this review, the app has maintained a solid 5-star rating on the Shopify app store.
If you'd like to learn more, visit their website or head directly to their listing on the Shopify app store.