Bolder App Review for Shopify: Reach Your Target Demographics and New Clients

By

Kelli Harris

Reviewed by

Joel Taylor
Published May 31, 2023.
Our team tests eCommerce apps and publishes reviews that are unbiased and not influenced by payments we receive from some of the app developers.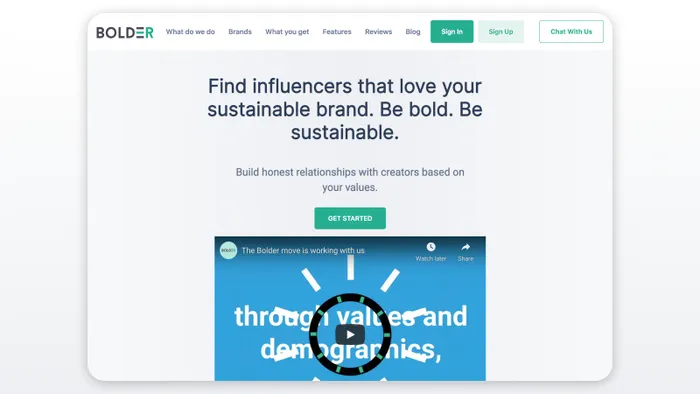 Forget about collaborating with influencers who take your products and money and then vanish. Investing in influencer marketing and seeing no results has become a professional liability with added difficulty in finding influencers that love sustainable brands.
The Bolder app is here to help developing, sustainable companies raise brand awareness and consideration through social media. This tool aids in the conversion of highly successful influencer leads into consumers. You don't need to spend a lot of time or money to find genuine and successful collaborators.
Why You Should Use Bolder
With Bolder, you can bet on getting new leads. Merchants can use creators to reach out to their target demographic and communicate with new, highly engaged consumers, and it's totally free!
This app also helps your business find appropriate creators; select and match the right creators who share your values and target audience using Bolder's technology.
And lastly, users can spread the word about sustainable initiatives and place their brand in the appropriate place by raising awareness in the right spaces.
Notable Highlights
Ideal creators
Connect to content producers with the proper social following based on statistics and your specific criteria.
Personalized Service
Using Bolder's exclusive technology, users can plan and execute any form of creator cooperation with precision.
End-To-End Campaign Execution
Get assistance with planning, matching, executing, and reporting on each campaign to maximize budget and meet your business goals.
Measurable Results
Once all of the content is up, receive a report that analyzes the data and assists in making decisions for the next campaign.
The Bottom Line: Should You Use Bolder?
As a merchant, consider the following questions.
Do you want to attract new audiences who are strongly engaged with your brand and are likely to become customers or sales? Do you want to increase public awareness of your long-term activities at a low cost and regular updates on how your money is being spent?
If you have answered yes to these, you should definitely consider using Bolder to position your company to appeal to 80% of customers and shift their purchasing habits to align with environmental concerns.
Visit the Bolder website to learn more, or install it directly from their Shopify app store page.