7 Best Shopify Apps to Increase Traffic—Reach More Customers in 2023

By

Ali Shah

Fact-check by

Michelle Meyer
Published June 12, 2023.
Our team independently researches and recommends the best products and services. We publish reviews that are unbiased and not influenced by payments we may receive from advertising partners.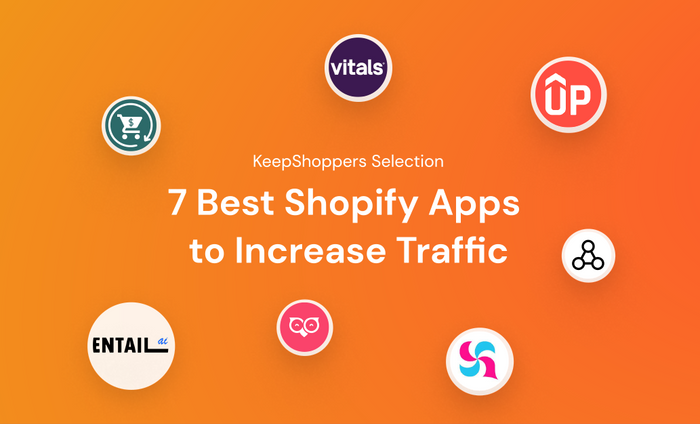 We can all agree that the ultimate goal behind every online store is sales. And to get more sales, traffic is essential. Traffic and sales are inherently connected, but we shouldn't forget that it takes more than a high volume of traffic to guarantee sales; it takes the right traffic.
And how do you drive traffic to your Shopify store?
You can invest in a marketing campaign, work on your SEO, or use apps that can help you with all that.
There are several ways apps can drive traffic to one's Shopify store. Some of them leverage the power of social media, while some can help manage ad campaigns better. But with so many available options, it can be quite challenging to figure out which app to choose. In addition, some might not be the right fit for your type of store, your expertise, or your intended focus.
That's why we did all the legwork and put together a list of apps that will be broadly useful for generating traffic for e-commerce businesses.
Here are the 7 best apps of 2023 that can increase your Shopify store traffic.
Our Top Picks at a Glance
A Closer Look at Our Top 7
KeepShoppers Score: 9.8
Key Features
Pre-trained models for NLP tasks

Offers multilingual support

A variety of API services
Entail AI is a one-stop software solution for all your organic traffic needs. While it's not a Shopify app, as such, it can definitely help you increase traffic to your store. This platform uses advanced machine learning and training to complete complex tasks such as text summarization, sentiment analysis, and much more. It can generate high-quality, optimized content that allows users to target prospects and promote their products.
Why We Liked It
Entail AI really offers everything you need to reach more customers. It covers everything from keyword research and tracking to publishing and content optimization for more conversions. We were impressed with its customizability and hands-on support that's ready to help with any issue and develop solutions for problems customers might have.
Pros
Highly accurate

Multilingual support

Personalized models
» Check out our Entail AI review for more information
KeepShoppers Score: 9.5
Key Features
Targets specific audiences based on different criteria

Provide detailed analytics such as impressions, click, & ROI

A wide array of ad formats, such as images, video, or carousels.
Sixads can help you set up ads across Facebook, Instagram, and Google quickly and effectively. All three platforms offer a variety of features for advertising. Google has google search ads to place ads on top of search results, while Facebook and Instagram offer story ads for mobile devices. These platforms promise great visibility, which helps you to maximize your ROAS.
Why We Liked It
These ads stand out from the competition because of their reach. With billions of active users, businesses can target specific audiences according to their needs and goals. These platforms offer a variety of tools and services, such as ad templates, creative assets libraries, testing options, and guidelines that help businesses attract heavy traffic to their websites.
Pros
Large user base

Real-time measurement

Variety of ad formats
Cons
High cost compared to other apps

Ever-changing algorithms

Ad restrictions
KeepShoppers Score: 9.5
Key Features
Automated post-purchase review email

Rich snippets for visibility improvement

SEO optimization for improved search engine rankings
Judge.me is a Shopify app that allows businesses to collect and display customer reviews on their Shopify store. These reviews act as the trust builder and help to drive more traffic. Judge.me offers a variety of functions such as customizable widgets, moderation, star rating, and many others that can help increase store traffic
Why We Liked It
Judge.me left a very good impression on us with its rich snippet functionality. It creates rich snippets using structured data markup on product pages. They include product names, images, reviews, and ratings which allow search engines to easily crawl and display the product on result pages in a visually appealing way and drive more clicks and traffic.
Pros
Easy to use

High improvement in visibility

Increased conversions

Affordable
Cons
Limited design options

Dependent on reviews
» Check out our Judge.me review for more information
KeepShoppers Score: 9.4
Key Features
Multiple social media post scheduling

Automated postings

Allows reposting feature with analytics
Outfy is a social media scheduling and automation app that allows businesses to create and post content on multiple social media platforms from one centralized location. The app can be used to create and schedule various types of social media content, such as text posts, images or videos, reels, stories, and much more.
Why We Liked It
While we really liked Outfy's ability to create high-quality social media content, the app does more than that. It's an automated scheduling app that also provides essential tools such as analytics and customization to increase engagement and optimization.
Pros
Centralized scheduling

Personalization

Campaigns to promote products

7-day free trial
Cons
Limited content creation

Dependence on internet connection
KeepShoppers Score: 9.5
Key Features
Offers automated campaigns and triggered emails

Precise targeting

Easily integrated into other apps
Automizely is an e-commerce marketing platform that uses ad exchange to help merchants drive more sales and grow their business. It offers various tools that aid in business growth, including product display tools, marketing automation, tracking & analytics, and much more.
Why We Liked It
One of our favorite Automizely features is its capability to manage sales and marketing campaigns, including cross-selling, upselling, and abandoned cart recovery. Apart from this, its user-friendly dashboard and easy analytical setup and view really help with store management, and can increase sales and improve customer engagement.
Pros
User-friendly dashboard

Helps create product bundles and offer discounts

Customizable and persuasive popups
Cons
A little complex for beginners

Limited support
KeepShoppers Score: 9.4
Key Features
On-page and URL optimization tools

Automatic generation of the sitemap

Helps to do precise keyword research
SEOKart is a Shopify app that helps businesses improve their SEO and increase their online visibility. SEO is the best practice to gain organic reach, and this app can be invaluable for that. You can use it to perform advanced audits and bulk optimization of various SEO-relevant features.
Why We Liked It
SEOKart simplifies SEO by providing the necessary tools for keyword research, keyword tracking, detailed performance reports, and analytics. These features allow businesses to monitor their website and performance and identify which areas need improvement to drive more traffic and sales.
Pros
Cost-efficient

Easy to use

Comprehensive SEO tools

Users report good results
Cons
Limited to Shopify

Complex for beginners

Limited customization
KeepShoppers Score: 9.3
Key Features
Automated product feed generation

Ad bid management

Performance tracking
Adeagle is an app that allows you to create and manage your Shopify store's Google ads. You can target specific user groups with personalized campaigns and drive traffic to your store. This precise targeting definitely makes it stand out from the competition.
Why We Liked It
We already mentioned precise targeting, and it's worth mentioning it again. You can reach customers who are browsing blogs or forums, watching product videos, or using mobile apps to find good deals. With Adeagle, you can display ads exactly to the right audience, at the right time, and in the right place.
Pros
Easy to use

Best for beginners

Seamless experience

Free plan available
Cons
Low support

Limited integration options

High-end plans can be costly
Driving Traffic to Your Store Has Never Been Easier
Driving traffic to your store can be challenging and time-consuming, but the right tools and professional assistance can make it a lot easier. However, getting a Shopify expert can be fairly costly, especially when compared to the pricing of some of the apps on our list. In the end. using the right platform and app will lead to an increase in website traffic in a smarter, faster, and more convenient way.
KeepShoppers Methodology
We scored each app based on a variety of factors that would be relevant to our readers. This includes ease of use, features, third-party integration potential, value for money, customer service, customer reviews, and more. We also took into account the time and resources required to make the best use of the app—more feature-rich solutions are usually more complex and require a greater time investment to learn. All of these traits were aggregated into the KeepShoppers Score you can see in each app description. Here are some of the criteria explained: - Ease of use: Does it need expertise, or can even a beginner use the app? - Features: Are the features capable of driving traffic or not? - Value for money: Does the app offer a trial/free plan? Are the premium plans worth it? - Customer support: Will customer support provide assistance in case of issues? How quickly? - Customer reviews: We considered reviews and ratings on the Shopify store and elsewhere on the internet.
Frequently Asked Questions
Why is my website losing traffic?
The most common reason is poor SEO or tough competition. Other reasons include ineffective marketing, outdated content, technical issues, etc. Fortunately, Shopify apps can help you regain traffic by addressing these issues.
Do I need to hire a Shopify expert to increase traffic to my store?
While hiring a Shopify expert can be beneficial in increasing traffic to your store, it is not a requirement. Furthermore, there are so many apps available that are budget friendly that hiring a Shopify expert can cost you an arm and a leg.
3. What does Facebook ads daily spend limit mean?
Facebook ads daily spend limit allows you to set the maximum amount of money you want to spend on your Facebook ad campaigns per day. This limit helps you control your advertising cost and avoid overspending.
How does Judge.me differ from Yotpo and Loox?
The main difference is pricing. Judge.me is a lot cheaper than the other two and comes with a free plan, unlike Loox. Overall, Judge.me is the best option for startups and beginners.