10 Best Shopify Apps for Product Management: Optimize Your Merchandise Like a Pro in 2024

By

Jaques Cilliers

Edited by

Michelle Meyer

Fact-check by

Romi Hector
Updated November 17, 2023.
Our team independently researches and recommends the best products and services. We publish reviews that are unbiased and not influenced by payments we may receive from advertising partners.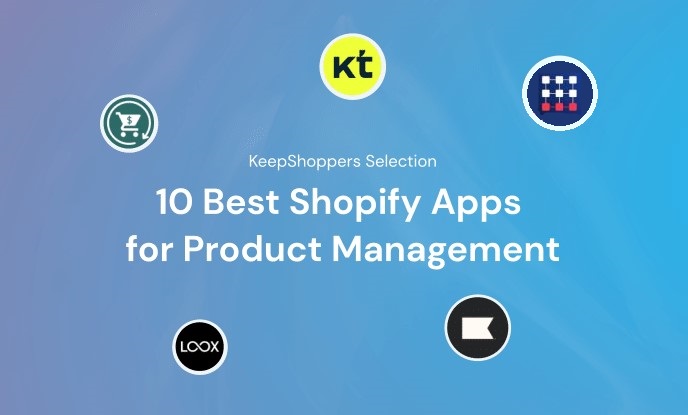 Product management is one of the pillars of an online store. Done right, it can increase your sales by 30% and improve your margins by 50%. Proper product management also means you can avoid stockouts and overstocks, keep your pricing accurate, and fulfill your orders on time.
Managing all of these aspects can seem intimidating, but there are plenty of Shopify apps available that can help. We've compiled a list of the best Shopify apps that will have you managing your products like a pro in no time.
Our Top Picks for the Best Product Management Apps
1. Best Overall
KeepShoppers Score: 9.8
Key Features
Real-time inventory monitoring

Automated restocking notifications

Hide out-of-stock products

Bulk inventory updates
Out-of-Stock Police is a tool designed to help you manage and reduce your product inventory. The app provides data in real-time, automatically notifies you about low stock levels, and lets you hide out-of-stock products from your online storefront. This can help reduce customer frustration and improve the overall user experience.
Why We Liked It
We love that even though Out-of-Stock Police has many functionalities, it stays easy to use. The app makes product management a breeze, because you can automate so many tasks by settings custom rules. Once you've let the app know whether to hide or push out-of-stock products down, how long to keep products marked as out-of-stock, and when to notify you about low or zero stock levels, you focus on other important tasks.
» Discover more details in our full Out-of-Stock Police review
2. Best for Integration
KeepShoppers Score: 9.7
Key Features
Real-time inventory management and tracking

Material planning and scheduling for production

Sales order fulfillment tracking and management

Multiple native and third-party integrations
Katana Cloud Manufacturing is a software platform that provides enterprise manufacturing and inventory management tools. It offers capabilities such as live inventory and production planning, material planning, order fulfillment tracking, and a visual interface for managing the manufacturing process.
Why We Liked It
Manufacturing your own products adds another level of management to your online store—and Katana Cloud Manufacturing understands this. That's why we can't get enough of their integrations. Divided into various categories, you can easily find a native or third-party app to make any part of your product management process easier.
3. Best Free App
KeepShoppers Score: 9.6
Key Features
Real-time abandoned cart recovery

Customizable push notification templates

Data analytics to track recovery performance
PushOwl Recover Abandoned Cart is a Shopify app that allows online retailers to send personalized push notifications to customers who have abandoned their carts.
Why We Liked It
Abandoned carts mess with your inventory and make product management difficult. PushOwl Recover Abandoned Cart is unique because it's incredibly user-friendly and offers a wide range of features usually available on paid plans only. With unlimited subscribers, customizable push notification templates, and real-time recovery tracking, PushOwl Recover Abandoned Cart can help you recover abandoned carts without breaking the bank.
4. Best for Personalization
KeepShoppers Score: 9.6
Key Features
Customize templates for personalized email campaigns

Personalize and automate text message campaigns

Customizable signup forms and pop-ups
Klaviyo is a cloud-based marketing automation platform specializing in email marketing and SMS campaigns. Its capabilities include creating and sending targeted and personalized email and SMS campaigns, managing contact lists and segmentation, automating workflows, tracking campaign performance, and integrating with other marketing tools and platforms.
Why We Liked It
Klaviyo is one of the best email marketing apps because it's so customizable, making it easy to personalize messages and campaigns. It all starts with the integrated Customer Data Platform (CDP), which allows you to leverage customer data to create highly targeted and personalized marketing campaigns (at no additional charge!). Then, you can use the growth-oriented reporting functionality to monitor the impact of your marketing efforts and optimize your campaigns accordingly to improve product management and conversions.
» Explore our full Klaviyo review for more information
5. Best for Improved AOV
KeepShoppers Score: 9.5
Key Features
Create personalized upsell and cross-sell offers

Conversion-optimized templates and widgets

Detailed analytics and tracking

A/B testing
ReConvert Upsell & Cross-Sell helps you increase revenue by offering relevant and personalized upsell and cross-sell suggestions and provides analytics and reporting features to track success.
Why We Liked It
ReConvert Upsell & Cross-Sell is user-friendly, effective, and customizable to fit your unique business needs. The app specifically targets customers after they've made a purchase to give you optimal upsell and cross-sell opportunities to improve your AOV. You can easily manage your products further with the app's order and reorder tracking functionalities.
» Get the whole scoop in our full ReConvert review
6. Best to Optimize Site Design
KeepShoppers Score: 9.5
Key Features
Compatible with most Shopify themes and online stores 2.0

Customizable design elements

Add custom CSS and HTML to pages

Responsive design for mobile devices
PageFly is a landing page builder app designed to help businesses create custom landing pages to increase conversions and sales.
Why We Liked It
Product management includes how you showcase your products to customers on your storefront. Not everyone is a natural artist, and that's why we like PageFly's user-friendly drag-and-drop page editor. It makes it really easy to create customized landing pages without extensive coding skills. We love the fact that you have complete control over the page layout and design, so you get to create unique, on-brand, and high-converting landing pages.
» Read our full PageFly review for additional details
7. Best for Globalization
KeepShoppers Score: 9.4
Key Features
Products from trusted US and EU suppliers

Businesses can add their own branding

Automated order fulfillment

Real-time inventory updates
Spocket is a dropshipping app that connects you with suppliers in the US and EU, allowing you to source high-quality products and sell them to your customers without the need for inventory management or shipping.
Why We Liked It
As a dropshipper, managing products that aren't yours has its own challenges. What we love about Spocket is that it gives you access to top-quality products, offers faster shipping and bigger discounts, and automates order fulfillment, while minimizing the need for inventory management and other logistical challenges. 
» Find more information in our full Spocket review
8. Best for Customer Acquisition
KeepShoppers Score: 9.3
Key Features
Import reviews from other platforms

Customizable email templates and scheduling

SEO optimization tools like Rich Snippets

Flexible pricing plans to suit different needs and budgets
Loox allows you to collect customer reviews (including photos and videos) and display them on your website. The app automatically collects reviews and lets you customize the look and feel of the reviews widget to match your brand. This social proof app can help you build trust with potential customers and increase sales.
Why We Liked It
Loox is a powerful product review app that not only showcases reviews but lets you engage customers in a brand-appropriate way. By adding this element to your product management, you increase the credibility and authenticity of your brand. Loox's ability to import reviews, automate review requests, and reward customers for referrals makes it a breeze to build trust and customer loyalty.
» Explore more features in our full Loox review
9. Best for Order Tracking
KeepShoppers Score: 9.2
Key Features
Branded order tracking pages

Real-time shipment updates and automated notifications

Analytics dashboard to monitor carrier information
AfterShip Order Tracking is a shipping app that helps you provide your customers with real-time tracking updates and streamlines the order-tracking process. AfterShip integrates with over 700 carriers worldwide, allowing you to offer a wide range of shipping options to your customers.
Why We Liked It
Product management doesn't stop once the product has been sold—your customer needs to successfully receive it too. What we like about AfterShip Order Tracking is its range of features that help you improve your shipping and delivery processes while providing an improved customer experience. This includes automatic email and SMS notifications to nervous customers, estimated delivery dates updated by AI, branded tracking pages, and a centralized dashboard that you can manage everything from.
10. Best for Gathering Customer Insights
KeepShoppers Score: 9.1
Key Features
Matches the look and feel of your website

Form submission management

Built-in spam protection such as CAPTCHA
POWR Contact Form Builder is a powerful tool to create custom online forms quickly and easily, with a wide range of customization options and advanced features.
Why We Liked It
We love POWR Contact Form Builder for its easy-to-use functionality, customizable fields and themes, and anti-spam features. Its user-friendly dashboard makes it super easy to manage all our form submissions in one place. By syncing with Google Sheets, getting email notifications for form responses, and setting up autoresponders, you can refine your customer engagement process whenever there are questions and feedback about your products.
Give Your Goods a Boost With the Right App
There are many aspects to good product management: an appealing store design, inventory management, sales and marketing efforts, and successful shipping and delivery. Luckily, there are plenty of Shopify apps to address each of these factors.
But choosing the best Shopify app depends on your demands and budget. We recommend an overall cost-effective and scalable app like Out-of-Stock Police. The app can help you manage inventory, reduce out-of-stocks, and make data-driven decisions based on real-time notifications and analytics. Its simple UI and adjustable functionality make it easy to use. By ensuring product availability, the app helps you improve customer happiness and sales.
KeepShoppers Methodology
There are several parameters or criteria to consider when evaluating different Shopify apps to ensure you choose the app that best suits your needs. These include but are not limited to:
Ease of use:

This includes how easy the app is to use, set up and configure, and how much support the app developer provides.

Number of languages supported:

Apps should support the languages your store requires to reach a wider audience.

Functionality:

Apps should offer a wide range of functionalities and features that are useful to your business.

Pricing:

Apps must either offer free plans, features, and add-ons or cost a reasonable monthly subscription fee to justify the value of the app.

Customer reviews:

Apps should have positive and detailed customer reviews from stores in different countries and sectors, demonstrating its effectiveness and ability to do what it promises.