8 Disco Alternatives: Automatic Discounts for Shopify in 2024

By

Adeel Qayum

Edited by

Kirsty Macdougall
Updated November 17, 2023.
Our team tests eCommerce apps and publishes alternative app recommendations that are unbiased and not influenced by payments we receive from some of the app developers.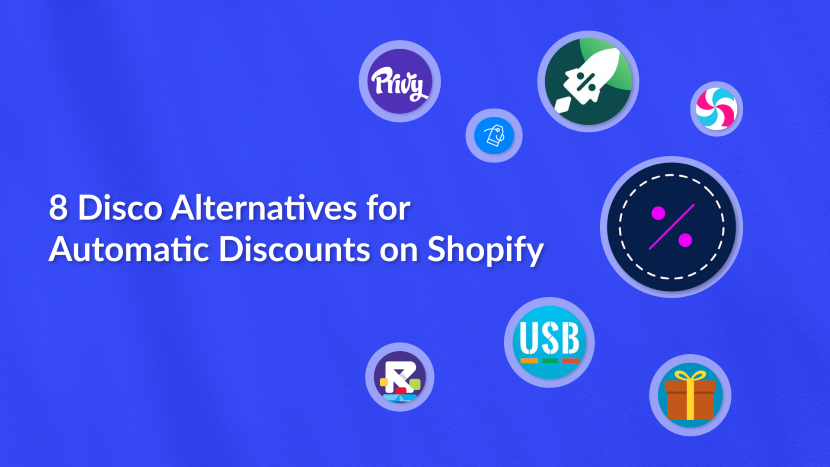 In a recent survey, 88% of participants said they used coupons for shopping. There's no way around it: people like to save money where they can. That's why every e-commerce store should have an effective discount strategy. When done well, you'll see benefits like increased sales, improved customer acquisition and retention, upselling and cross-selling opportunities, and more.
Disco is an app to help streamline and automate discount management, and it's the top choice for many e-commerce store owners. But while it has some great features like advanced scheduling, bulk discounting, and promotional tools, it also has some limitations. If Disco isn't quite right for you, we have eight great alternatives that may suit your needs better.
» Learn more about how discount apps can revolutionize your store
Our Top Picks for the Best Disco Alternatives
1. Best Alternative Overall
KeepShoppers Score: 9.9
Tired of manually calculating and applying discount values? Egnition's Order to Discount is a Shopify app that eliminates your frustration by auto-generating discounts based on customer orders. You can define unique discount rules, such as calculating a fixed value or percentage, and let the tool handle the rest. Among Egnition's range of apps, Order to Discount is the best solution for growing your customer base with personalized, automated discounts.
Pricing Plans
Bronze:

Free to use for up to 25 emails

Silver:

$2.50/month for up to 500 emails

Gold:

$5/month for up to 1500 emails

Platinum:

$9/month for up to 3000 emails
Why We Liked It
Order to Discount is an excellent all-around solution that's affordable and easy to use. We were particularly impressed with its bulk email templates that you can tailor to suit your store's branding. Plus, the app's discount template feature lets you create versatile discounts like loyalty rewards, next-order incentives, and more.
» Discover more about this app in our in-depth Order to Discount review
2. Best for Beginners
KeepShoppers Score: 9.7
Privy is one of the best email marketing apps for accelerating sales with discounts. You can create and integrate discount codes into purchase follow-up, customer win-back, or abandoned cart recovery emails—all of which can be automated. Moreover, Privy's segmentation capabilities allow you to tailor discounts to specific customer segments, further boosting loyalty and sales.
Pricing Plans
Free:

Free to use for up to 100 email contacts

Starter:

$30/month for up to 1500 email contacts

Growth:

$45/month for up to 2000 email contacts & 75 SMS contacts

Conversion only:

$70/month for unlimited email & SMS contacts

15-day free trial
Why We Liked It
Privy simplifies discount management for merchants of all sizes. With a straightforward drag-and-drop editor and numerous pre-built templates, you can launch a discount campaign within minutes. We also really liked Privy's A/B testing functionality that helps you identify high-performing campaigns and refine your strategy to maximize ROI.
» Explore more app insights in our comprehensive review of Privy
3. Best for Conversions
KeepShoppers Score: 9.5
Looking for a Disco alternative to create BOGO discounts? Look no further than BOGOS, a Shopify app boasting a wide variety of gifting tools, including Buy One Get One (BOGO), Buy X Get Y, gifts with purchase, and more. You can define gift conditions based on cart values, as well as manage all your offers in one place.
Pricing Plans
Basic:

$29.99/month for stores on the Basic Shopify plan

Professional:

$49.99/month for those on the Shopify plan

Unlimited:

$69.99/month for stores on the Advanced plan

Plus:

$99.99/month for Shopify Plus stores

7-day free trial
Why We Liked It
BOGOS is designed to help Shopify merchants increase traffic and conversions. In addition to the gifting tools, the app offers a gift slider and gift icons to encourage more spending. Plus, it automatically adds gifts to customers' carts when they meet your unique conditions, incentivizing repeat purchases and fostering customer loyalty.
» Check out more top-rated apps to boost conversions
4. Best for Increasing AOV
KeepShoppers Score: 9.6
VolumeBoost is a Shopify app that helps merchants set up discounts for bulk orders. You can apply these discounts to products, variants, collections, and even the cart total. Flexible scheduling allows you to create a sense of urgency by limiting discounts to specific time periods.
Pricing Plans
Basic:

$10/month with features for startups

Pro:

$20/month with features for growing teams

Advanced:

$30/month with features for small- to medium-sized businesses

Shopify Plus:

$50/month with features for larger enterprises

7-day free trial
Why We Liked It
VolumeBoost is one of the best ways to increase AOV and ramp up revenue. You can easily set up and automate discounts on bulk order purchases to encourage shoppers to buy more. In addition, ensure you maximize the buying potential of your audience by offering multiple discount types and clearly highlighting your offers. We found the cart-saving messages great for grabbing attention and appreciated the ability to provide discounts based on customers' location.
» Learn about more great apps to drive Shopify sales
5. Best Range of Features
KeepShoppers Score: 9.8
Hextom: Ultimate Sales Boost is another Disco alternative for enticing customers with varying discount types. It offers over 30 widgets and tools to increase sales at all stages of the buyer journey. You can display these widgets on every page of your site to maximize visibility and boost conversions.
Pricing Plans
Starter:

Free to use with inventory countdown, trust badges, and more

Basic:

$9.99/month with all Starter plan features, get-it-by timer, and more

Professional:

$29.99/month with all Basic plan features, BOGO messages, and more

Advanced:

$79.99/month with all Professional plan features, checkout timers, and more
Why We Liked It
What we love about Ultimate Sales Boost is the breadth of promotional features. You get timers and low-stock indicators to increase urgency, trust badges to build social proof, and BOGO discounts to increase checkout conversion rates.
» Take a closer look at the app in our comprehensive review of Ultimate Sales Boost
6. Best for Customer Referral Discounts
KeepShoppers Score: 9.6
Referral discounts are one of the most powerful types of incentives in e-commerce. ReferralCandy is a Shopify app that helps merchants create referral marketing campaigns via automated discounts. You can offer coupons (percentage or cash discounts), custom gifts, or cash rewards on one-off and subscription products.
Pricing Plans
Premium:

$59/month with unlimited referrals, live chat support, and more

Plus:

$299/month with all Premium plan features, dedicated account manager, and more

Enterprise:

For larger companies requiring more tailored solutions

14-day free trial
Why We Liked It
ReferralCandy offers various tools to help you optimize your referral programs. Besides creating bespoke customer discounts, you can configure the app to automatically distribute rewards after successful referrals. And as one of the best affiliate marketing apps around, ReferralCandy makes it easy to create unique referral links and track everything via an intuitive dashboard.
» Read more about the app's capabilities in our full ReferralCandy review
7. Best for Bundle Discounts
KeepShoppers Score: 9.5
Unlimited Bundles & Discounts is a Shopify app that simplifies the task of creating product bundles with discounts. With its user-friendly interface, you can set up dynamic product bundles that change based on the number of items purchased in minutes. Discount codes are generated automatically at checkout, streamlining the customer experience and generating more conversions.
Pricing Plans
Free:

Free to use with one discount bundle

Basic:

$13.99/month for stores on a Basic Shopify plan

Professional

: $21.99/month for those on a Shopify/Professional plan

Advanced:

$29.99/month for stores on an Advanced/Unlimited Shopify plan

Shopify Plus:

$38.99/month for all Shopify Plus stores
Why We Liked It
Although Unlimited Bundles & Discounts has a range of features, what really caught our attention is its price plans. Not only is the app a lot more affordable than its competitors, but it also offers unlimited discount bundles on all its paid plans. Plus, its integration with other e-commerce tools makes it the perfect solution for expanding your store's reach.
» Use a leading upsell and cross-sell app with bundle discounts to increase sales
8. Best for Complex Discounts
KeepShoppers Score: 9.6
Shopacado is a Disco alternative that helps merchants offer complex discounts on bulk purchases. You can use it to create volume, tiered, quantity breaks, and many other types of discount offers. The app also lets you customize the look of your custom pricing tables, making it easy to present a consistent brand image.
Pricing Plans
Basic:

$7.99/month with features geared toward startups

Professional:

$15.99/month with features geared toward teams

Advanced:

$23.99/month with features geared towards small to medium D2C brands

Plus:

$31.99/month with features geared towards large businesses

7-day free trial
Why We Liked It
The best part about Shopacado is the variety of discounts. You can choose between tiered pricing vs. volume pricing, offer money or percentage discounts, and even create dynamic discounts for future products. What's more, the app's unlimited discount levels ensure you're converting as many customers as possible.
» Read more about top pricing strategies for your store
Why Should You Consider a Disco Alternative?
There are many reasons a store owner might want to look at discount apps other than Disco. The hurdles in setting up and navigating the app, along with limited customization options, can hinder their ability to create a tailored shopping experience. Moreover, the constraints of the free plan, offering only 40 product discounts per month, may prove insufficient for growing businesses.
The absence of essential features like tiered discounts, location-based offers, and multi-currency support further limits Disco's effectiveness. With occasional delays in customer service responses, opting for alternative apps may offer a smoother, more versatile, and reliable discount management solution.
Deciding to Ditch Disco: Which Alternative Is Right for You?
Choosing the right app for your store can be intimidating, especially when you have a lot of options to choose from. As you decide, consider things like your business needs, budget, and goals. Also, consider which app is best suited for your specific situation. For example, Privy may be the best choice if you're just starting out, or VolumeBoost might be best if you're focused on AOV.
If you want our top recommendation, try Order to Discount. It has a wide range of valuable features, top-notch usability, and offers great overall value for money.
» Elevate your discount game by using one of these best discount notification apps
KeepShoppers Methodology
When we evaluate alternative apps to recommend to you, we use a specific set of criteria, including:
Ease of Use:

This encompasses developer friendliness, how easy the setup is, and the quality and timeliness of customer support.

Features:

We factor in the full range of features and the extent of the features' usefulness in setting up, automating, and managing discounts.

Customizations:

We consider the degree to which discounts and other features can be customized.

Pricing:

We're looking for apps that are better

value for money than Disco, and we consider whether there are free plans, features, and add-ons available and if the monthly fee is worth it.

Customer Reviews:

For a more holistic and objective evaluation, we weigh in dozens of customer reviews to see how stores in different countries and different sectors rate the app.
Each app description shows a breakdown of how we rated the app in terms of ease of use, features, and price. The KeepShoppers Score reflects our overall app rating, which we determine by aggregating the five criteria listed above.