10 Best Affiliate Marketing Apps & Programs for Shopify (2023)

By

Adeel Qayum

Reviewed by

Kirsty Macdougall

Fact-check by

Staff Editor
Updated August 23, 2023.
Our team independently researches and recommends the best products and services. We publish reviews that are unbiased and not influenced by payments we may receive from advertising partners.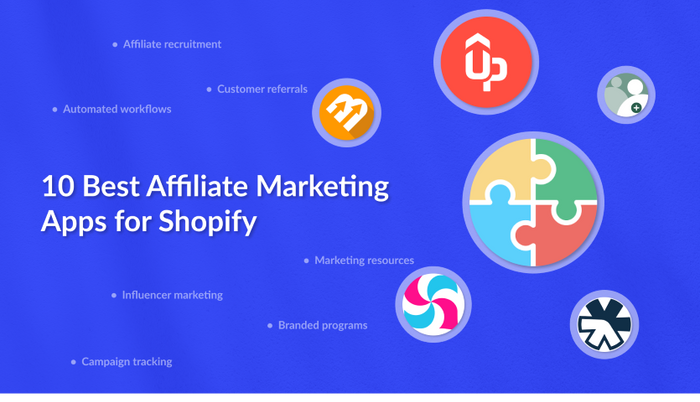 Affiliate marketing involves paying a commission to other people or companies (affiliates) that market your brand and generate new business. This practice is more popular than ever—businesses spent $8.2 billion on affiliate marketing in 2022, up from $7.1 billion in 2021.
So naturally, it makes sense that dozens of apps have popped up to help businesses join the trend. Shopify has several apps that can help e-commerce merchants easily set up, manage, track, and optimize their affiliate marketing programs. But with so many options, how do you know which is the best tool for your store? We've done the legwork to find the best affiliate marketing apps on Shopify so that you can find the right one for your unique needs.
» Rev up your revenue with affiliate marketing & other top-rated sales apps
Our Top Picks for the Best Shopify Affiliate Marketing Apps
1. Best Overall
KeepShoppers Score: 9.9
Key Features
Unlimited affiliates, sales, & traffic

Branded portal for your affiliates

Automated tracking & attribution
GOAFFPRO makes it easy to start your affiliate marketing program. Your affiliates simply sign up on your branded portal, then they're automatically provided with an affiliate link to promote your products across their own media. It's functional on both Android and iOS mobile devices, with push notifications to boost affiliate engagement.
Why We Liked It
We like that this app offers an all-in-one solution from onboarding, customization, and affiliate management to payouts and analytics. If you're just getting started or looking for a holistic app to take care of the process, GOAFFPRO is a great choice.
2. Best for Recruiting Affiliates
KeepShoppers Score: 9.8
Key Features
Powerful motivators for affiliates

Customizable rewards & discounts

Automatic payment scheduling
UpPromote has many great features, including extensive campaign customizations, advanced tracking and analytics, and various valuable third-party integrations. UpPromote is also one of the best Shopify apps for affiliate recruitment. It has its own affiliate marketplace where you can publish your program and wait for people to register.
Why We Liked It
We were impressed by the lengths UpPromote goes to help merchants recruit affiliates. Besides connecting you with potential ambassadors, the app offers powerful motivators you can use to lure them in, like gifts, bonuses, and store credit. The app also makes it easy to communicate with your affiliates—you can define rules that trigger the sending of emails or use the chat plug-in to share updates with them.
» To learn more about this app, head to our comprehensive UpPromote review 
3. Best for Customer Referral Programs
KeepShoppers Score: 9.8
Key Features
Various referral programs

Post-purchase pop-ups & emails

Cash & coupon rewards
Word-of-mouth has always been a powerful tool for increasing awareness and product sales. ReferralCandy is a Shopify app that lets you tap into this marketing method via customer referral programs. Easily create unique referral links for your customers to share with friends and track referrals and sales through an intuitive, user-friendly dashboard.
Why We Liked It
The app offers multiple features to help merchants master their customer referral programs. Not only can you offer customers bespoke rewards to incentivize referrals, but you can easily track and monitor their progress with in-depth analytics. ReferralCandy's automations are another invaluable asset. You can invite customers at designated times, detect successful referrals, and distribute rewards to your customers on autopilot.
» Get the full lowdown of the app in our in-depth ReferralCandy review
4. Best for Influencer Marketing Campaigns
KeepShoppers Score: 9.5
Key Features
Drive sales with influencers

Bulk email outreach

Automated reward distribution
Automizely Referral&Affiliate is hands down the top choice for influencer marketing campaigns. Firstly, it simplifies influencer outreach by offering predesigned email templates that captivate prospects. Secondly, it takes incentivization to the next level, allowing you to shower influencers with gifts or commission structures that make them want to stay with your brand.
Why We Liked It
Automizely's influencer reward program impressed us the most. The app lets you customize the discount amount, automatically generate coupons, and set minimum order subtotals. Additionally, you can give free gifts to influencers as compensation to cut marketing costs. Best of all, the app and all its features are free to use.
5. Best for Program Customizations
KeepShoppers Score: 9.6
Key Features
Advanced customization capabilities

Referral tracking & optimization

Mobile-specific sharing
Looking for a Shopify affiliate app that'll let you customize every detail of your referral program? Look no further than SC Conjured Referrals. This app enables you to adjust the program's appearance, set controls like incentives display type, and match email settings to your existing branding. What's more, you can track your program analytics directly from the Shopify dashboard.
Why We Liked It
We enjoyed using the dynamic features of SC Conjured Referrals. These include mobile-specific sharing options and the ability to translate the program for an efficient, localized experience. Plus, we couldn't help but appreciate that SC Conjured Referrals' support team is available to help with custom styling, advice, and feature requests.
6. Best for Payments
KeepShoppers Score: 9.4
Key Features
Multiple payment methods

Customizable registration page

Post-checkout integrations

Insightful analytics & reporting
Refersion is a Shopify affiliate marketing app that automates affiliate signup with post-checkout integrations. You can display pop-ups talking about your offers, as well as tap into the Refersion Marketplace to expand your reach. Plus, performance dashboards make it easy to find and reward your best affiliates for increased sales.
Why We Liked It
We were highly impressed by the multiple payment options in Refersion. Whether you're using PayPal for Shopify or want to settle commissions using gift cards, Trolley, or store credit, the app has got you covered. Many aspects of the payment process are automated, including conversion approvals, direct payments, and scheduled payments. Refersion also enables you to create advanced tiered commission structures and fully customized commissions.
» Learn more about e-commerce payment gateways in our Shopify Payments vs. PayPal comparison
7. Best for Campaign Tracking
KeepShoppers Score: 9.3
Key Features
Visitor, lead, & sales tracking

Automated affiliate emails

Custom domain
LeadDyno is another handy affiliate app that allows you to tailor your affiliate program to integrate with your brand seamlessly. You can customize its look and feel, then promote it via post-purchase pop-ups or an individual landing page. The app also lets you send newsletters and follow-up emails to engage your affiliate audience.
Why We Liked It
LeadDyno is one of the best campaign-tracking apps for Shopify. You can easily create tracking links, add descriptions, and categorize them. Once you've set up your tracking links, you can view sales, leads, visitors, and cancellations resulting from people clicking each link. This will give you the data you need to fine-tune your affiliate strategy.
» Tracking sales is important. See some of the other leading sales-tracking apps for Shopify
8. Best for Automations
KeepShoppers Score: 9.5
Key Features
Automatic link & coupon creation

Advanced commission setups

Multiple payment methods

Easy-to-interpret analytics dashboard
Bixgrow is a multifaceted marketing app that allows you to create and effectively manage affiliate and referral marketing campaigns. It offers customization options such as white-label email branding, customizable marketing resources for affiliates, and the ability to embed the affiliate portal within your store domain.
Why We Liked It
If you enjoy the idea of engaging in hands-off affiliate marketing, BixGrow is the perfect app for you. This app automatically performs numerous tasks to save you time, such as approving order options, auto-generating discounts and coupons, and sending emails based on affiliates' activities in different situations.
9. Best Free App
KeepShoppers Score: 9.7
Key Features
Customizable registration page

Various types of commissions

Option to share marketing assets
Most of the Shopify affiliate marketing apps on our list require a paid subscription. ReferrLy is different: it lets you create and host an affiliate program for free. Some of its key features include coupon codes, email alerts, a customizable signup page, and PayPal integration.
Why We Liked It
ReferrLy is a standout choice because it offers functionality on par with paid plans of other apps, yet it comes at no cost to you. While the usual price of Shopify apps may leave your wallet gasping for air, ReferrLy provides premium features without costing you a single cent.
10. Best for Marketing Resources
KeepShoppers Score: 9.4
Key Features
Easy-to-share marketing resources

A/B test landing pages

Custom analytics & performance insights
GrowthHero is a full-featured affiliate marketing app for Shopify. With GrowthHero, you can add a widget to your store, display post-purchase pop-ups, and encourage customers to refer you to their peers. Plus, you can optimize affiliate programs with custom performance insights to grow sales.
Why We Liked It
GrowthHero lets you create and share marketing resources with your affiliates. You can easily make graphics, banners, social media posts, messaging, and many more assets that your partners can reuse to market your brand through their own channels. Choose from a range of ready-made marketing resources and tailor them to match your branding and marketing strategy.
Affiliate Yourself With the Best Shopify Affiliate Marketing Apps
When done well, affiliate marketing can help to increase your brand awareness, reach, loyalty, and sales. If you're a Shopify merchant, you're in luck: several apps are available to help you recruit, manage, and compensate affiliates.
As you're doing your research to determine the right one, consider details like your business needs and goals, the size and complexity of the program you're interested in, your technical abilities, and your budget. All that's left to do is get started.
» Market your way to the top with these & many other great marketing apps
KeepShoppers Methodology
When we recommend apps for your store, we first evaluate each option using a specific set of criteria, including:
Ease of Use:

This encompasses developer friendliness, how easy the setup is, and the quality and timeliness of customer support.

Features:

We factor in the range of features and the extent of the features' usefulness in starting and managing affiliate marketing campaigns. We also consider the degree to which the elements can be customized.

Integrations:

We look at how many third-party integrations are available and the extent of their benefits to the user.

Pricing:

We're looking for apps that are great value for money, and we consider whether there are free plans, features, and add-ons available and if the monthly fee is worth it.

Customer Reviews:

For a more holistic and well-rounded evaluation of each app, we weigh in dozens of customer reviews to see how stores in different countries and different sectors have rated it.
We also consider the time and resources required to make the best use of the app—more feature-rich solutions are usually more complex and require a greater time investment to learn. All of these traits are aggregated into the KeepShoppers Score you can see in each app description.