ReferralCandy Review (2023): Pricing, Support, Features, & More!

By

Elijah Adebayo

Reviewed by

Kirsty Macdougall

Fact-check by

Staff Editor
Published June 5, 2023.
Our team tests eCommerce apps and publishes reviews that are unbiased and not influenced by payments we receive from some of the app developers.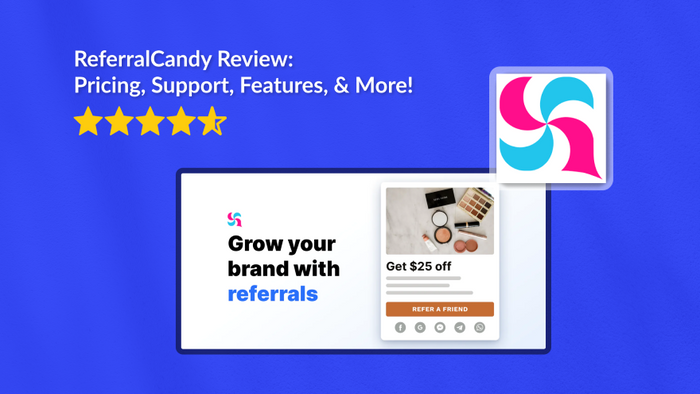 Customer referrals are one of the most powerful forms of marketing in e-commerce. A successful customer referral program can increase your brand awareness, convert new customers, and increase customer loyalty and retention. However, implementing a customer referral program is not always easy. Not only must you find ways to recruit customers, but you need to continually track their progress, monitor for fraudulent referrals, reward successful referrals, and measure your campaign's effectiveness.
This is where ReferralCandy comes in. It's a tool that helps you create, run, and optimize referral programs for your online store. We take an inside look at the app's features, pricing, integrations, support, and more to help you decide if ReferralCandy is worth investing in.
» If sales is a top priority, check out our picks of the best sales-boosting apps
Pros
Customizable referral pages, emails, & rewards

24/7 live chat support

Integrations with popular e-commerce tools

Extensive automations
Cons
No free plan

Pricing includes monthly & referral fees
Best For
Choosing the right apps for your store can be challenging, so we're here to help. ReferralCandy is a valuable tool for e-commerce stores selling single-use or subscription products in any industry. However, it's not a magic bullet that will instantly raise your bottom line.
It's better suited to stores with an established product-market fit, generating more than 100 orders a month. The app also proves most beneficial to businesses with loyal customers who champion their brand, creating opportunities for further community building.
Overview of Features


Customer Enrollment
Enrolling customers into your referral program is made easy with a variety of channels available, such as post-purchase pop-ups, emails, dedicated landing pages, an embedded signup form, or using your existing newsletters. You can also send automated referral requests to customers after they complete a checkout. A great bonus is that all your emails and pages are optimized for mobile devices, so customers can easily share your products or services with their friends.
Customizable Templates
ReferralCandy is an excellent app with built-in templates. You can use these ready-made templates as is or customize them to suit your needs. You can change the logo, images, fonts, colors, and other elements to match your store's branding. If you want more control over your templates, you can edit the CSS and HTML code to fine-tune every detail.
Automated Rewards
With ReferralCandy, creating and managing a reward system for customers who refer your products to friends is quick and simple. You can offer cash rewards, coupons (cash or percentage discounts), or custom gifts. The issuing of rewards is fully automated, so you don't have to worry about tracking referrals or sending rewards manually. You can also set up different reward tiers to incentivize more referrals.
Fraud Detection
With the fraud center at your fingertips, you can automatically protect your referral program from fraud. It detects and bans suspicious transactions, such as self-referrals, high volumes of referrals in a short time, or leaked referral codes on coupon sites. You can also create custom rules to block or flag specific behaviors or users.
Analytics
You can measure the performance of your referral program with ReferralCandy, as it functions as a comprehensive analytics app. You'll be able to see how much sales and traffic you generate from referrals, how many customers participate in your program, and what kind of rewards they prefer. Plus, you can compare your results with industry benchmarks and get data reports to optimize your strategy.
» Accurately measure your income with ReferralCandy & one of these great sales-tracking apps
Plans & Pricing
If you're wondering what to spend on apps to grow your business, you'll be happy to know that ReferralCandy offers three paid plans, each with a 30-day free trial and a 20% discount on annual subscriptions. Here's a quick overview of the features and prices of each plan:
Premium
The Premium plan is ideal for smaller businesses and startups. With a monthly fee of $59, or just $47 when billed yearly, you get unlimited customers and referrals, a comprehensive analytics dashboard, and data reports, among other features. However, you'll also need to pay a 3.5% commission fee on the referral sales you generate.
Plus
Accelerating your team's growth through referral marketing is made easy with the Plus plan—a package designed precisely for this purpose. For $299 per month, you get everything in the Premium plan, plus prioritized support, a dedicated account manager, and a quarterly campaign review with recommendations. You also pay a lower commission fee of 1.5%.
Enterprise
The Enterprise plan is the plan of choice for bigger e-commerce stores, as it offers advanced features for larger and more complex referral programs. You get everything in the Plus plan, plus unlimited campaigns, custom integrations and analytics, and a one-on-one expert review of your campaigns. What's more, there are no commission fees on referral sales made! Pricing will depend on your specific needs, so you'll need to contact ReferralCandy for a cost estimate.
Integrations
The app integrates seamlessly with various platforms and tools to expand your e-commerce business. ReferralCandy's integrations can be divided into the following categories:
Platform Integrations
The app integrates with several leading e-commerce platforms, including:
Shopify

Shopify Plus

Magento

WooCommerce

BigCommerce
You can easily set up and manage your referral program from within your platform's dashboard without having to switch between different apps.
Subscription Integrations
These integrations will enable you to create a referral program for your subscription-based products or services. Some of the subscription integrations supported are:
Recharge Subscriptions

Bold Subscriptions

Appstle Subscriptions
Marketing Analytics Integrations
To help you make data-driven decisions, ReferralCandy integrates with the following:
Facebook Pixel

AdRoll

Google Ads
Email Marketing Integrations
Integrations with top email marketing apps are essential to send personalized and automated emails to your subscribers. This way, you can create tailored messaging that speaks directly to the individualized interests and desires of each customer demographic. Some of the apps supported are:
Usability
ReferralCandy is an out-of-the-box solution that doesn't require the help of a developer. You can set up your referral program and make your first sales within 30 minutes. The video below shows just how easy it is to get started with ReferralCandy on Shopify.


It has a simple and intuitive user interface that makes it easy for merchants to use. The app also automates a lot of tasks for you, such as sending emails and pop-ups, issuing rewards, detecting fraud, and providing analytics. You can monitor and control your program from your dashboard, where you can see all the important information and data.
Overall, ReferralCandy is designed with the user in mind, and even people brand new to referral marketing won't have a problem navigating the app.
Support
ReferralCandy offers a variety of support options to help you get started and troubleshoot any issues you may encounter. There is 24/7 live chat support, and for Plus and Enterprise plans, there is a dedicated account manager. They host regular live Q&A sessions and webinars to help you learn more about what the app has to offer and how best to use it. Video tutorials and a dedicated YouTube channel cover everything from getting started to using the app's advanced features.
In addition, ReferralCandy has a support center with over 100 articles on a wide range of topics like account management and configuring settings. They also offer several handbooks, e-books, blog posts, and case studies, so there is no shortage of referral marketing advice and inspiration.
Customer Referrals: Sweeten the Deal With ReferralCandy
Referral marketing is a cost-effective and impactful marketing approach that can benefit any e-commerce store. Customer referrals build brand awareness and increase customer acquisition while also boosting conversions, improving customer loyalty, and increasing customer lifetime value.
But running successful customer referral campaigns can be complicated, tedious, and time-consuming. ReferralCandy is an essential Shopify tool that can help you create, manage, and optimize your referral program with ease. It offers a range of features and integrations that make it stand out from other apps, like easy setup and customization, automated rewards and fraud detection, comprehensive analytics and insights, flexible pricing, and outstanding customer support and service.
So if you're ready to offer customers a deal they can't refuse, try out ReferralCandy.
» Diversify & amplify your marketing strategy with some of the best marketing apps for Shopify